Love is a many splendored thing. Love bites. Love can be too much, or not enough; it can seem endless, tender, blind, crazy and forbidden, often all at once. As Paul Mauriat might attest, love can even be blue, but I'm here to tell you that BEER SHOULD NOT BE BLUE, ever.
Is "poseur" a French word?
This New Blue Beer Is Already Selling Out in France, by Mike Pomranz (Food & Wine)
Hoppy Urban Brew (aka HUB) — based in the city of Roubaix, not far from the Belgian border — teamed up with a company called Etika Spirulina which grows spirulina, a type of blue-green algae, that is then supplied to the brewery to give the beer its blue hue, according to Reuters. The hope is that the eye-catching drink — which gets its color from the compound phycocyanin — can also help Etika Spirulina promote its algae as a dietary supplement.
But know that the orchestra leader Mauriat (1925-2006) is all right by me. Interestingly, he died in Perpignan, a city in France where I once ate a plate of fresh grilled sardines and washed them down with a golden-hued Kronenbourg, so here's to the blueness of love, and if happenstance gifts you with a blue beer, and it somehow fails to be used as intended to color the toilet bowl water, there is little chance that your choice of drinking glass can improve the situation.
Tupperware? Maybe.
This story is about vessels from which to drink wine, although the leap to beer glasses is painfully short.
Stop overthinking it: The shape of your wine glass doesn't really matter, by Esther Mobley (San Francisco Chronicle)
To someone who doesn't lay awake at night fretting over whether their wine glass amplified or muted the fruit notes of their vintage Bordeaux, it might sound impossible to imagine that these hyper-designed wine glasses could actually be very distinct from each other. How many ways are there, really, to put an open-top bowl on top of a stem with a round base? The whole thing might seem to be veering into what Freud called "the narcissism of small differences."
I support proper glassware, although when it comes to beer, a limited arsenal usually is sufficient, and the glass you're with needs to be clean. Ask yourself just one question: Is there utility for this glass beyond signaling proficiency to your friends with beer porn on Instagram?
Because, as the Campaign for Real Ale (CAMRA) always understood, it's about the beer.
CAMRA, a British consumer advocacy group with 170,000 members, was founded in 1971 and generally has been regarded as a successful defender of cask-conditioned "real ale." Success is not without warts and complaints, but it has been my position that 100% agreement on any topic is neither possible nor advisable.
This being said, probably no one playing Batshit Crazy Brit Brexit Bingo (calm down, my wife has United Kingdom citizenship) foresaw this square, as reported by the wonderful Pete Brown.
'Going woke' is a terrible crime, particularly in the eyes of people who use the term daily without having the slightest clue of what it means.
So what form has CAMRA's wokeness taken? Has it banned beards? Has it insisted that everyone at GBBF must take the knee before the bars open? Given that it is now run by communists, has it called for the means of beer production to be seized by the proletariat?
No. Worse than that, CAMRA has asked people to complete a QUESTIONNAIRE.
It would seem axiomatic that any group seeking the preservation of besieged tradition (real ale surely qualifies) would seek to expand demand for the object, and as such, to be as inclusive as humanly possible because it stands to be bring greater numbers of people into the tent.
A short time back in a Hip Hops post about craft beer's sexism problem, the topic of regional malting was briefly addressed.
Hip Hops: Brave Noise? Craft beer's sexism problem redux, plus Sugar Creek Malt Co.
Sugar Creek Malt Co. recently provided beechwood smoked malt for a brewing collaboration I'm involved with (more on this later), reminding us that while hops get the headlines, malt is the foundation of beer: "Malting is an incredibly complex and natural science and art. It's the beginning of the journey from barley to beer."
The quote is by Cristal Peck, and she's the subject of a profile: Humans of Belgian Beer: The Biologist, another in "a series of photographic portraits which celebrate a people and their culture," at Belgian Smaak.
This week's coda is about our friends Lori and Tyler at The Grales, subjects of must-read profile at Life & Thyme website.
Reopening The Grales not only provided an opportunity to adjust their service model, but to renew their commitment to sustainability and local agriculture. "I'm not interested in buying beer from factories that are pumping out hundreds of thousands of barrels of beer. I have friends who have fourth, fifth-generation family-owned breweries I'd rather get behind," says (Lori) Beck. "I'd rather buy from our friends who are growing food than off some truck from a commodity purveyor. That's what's driving all of the decision-making right now."
I've said it before, and to repeat with emphasis, the Louisville beer community needs The Grales back at full speed as soon as possible.
---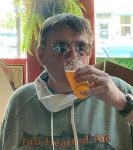 in 2022, Roger Baylor is celebrating his 40th year in beer as a beer seller, entrepreneur, educator, restaurateur, and commentator. As the co-founder of New Albany's Sportstime Pizza/Rich O's Public House (which later became New Albanian Brewing Company) in the 1990s and early 2000s, Baylor played a seminal role in Louisville's craft beer renaissance. Currently he is the beer director at Pints&union in New Albany and Common Haus Hall in Jeffersonville (coming Spring 2022). Baylor's "Hip Hops" columns on beer-related subjects have been a fixture in Food & Dining Magazine since 2005, and he became F&D's digital editor in 2019.