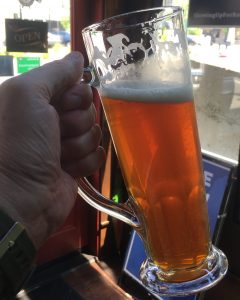 The legendary fictional detective Nero Wolfe was "famously loath to leave his brownstone on West 35th Street" in New York City, preferring to examine mysterious clues through deductive reasoning.
In one of author Rex Stout's early 1930s-era Wolfe novels, chief assistant Archie Goodwin calls Wolfe to the front door and asks his boss to step outside to see a potential client.
"Out there?" replies Wolfe, incredulous. "On the stoop?"
This weekly column purports to be about beer, not classic crime novels, although I might add that Wolfe certainly enjoyed his homebrew prior to Prohibition's end. I mention the displaced Montenegrin-turned-American sleuth solely because his attitude toward the outside world parallels my own during these past 14 months.
Not to make it political, but my household took the pandemic at face value, and for the most part, we stayed home.
And, as I kept staying close to quarters on the river's Right Bank (that's New Albany), Louisville-area breweries persisted in opening for business. I managed to write about six of them (Archie himself drove me to three) for the current issue of Food & Dining Magazine (Vol. 69; Spring, 2021), and now, with my vaccination regimen concluded, a fresh personal goal for the coming weeks is to visit Butchertown Brewing and Wild Hops Brewery in the Logan Street Market.
Their debuts missed the last print deadline, and I can make up for it in this space.
Three weeks ago it somewhat belatedly came to my attention that the first Wild Hops beer to be brewed in-house is wonderfully called A Long Time Common, and is an example of Kentucky Common, our area's only indigenous beer style.
I was immediately reminded of another recent piece of beer-style news.
Four 'New' Beers Have Been Added to the Brewers Association Style Guidelines, by Mike Pomranz (Food & Wine)
The Brewers Association (BA) has released its updated 2021 Beer Style Guidelines—and not that anyone's been noticing a shortage of IPAs on the shelf, but according to the trade group for independent brewers, America can add one more version of the popular craft beer style to the official list. Among the usual laundry list of "revisions, edits, [and] format changes" made to the guidelines each year, 2021 has also seen the addition of four new beer styles (or at least styles that are new to the list): Kentucky Common Beer, Belgian-Style Session Ale, and New Zealand-Style Pale Ale and India Pale Ale.
Bourbonism is all the rage hereabouts, and appropriately so, given that beverage alcohol just might be the only coherent philosophy of life capable of uniting fractured Americans. Yet in Kentucky Common we have a local beer style marketing idea almost as unique. The Beer Judge Certification Program explains why.
A true American original style, Kentucky Common was almost exclusively produced and sold around the Louisville Kentucky metropolitan area from some time after the Civil War up to Prohibition.
Its hallmark was that it was inexpensive and quickly produced, typically 6 to 8 days from mash to delivery. The beer was racked into barrels while actively fermenting and tightly bunged to allow carbonation in the saloon cellar.
There is some speculation that it was a variant of the lighter common or cream ale produced throughout much of the East prior to the Civil War… (and) in the period from 1900 to Prohibition, about 75% of the beer sold in the Louisville area was Kentucky Common.
Back in the day, Kentucky Common was the working man's choice in Louisville and environs, predating Joe Six Pack as useful metaphor because neither bottles nor cans were the preferred means of curbside carryout. Rather, when Louisvillians sent their kids to the corner tavern to "rush the growler," Kentucky Common went into the metal pails.
Also, contrary to what so many of us believed to be true for a very long time, Kentucky Common was not intentionally soured. Old-school brewing in Louisville may have been analogous to distillation, and yet there wasn't anything "sour mash" about it. Kentucky Common was German brewer's adaptation of known techniques to available raw materials, as well as an offering slotted to a popular price point.
Bourbon shots to accompany such beers were optional, and no doubt as Common as the beers themselves.
Kudos to Wild Hops for leading off with Kentucky Common. Nowadays Falls City Brewing Company brews Common Beer throughout the year, and a handful of other breweries do so on a seasonal basis, including Apocalypse (brewer Leah Dienes helped research the quoted BJCP definition), Old Louisville and Against the Grain. I'm probably missing a few, as I've been hesitant to venture out onto the porch (sadly we have no "stoop" as such).
As I relax in the parlor armchair, rubbing the cat's back and tickling a keyboard, it occurs to me that the Brewers Association's inclusion of Kentucky Common as a recognized beer style surely will prompt more examples of it being brewed nationwide for the express purpose of entering in competitions.
Wouldn't you hate to see a brewery from upstate New York walk away with a Great American Beer Festival gold medal for Kentucky Common, and not one from right here in Louisville, where this whole Common business started?
Cover photo credit: Wild Hops; customers at the Logan Street Market rush the growler for A Long Time Common.
---
Roger Baylor is an entrepreneur, educator, and innovator with more than 35 years of hands-on experience and expertise as a beer seller, restaurateur, and commentator. As the co-founder of New Albany's Sportstime Pizza/Rich O's Public House (which later became New Albanian Brewing Company) in the 1990s and early 2000s, Baylor played a seminal role in Louisville's craft beer renaissance. Currently he is the beer director at Pints&union in New Albany. Baylor's "Hip Hops" columns on beer-related subjects have been a fixture in F&D since 2005, and he was named the magazine's digital editor in 2019.