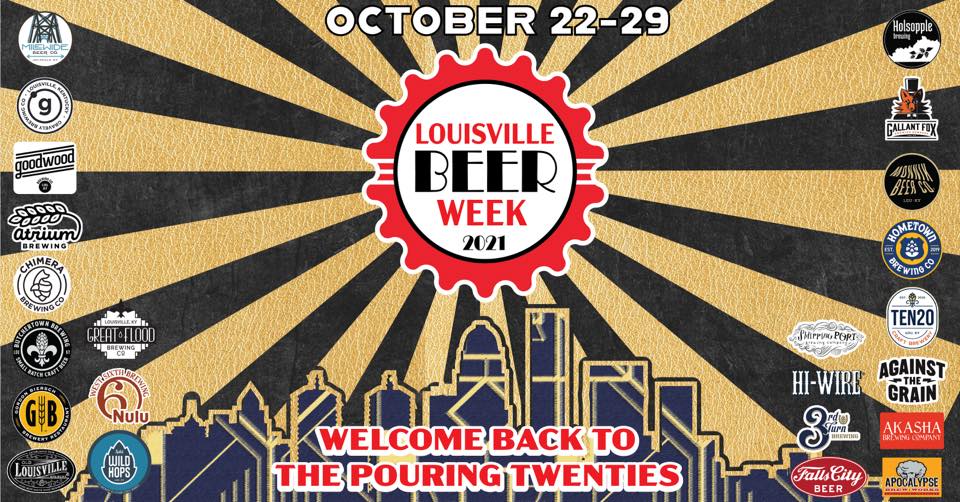 Another edition of a rejuvenated Louisville Beer Week is on the horizon. This year's calendar begins on October 22 and concludes on the 29th.
A "beer week" is a locally-oriented tribute to, and a celebration of, all things beer. The idea is that breweries, pubs, restaurants, beer bars and package stores hold events: beer tastings, beer dinners, brewery tours, beer and food pairings and tap takeovers (to name just a few common activities). Individual establishments organize their own events, and collectively a governing committee tries to spread the word.
Louisville Beer Week's "governing committee" is Louisville Ale Trail, which "serves to engage with Louisville tourists and residents about our local beer scene by encouraging city-wide tourism through the promotion of participating member brewery taprooms."
Last year's Louisville Beer Week theme of resiliency in a time of COVID has carried forward to 2021 in the form of brewery collaborations, or special one-off batches released during the celebration. They're further proof that there's nothing proprietary about contemporary brewing. It's an openly sourced, transparent, and forever creative genre. The Louisville Ale Trail team introduced this year's collaboration schedule here: Louisville Beer Draft 2021.
New for 2021 is "Pints From The Past: A Louisville Beer History Panel," which will take place on Monday, October 25 at 7:00 p.m. at The Whirling Tiger, Against the Grain's new performance venue (1335 Story Ave., the former Odeon). Your correspondent will be a panel member, along with Leah Dienes of Apocalypse Brew Works, author Kevin Gibson, Sam Cruz (Against the Grain) and Jeff Faith, who revived Fehr's.
Today's cover photo was taken as the legendary beer hunter Michael Jackson departed Bluegrass Brewing Company after a visit in 1994. From left to right, David Pierce (BBC brewmaster); Jackson; Buck Rissler (BBC ownership partner); and me.
I'll tell this story, with more photos, next Monday. Until then, even more history.
Boy meets wort, boy and wort build breweries, and Louisville Beer Week is revived
---
Roger Baylor is an entrepreneur, educator, and innovator with more than 35 years of hands-on experience and expertise as a beer seller, restaurateur, and commentator. As the co-founder of New Albany's Sportstime Pizza/Rich O's Public House (which later became New Albanian Brewing Company) in the 1990s and early 2000s, Baylor played a seminal role in Louisville's craft beer renaissance. Currently he is the beer director at Pints&union in New Albany. Baylor's "Hip Hops" columns on beer-related subjects have been a fixture in F&D since 2005, and he was named the magazine's digital editor in 2019.