German consular official: "Yes, Mr. Baylor, we see you're requesting asylum in our country. Can you explain why you'd like to live in Germany?
Me: Must. Escape. Mister X.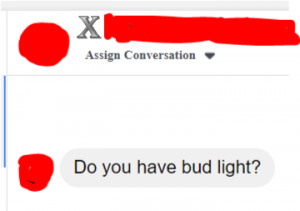 Dude's been following me around my entire career.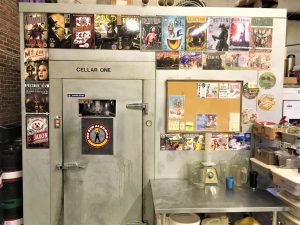 In 2020, 13 new breweries opened in Indiana, but 14 closed. Among the latter were Back Road Brewery in LaPorte, and Ram and Rock Bottom in downtown Indianapolis. These three breweries opened prior to the inception of the original New Albanian Brewing Company Pizzeria & Public House brewhouse in 2002, which means that NABC is now the 10th oldest continually operational craft brewery in the state.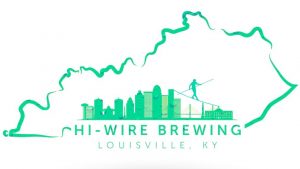 Hi-Wire Brewing from Asheville NC actually started exporting to Kentucky in 2018, with Dauntless Distributing as its wholesaler. Dauntless ceased operations last year, hence Hi-Wire interruptus.
However, the brewery recently announced Kentucky's first out-of-state-brewery taproom, in turn renewing the need for a wholesaler, which apparently will be Craftroads Kentucky, a forthcoming extension of Craftroads Indiana. The whys and wherefores seem to be a closely guarded secret, but here's a preview of Hi-Wire's Louisville taproom.
Located at 642 Baxter Avenue, the 5500-square-foot taproom will be our second taproom outside of NC, and it'll make Hi-Wire the first out-of-state brewery to open up facilities in Kentucky. It's also our first taproom that'll have the built-in community of a mixed-use development with retail on the first floor and apartments above. As always though, we're going for a fun, community-centered, and approachable vibe just like Louisville, so get ready for a 360-degree interior mural, a bar with twenty-one taps of delicious Hi-Wire beer, and a ton of family-friendly activities like soccer pool, table tennis, foosball, and shuffleboard.
According to WDRB-41, Noble Funk's brewery project is drawing ever nearer:
Noble Funk Brewery will move into the old (Kroger) grocery store at 922 South Second Street. With more than 28,000 square feet of space, the brewery and taproom won't be the only ones setting up shop in what will be called 'The 922.' There are plans for a restaurant, coffee shop, community space and more.
———
Much of the time my thought processes run low and slow, as with this article from the Courier Journal, which was published during the first week of January.
Here's where to warm up with authentic German food and beer around Louisville, by Lennie Omalza
Rather than chatting with multiple owners of German restaurants, I connected with a couple of people who are offering up top-notch German food and beer: Annemarie Greipel, who has owned and operated Gasthaus with her husband and children since 1993; and Nathaniel Gravely, founder and president of Gravely Brewing, which was the only Kentucky brewery to snag medals at the 2020 Great American Beer Festival. Sprockets, its German pilsener, won a gold medal, and German wheat ale Doc's Dunkel took bronze.
When it comes to "German-ness," Gasthaus is as good as it gets in Louisville. As restaurants go, it is the equal of like-sized establishments in Germany, and in my opinion better than many. The Gasthaus beer list is stellar and includes 14 brands of beer, all in bottles, representing 10 different German beer styles.
There's no denying that Gravely is one of Louisville's finest breweries, but with all due respect to the author, it's not really the ideal of a "German" brewery – if we mean a daily focus on brewing German beers in the same way that Gasthaus serves textbook German meals. On Sunday, Gravely's website showed 13 beers on tap, with five variations on IPA, and only four styles traditionally associated with Germany.
Gordon Biersch's Louisville branch comes closer to this ideal. It began as primarily German-themed, and while branching out in other directions, Biersch retains the greatest number of German-legacy beers tapped on a daily basis (six out of ten as of Sunday).
(For a sense of the old-school possibilities elsewhere in Craft Beer Nation, see this list of America's best German-style breweries.)
All these thirst-inducing considerations have led me to undertake an instructive academic exercise right up here, in my noggin. What if I were given the opportunity to construct the beer program for a restaurant/bar specializing in German food, with 12 taps for pouring beers imported from Germany and environs?
Seeing as I know the Indiana wholesaler books, I'll start with them, although in all probability the same beers can be sourced in Kentucky.
Pilsner Urquell (Bohemian Pilsner)
Paulaner Pils (German Pilsner)
Hofbrau Original or Weihenstephaner Helles (Pale German Lager)
Weihenstephaner Hefeweissbier (Golden Wheat Ale)
Weihenstephaner Hefeweissbier Dunkel (Dark Wheat Ale)
Kostritzer Schwarzbier (Black Lager)
Ayinger Altbairisch Dunkel (Dark/Brown Lager)
Reissdorf Kolsch (Golden Ale from Cologne)
Uerige Classic ("Altbier," or a Brown Ale from Dusseldorf)
Rotating tap: Stiegl's Radlers (from Austria, lager and fruit juice combined, including flavors like grapefruit and lemon)
Rotating tap: Ayinger Celebrator Doppelbock in winter, yielding to other seasonal bock beers in spring, followed by available Maibocks in late spring and early summer. Different wheat ales would appear in hot weather, followed by Oktoberfest in autumn.
Rotating tap: Also seasonal, but pulling regional specialties, like Schlenkerla Rauchbier (smoked lager), Kellerbier, Gose, Berliner Weisse and periodic ringers.
Somewhere, a hophead laments: but RB, you traitorous potential expatriate, how can there not be a good ol' American-style IPA on tap?
Precisely, goober; India Pale Ale isn't exactly a Teutonic construct, is it? The point of the exercise is to be German, not San Diegoan.
Allow me to propose as compromise an everyday fair price for tall cans of Bell's Two Hearted Ale, or any number of quality IPAs, and call it good. Obviously there'd be room for selected cans and bottles suitable to cover a representative range of non-German styles.
I see a hand waving from the nickel seats — yes, do you have a question?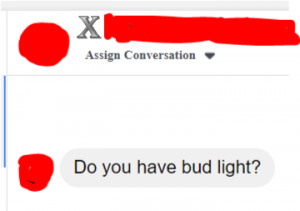 Nah. haven't heard of that one. I think you're looking for the pet shampoo.
That's in aisle 13.
Cover photo: Aftermath of a session at the Brauerei Wagner in Merkendorf, Germany (near Bamberg) in 2004. There were no pastry stouts. 
---
Roger Baylor is an entrepreneur, educator, and innovator with more than 35 years of hands-on experience and expertise as a beer seller, restaurateur, and commentator. As the co-founder of New Albany's Sportstime Pizza/Rich O's Public House (which later became New Albanian Brewing Company) in the 1990s and early 2000s, Baylor played a seminal role in Louisville's craft beer renaissance. Currently he is the beer director at Pints&union in New Albany. Baylor's "Hip Hops" columns on beer-related subjects have been a fixture in F&D since 2005, and he was named the magazine's digital editor in 2019.