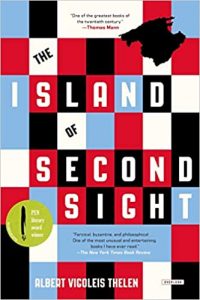 A fractious month of January calmed somewhat near the end, providing a relatively peaceful space to finish reading the year's opening novel: The Island of Second Sight by Albert Vigoleis Thelen (1903-1989), who was German by birth but opposed Nazism throughout his life.
Thelen's work is a fictionalized account of the author's self-exile on the Spanish island of Majorca (Mallorca) in the 1930s, hailed by none other than his fellow German writer Thomas Mann as "one of the greatest books of the twentieth century."
Mann's assessment is accurate. In all respects the novel is a self-deprecating, digressive, tragi-comic and thoroughly entertaining account of life and death amid the gathering storm clouds presaging the Spanish Civil War and later, World War II.
What does this have to do with beer? I'm glad you ask.
In Thelen's novel, the chronically underemployed but well-educated and multilingual narrator accepts an occasional position as tour guide, greeting boatloads of German tourists and herding them past the island's must-see points of interest. More than once, certain of these boisterous visiting Germans, always males in thrall of Hitler, denounce the state of Spanish lager, demanding to be told exactly where a thirsty man could get a decent beer thereabouts.
Immediately I was reminded of Ernest Hemingway's Death in the Afternoon, Papa's acclaimed book about Spanish bullfighting. It was published in 1932; Thelen arrived a year later for his stay in Majorca. In contrast to protests of Spanish brewing inadequacy on the part of visiting Germans, as recorded by Thelen, the forever bibulous Hemingway found the country's golden lager pleasingly copacetic.
"Draft beer is served in pint glasses called dobles or in half-pint glasses called canas, canitas or medias," Hemingway wrote. "The Madrid breweries were founded by Germans and the beer is the best anywhere on the continent outside of Germany and Czecho-Slovakia."
Granted, it's difficult to imagine Hemingway refraining from his characteristic braggadocio long enough to take note of a French biere de garde or hand-pumped English bitter ale, and consequently his range for comparison would have been narrow. After all, the beer judge certification program did not come along until much later, and I for one can't imagine Papa completing it.
When I first experienced Spanish beer in the 1980s, the ubiquitous mass-market golden lagers like Mahou, Damm, Cruzcampo and San Miguel were merely serviceable, otherwise offering precious little distinctiveness to separate one from the other. Today new-age craft beer has arrived in Spain with a vengeance, and there are a half-dozen breweries of recent inception on the island of Majorca alone.
Back then? Not a lot of anything beer, really. I drank a lot of Rioja instead, chased with Patxaran.
Almost a century later, Thelen's disgruntled German tourists strike me as better judges of the Spanish beer marketplace than Hemingway. Then again, the American wordsmith swallowed enough wine and spirits to float a cruise ship to Majorca, and it may have impaired his faculties.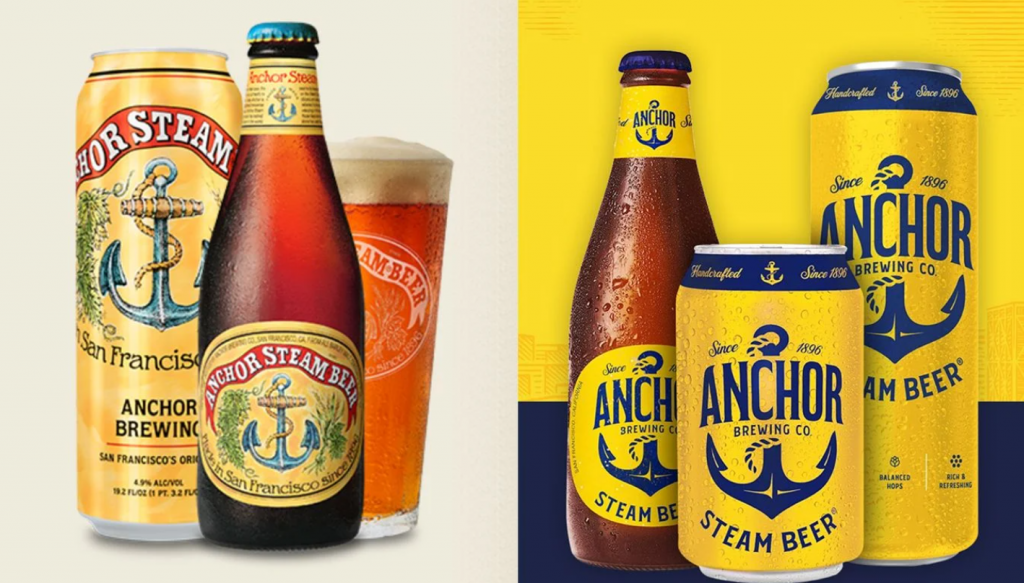 Previously at "Hip Hops" I signposted the arrival of Flagship February, celebrating "the beers that got us here," and as always, a fine example of a "flagship" beer in this context is Anchor Steam from San Francisco.
The legendary Fritz Maytag sold Anchor Brewing Company ten years ago, and since 2017 it has been owned by Sapporo of Japan. The beer itself still tastes great to me, but for "Flagship February" in 202 there's an Anchor label redesign controversy, as explained by Esther Mobley of the San Francisco Chronicle. : "One artist drew Anchor's beer labels for 45 years. Here's what the 93-year-old thinks of the controversial redesign."
The reactions to the redesigned Anchor beer labels, unveiled on Monday, have been passionate. On Twitter, fans of the San Francisco brewery expressed their displeasure, comparing Anchor Steam's new blue-and-yellow palette to the coloring of Ikea, Twisted Tea, Long John Silver's and "a detergent box." 
But as much as I was interested in the reactions of local beer drinkers, there was one person whose opinion I felt I really needed to seek out. That's Jim Stitt, the 93-year-old illustrator who hand-drew all of Anchor Brewing's labels for 45 years before retiring in 2019.
The artist Stitt came aboard in 1974, when Maytag hired him to illustrate the label for Anchor Porter, which remains a fantastic dark beer even if isn't kettle-hazed-pastry-milk-shook.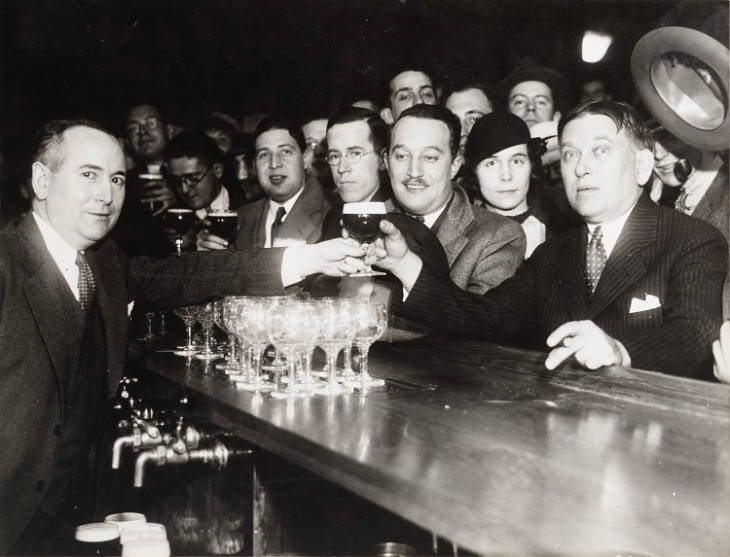 It is said that the fabled American journalist, writer and social commentator H. L. Mencken (1880-1956) celebrated the repeal of Prohibition by drinking a glass of cold water.
"My first in 13 years," explained Mencken.
I expect to be credited for waiting until "Dry January" finally elapsed (why?) before reminding readers that Mencken viewed America's legions of cheerfully tippling iconoclasts as the very best safeguards against Pecksniffian teetotalers, whose "noble experiment" was such an ignominious failure.
For those unfamiliar with Mencken, who was known as "The Sage of Baltimore," the Encyclopedia Brittanica provides necessary background.
H.L. Mencken, in full Henry Louis Mencken … controversialist, humorous journalist, and pungent critic of American life who powerfully influenced U.S. fiction through the 1920s … Mencken was probably the most influential American literary critic in the 1920s, and he often used his criticism as a point of departure to jab at various American social and cultural weaknesses.
Controversialist – now there's a wonderful word, indeed: "A person who disputes; who is good at or enjoys controversy."
Mencken's written output of curmudgeonly feistiness verifies his mastery of the polemical arts, and as such, you can count him among my most prominent role models. As a beer-loving German-American enduring a "dry" era, Mencken was not averse to the merits of the tall, cool one, and was an iconoclast of the highest order.
1. A person who attacks cherished beliefs, traditional institutions, etc., as being based on error or superstition.
2. A breaker or destroyer of images, especially those set up for religious veneration.
My heroes have always been iconoclasts. From Socrates through Tom Paine, and Mencken through Louisville's own Hunter S. Thompson, there's nothing as thrilling to me as an iconoclast taking a headlong swipe at cherished, unexamined assumptions. Better yet, given my own career as a tippler, the most wonderful aspect of iconoclasm is that rampant personal dissipation does not pre-empt the message.
It actually may enhance it.
tippler (noun): A person who is habitually drunk: drunk, drunkard, inebriate, sot. Slang: boozehound, boozer, lush, rummy, soak, souse, sponge, stiff.
The richness of Mencken's writing reached well beyond newspapers, magazine essays and polemics to history and etymology. In particular, he was a scholar of the American tongue, documenting the "old" English language's transformation into something new, vital and distinctly ours.
Here is a brief beer-related excerpt from Mencken's seminal The American Language: An Inquiry into the Development of English in the United States (Fourth Edition, 1937).
An English saloon-keeper is officially a licensed victualler. His saloon is a public house, or, colloquially, a pub. He does not sell beer by the bucket, can, growler, shell, seidel, stein or schooner, but by the pint, half-pint or glass. He and his brethren, taken together, are the licensed trade, or simply the trade. He may divide his establishment into a public-bar, a saloon-bar and a private-bar, the last being the toniest, or he may call his back room a parlour, snug or tap-room. If he has a few upholstered benches in his place he may call it a lounge. He employs no bartenders. Barmaids do the work, with maybe a barman, potman or cellarman to help.
Mencken continues:
Beer, in most parts of Great Britain, means only the thinnest and cheapest form of malt liquor; better stuff is commonly called bitter. When an Englishman speaks of booze he means only ale or beer; for our hard liquor (a term he never uses) he prefers spirits. He uses boozer to indicate a drinking-place as well as a drinker. What we call hard cider is rough cider to him. He never uses rum in the generic sense that is has acquired in the United States, and knows nothing of rum-hounds, rum-dumbs, rum-dealers, the rum-trade, and the rum-evil, or of the Demon Rum.
The American bung-starter is a beer-mallet in England, and, as in this country, it is frequently used for assault and homicide.
Chances are February will be fractious, too. Thelen would commiserate, and lest we forget, Mencken's coverage of the Scopes trial espoused issues of science and religious faith that are by no means antiquated.
All the better for us to enjoy a beer or three from the relative safety of the cheap seats; left field side for me, please.
(Cover photo credit: Birrapedia)
---
Roger Baylor is an entrepreneur, educator, and innovator with more than 35 years of hands-on experience and expertise as a beer seller, restaurateur, and commentator. As the co-founder of New Albany's Sportstime Pizza/Rich O's Public House (which later became New Albanian Brewing Company) in the 1990s and early 2000s, Baylor played a seminal role in Louisville's craft beer renaissance. Currently he is the beer director at Pints&union in New Albany. Baylor's "Hip Hops" columns on beer-related subjects have been a fixture in F&D since 2005, and he was named the magazine's digital editor in 2019.