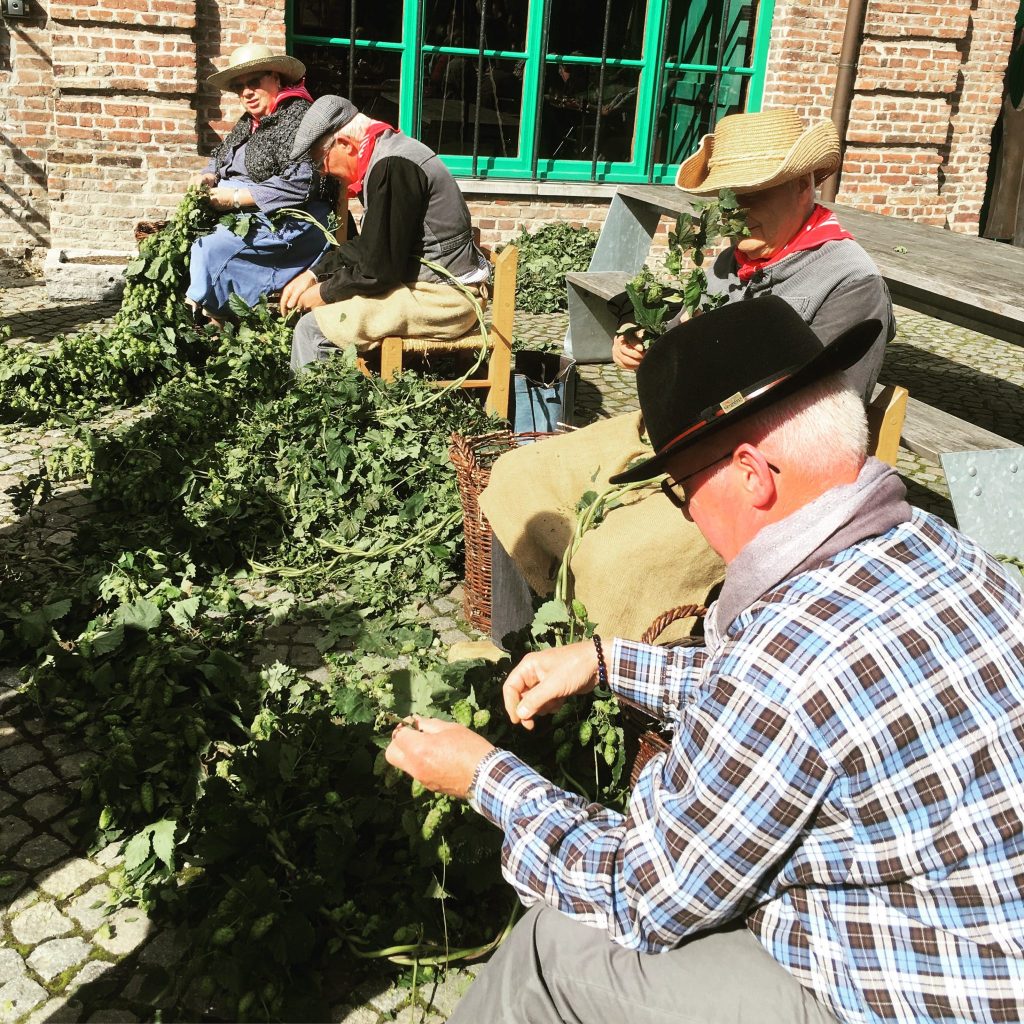 If not for COVID19's unexpected intervention, today we'd undoubtedly be visiting friends in Haarlem, Netherlands in preparation to ride the rails south to the small Belgian city of Poperinge, and the renewal of its triennial Beer and Hop Festival.
Of course the pandemic caused the festival to be postponed until the same weekend next year, and in turn, so has our trip to Europe – assuming Americans will be allowed to re-enter the continent by then.
Let's hope so. Poperinge doesn't appear on many of the bucket lists that we beer lovers enjoy compiling, but it should.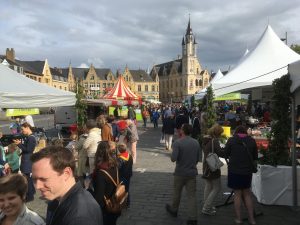 This tidy, friendly Belgian provincial city (circa 20,000 population) is a relaxing place to spend the weekend, with a picture-perfect central square for ale-inspired loafing and plenty of excellent eateries for refueling following hikes and bike rides, opportunities for which are abundant.
Trust me, because I've been there and done that.
In 2017, we dined at the Café de la Paix on the square, and my meal was structured as follows, for a very fair total price of somewhere around $50:
Opener: Escargot with Rodenbach Grand Cru. The oyster-like texture of snails, slathered in garlic and butter, with a classically sour, wood-aged red ale to slice through the richness.
Main Course: Steak (medium rare) with Béarnaise sauce, green salad, frites and De Dolle Oerbier; the latter is malty, fruity and complex, and elegantly fills the slot red wine might otherwise occupy.
Closer: Rochefort 10, and a stolen bit of a fellow diner's tart. Still one of the top Trappists on the planet, and a dark, rich dessert in a bottle. Westvleteren 12 would have been nice, but it's hard to find in Poperinge even if the brewery is a scant four miles away.
As importantly, Poperinge is the ideal human-scaled base for beer tourism. These nearby destinations merely scratch the surface: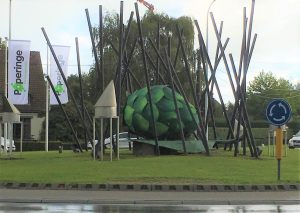 "Hommel" is the Flemish word for hops, and the magic cone prefaces Poperinge's party every three years.
For generations the cultivation of hops was big business in Poperinge, although for various reasons this most highly specialized of agri-businesses steadily declined to the verge of disappearing.
Farm-to-table consciousness and the craft brewing revolution both have helped to arrest the decline, and happily the past quarter-century has seen a modest and encouraging resurgence. There is an escalating marketing campaign to promote beers brewed using Belgian-grown hops, and all these factors come together at fest time.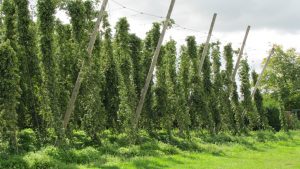 Taken as a whole, Poperinge's Beer and Hop Festival is a delight, and the three-day event reflects a much appreciated commitment to local values.
Hops-related events and related revelry take place throughout the festival weekend. New Albany has its Harvest Homecoming; Poperinge's triennial gathering functions as a Hop Homecoming, and is very much a civic celebration that welcomes the stray visitor.
A boisterous Bavarian-style beer hall operates for the weekend. Visiting delegations from Poperinge's hop-growing twinned towns in the Czech Republic, Germany and England bring along their brass bands, which play at the beer hall and stage a "tattoo," or marching-style performance on the street.
A hop queen and queen's court is selected. A fest within a fest takes place on the square, with beer and food samples. The Hop Museum, located in an old hops storage warehouse, is free of charge and offers tours throughout the weekend.
However the undisputed festival highlight is the Sunday parade closing the weekend. It tells the story of beer and hops, with an accompanying libretto of sorts printed in several languages, periodic chapter markers, and a refreshing absence of commercial considerations.
In stark contrast to the sort of parades Americans tend to stage, you'll notice no sirens, police cars, municipal storm-water suck trucks, monster rigs, militia jeeps or deafening fire engines; instead, there are actual humans, many of them walking, some on horseback or riding in wagons. Sheep have been known to appear.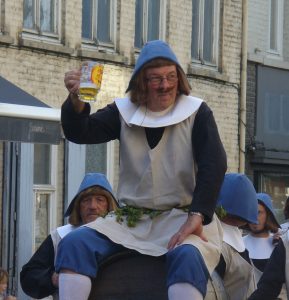 The hop parade concerns the history of brewing, the daily life of the hop, and their importance to the Poperinge economy. Onlookers meet the enemies of the hop — for instance, brightly festooned children dancing as beetles — and the plant's friends, other whistling children dressed as birds. There are hop pickers, drunken monks, trellis climbers and the wind itself.
I could easily belabor the point, and probably have already, so allow me to close with a few scenes from the 2017 parade (there is a video at my blog). Links have been scattered throughout this overview, and if readers are interested in visiting Poperinge anytime, fest or otherwise, I'm happy to advise them.
Until 2021, here's to the world heritage of beer and brewing, which can get quite big and international, when the essence of it remains very small and local.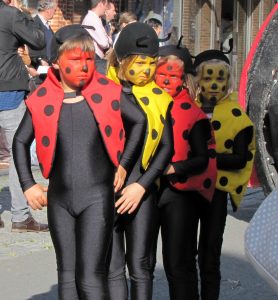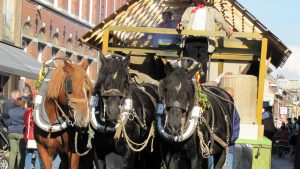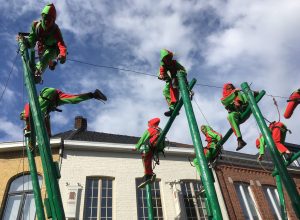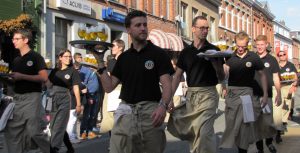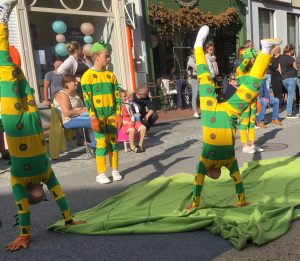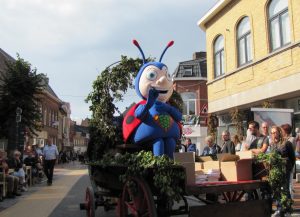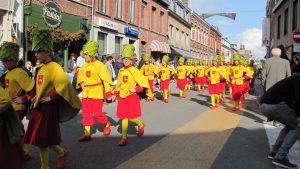 ---
Roger Baylor is an entrepreneur, educator, and innovator with more than 35 years of hands-on experience and expertise as a beer seller, restaurateur, and commentator. As the co-founder of New Albany's Sportstime Pizza/Rich O's Public House (which later became New Albanian Brewing Company) in the 1990s and early 2000s, Baylor played a seminal role in Louisville's craft beer renaissance. Currently he is the beer director at Pints&union in New Albany. Baylor's "Hip Hops" columns on beer-related subjects have been a fixture in F&D since 2005, and he was named the magazine's digital editor in 2019.
advertising content
advertising content