In the spring of 2002, I chartered a minibus, and a dozen of us took a trip through Hungary, Slovakia, Poland, Czech Republic and Austria. It was a glorious, albeit brief glance at a few fascinating European locales often missed by Americans.
Our Polish stay centered on Kraków, which many readers will recall as the home of Pope John Paul II. City sightseeing was undertaken on an individual basis, with half-day excursions to outlying areas. One of these day trips was a difficult but necessary visit to the Auschwitz concentration camp memorial. Another far less somber outing took us to Zakopane, a town nestled at the foot of the Tatra Mountains, then to the Żywiec (Zhih-vietz) brewery.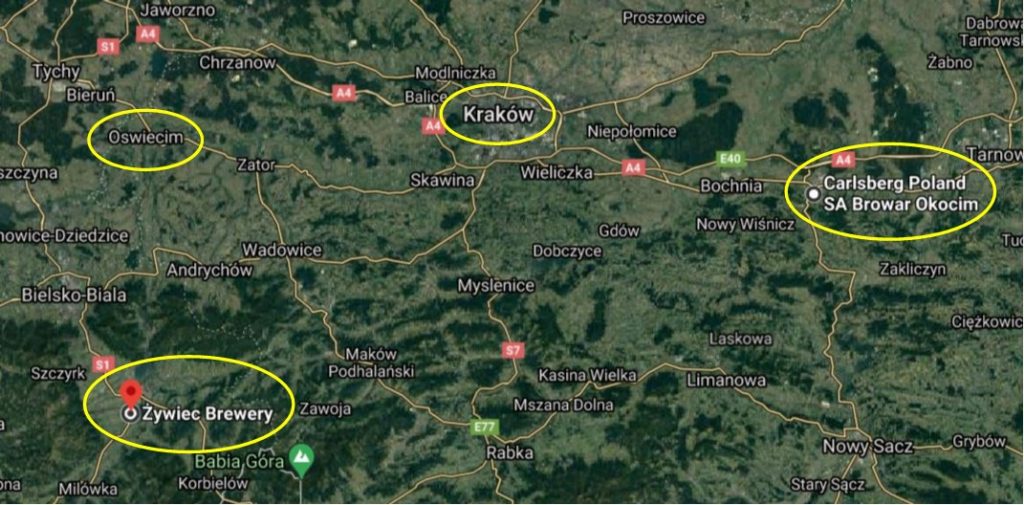 Full disclosure: Back in the early 1980s, I developed a fascination with (then Communist) Poland's two most popular beers, Żywiec and Okocim (ah-KOH-tsim). These two beers, in their most common standard golden lager form, were exported to America via a company named for its founder, Stanley Stawski. There is no better story in the annals of importers.
Born in Poland in 1924, Stawski survived the 1939 invasion of his country by the Germans. In 1944, he took part in the Warsaw Uprising as a member of the underground Home Army. Captured and sent to a prisoner-of-war camp, Stawski headed to Italy after his camp was liberated, and joined the 2nd Polish Corps.
Two years after the war ended, the British sent his unit to England and when the British demobilized his unit in 1951, Stawski left for the United States. He had $20 in his pocket.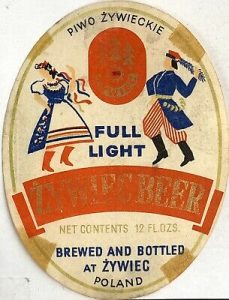 My evening job at the long defunct Scoreboard Liquors in New Albany began in 1982, and to make a long story short, I was allowed to fill one of the reach-in cooler doors with imports.
Whenever possible, I'd bring in a case or two of Żywiec, Okocim or Krakus (also from Żywiec). These beers came in rough cardboard cases, with throwback bottle labels that couldn't be characterized as "vintage" because they were in everyday use in Poland at the time.
At  left, an export label. Full and light? Sounds plausible to me. Below right, a Hungarian language Okocim export label from 1987.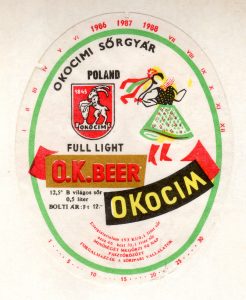 Then in Warsaw (1987) came the purely serendipitous opportunity to taste Żywiec lager on draft. It was hot and humid, in the middle of the afternoon. I'd detached from the tour group to buy train tickets to Prague, and cut through a neighborhood to get back to the hotel. Rounding a street corner, I heard male voices — and more importantly, the clink-clink of glasses touching.
It was a pub of some sort in a building shaded by street trees, filled with men dressed mostly in work clothing, although a few wore nondescript brown suits – and amid clouds of cigarette smoke, all of them were throwing back golden-colored Żywiec drafts in gorgeous fat mugs.
I was more thirsty than intimidated, and it already was clear that Poles liked Americans. Entering the front door, I saw a serving counter and walked straight to it. No English was spoken, but a transaction was negotiated … once, and then a second time. I'd love to say that something novel and revealing came of it.
Nothing did, but at the same time, no one hassled me. I drank my beers in peace just like everyone else, and quickly found the hotel. There had been no opportunity (and insufficient language skills) to inquire about Porter, the mention of which had come in one of Michael "Beer Hunter" Jackson's books. Perhaps there'd be another time.
Fifteen tumultuous years later, our minibus parked in Zakopane for a few hours of exploration. There was time for a quick Żywiec lager at the Hotel Litwor's beer garden (today's cover photo) before our drive to the brewery.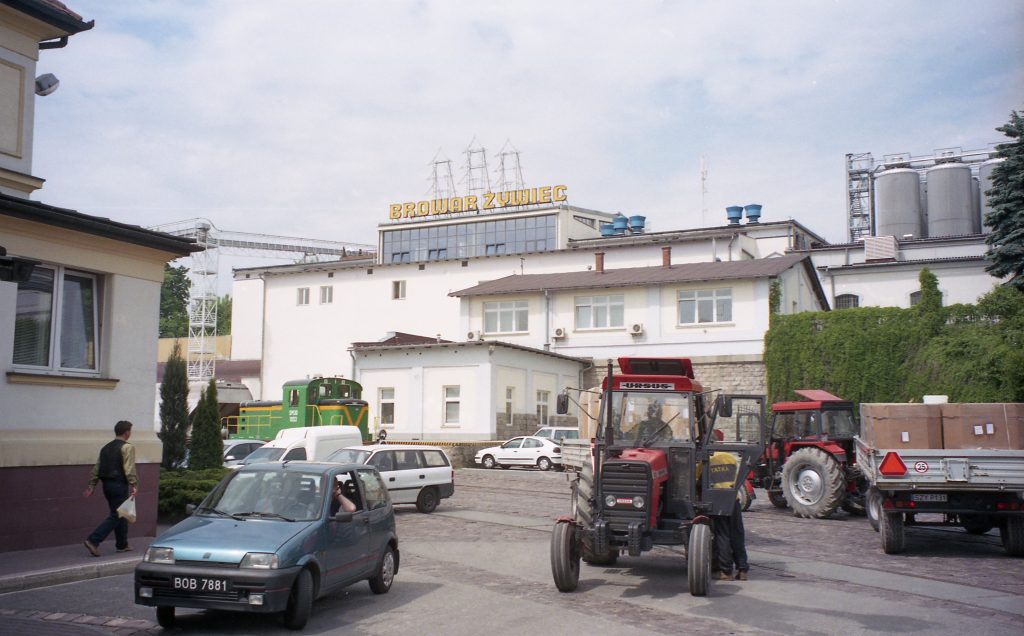 It was a 45-minute trip that took almost three hours, given the slowness of traffic on the back roads, and it was fortunate that I'd included time for strolling. Instead, we went straight to the brewery and dove into Polish brewing history.
Żywiec was founded in 1856, when Poland was part of the Austrian empire. The Habsburg dynasty owned the brewery until it was nationalized by the Communists following WWII; a quarter-century ago, Heineken acquired it.
Then as now, Żywiec produces a stable of top-selling golden lagers, which are fine, but the reason for our pilgrimage was to learn about the Porter, which became available to us in New Albany in the late 1990s (no longer, alas).
The Beer Judge Certification Program description for Baltic Porter indicates that top-fermented English-style Porters and strong Stouts may well have been the original impetus for dark beers brewed in places like Poland, Estonia and Finland, but German lager brewing techniques supplanted ale-making long ago.
My theory always has been that brewers kept the same basic recipe for Porter but switched to lager yeast and cool fermentation. Alcohol contents crept up, and these days some examples of Baltic Porter seem closer to Doppelbock, while others lean toward Imperial Stouts.
We drank a crate of bottles of it at the brewery after the tour in 2002, and saw it here and there in Krakow (also bottled), but in truth it was a low priority for Żywiec at the time. However, and to me quite happily, ever since then the global craft beer revolution has made Żywiec Porter and brands like it valuable again.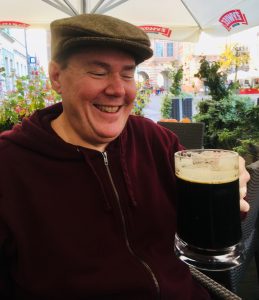 Consequently, 16 years after the minibus trip, in Gdansk (a Baltic Sea port city as far to the north of Poland as landlocked Zakopane is to the south), I finally had the chance to drink Żywiec Porter on draft. My bucket list was lightened, and my wife captured the moment of ecstasy.
The eatery in Gdansk was serving 9.5% abv beer in these visually arresting half-liter glass mugs, a fact so astounding to me that I had a second portion just to be sure I hadn't lapsed into a dream state. They merely shrugged, and we happily paid. Later there was a meal of wild boar pierogis, stuffed cabbage, bigos, and more beer — but don't worry; the hotel was a short five-block walk, enough time for a reverie about the pursuit of Porter.
---
Roger Baylor is an entrepreneur, educator, and innovator with more than 35 years of hands-on experience and expertise as a beer seller, restaurateur, and commentator. As the co-founder of New Albany's Sportstime Pizza/Rich O's Public House (which later became New Albanian Brewing Company) in the 1990s and early 2000s, Baylor played a seminal role in Louisville's craft beer renaissance. Currently he is the beer director at Pints&union in New Albany. Baylor's "Hip Hops" columns on beer-related subjects have been a fixture in F&D since 2005, and he was named the magazine's digital editor in 2019.