The Spring 2023 issue of Food & Dining Magazine is now available in all the familiar places: Louisville area eateries and food shops, newsstands and online.
The unique and beguiling Café Abseits in Bamberg, Germany has passed into history, its 19th century storefront filled by a startup Indian restaurant, which in itself is no bad thing even if one is more disposed toward the consumption of Kellerbier than Aloo Gobi.
During its lengthy heyday Café Abseits was a must-visit beer bar in a city filled with exceptional breweries, starting as a quintessential student hangout in 1982, then as the years passed, gradually taking on the character and interests of co-founder Gerhard Schoolman.
A fellow contrarian and beer aficionado, Schoolman spotted a profoundly under-valued niche during the late 1990s, choosing to promote amazing beers from the many small breweries dotting the countryside near Bamberg, as well as a select few produced by the  Weyermann malting house's tiny test brewery only a few blocks away.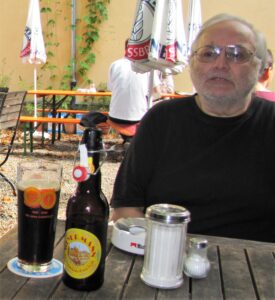 Recently I was saddened to learn that Gerhard, who retired in 2020, had died. My sincere condolences to his family and friends.
I made his acquaintance some years back in a manner fully befitting a native Hoosier, in that when I posted on the Franconian Beer Message Board to inquire about tickets to a Brose Baskets basketball game (the German league team is now called Brose Bamberg), Gerhard quickly answered with an offer of free promotional tickets.
He was a basketball fan, and fortuitously for us, the team was kicking off a mini-dynasty of league championships and cup titles at precisely the time we first witnessed a game. Gerhard catered to the players. Once when I was savoring a Christmas seasonal Bock at Café Abseits, a strangely long shadow descended over my bar seat as a customer came forward to sign his tab. The gals behind the bar had been visibly fawning over him, but I thought nothing of it until he stood and blocked the ceiling light.
It was Tibor Pleiss, the 7' 1" starting center for the Brose Baskets, also a member of the German national team, who had returned from a road win against Trier the night before and dropped by Abseits to polish off an enormous bowl of spaghetti and a fruit drink (alas, not beer, although slim as a rail, Pleiss could have used the pounds). He later played briefly in the NBA, and in 2023 remains active in the top Turkish basketball league.
In 2014 six of us dropped into Café Abseits entirely unannounced, with no expectation that Gerhard would even be there, and when he saw us he remembered everything about our 2009 residency, sat down, launched into a presentation about Franconian beer and brewing, and soon was opening bottles to illustrate his points with samples.
It was truly brilliant.
Let's hope someone of like-minded discernment in Bamberg decides to loft Gerhard's highly specialized torch. Granted, it wouldn't be the same; it never can be, but his advocacy of regional beers, featured at a cozy, principled joint with fine food and a marvelous patio, was the sort of heaven-sent service to the planet's beer lovers that we probably appreciate the most only when it's no longer available to us.
From one beer guy to another: Auf Wiedersehen, Gerhard. You'll be missed.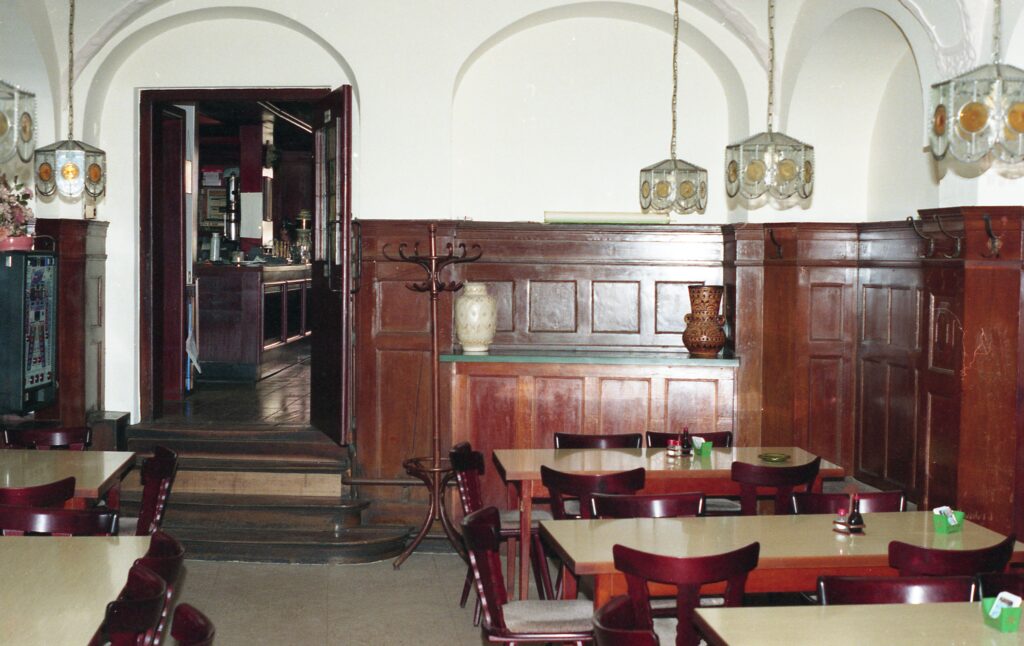 To know me at all is to understand that ever since 1991, Bamberg has been my happiest of beer places. That year my cousin Don and I made our first appearance in the city, staying at a venerable inn called the Maisel Bräu Stübla, which shortly thereafter rebranded as the Bamberger Weissbierhaus.
This old building was the original city-center tap of Maisel Bräu (1894 – 2008), a lovely brewery located about 15 minutes away by foot. At some point the Stübla had added a half-dozen basic guest rooms upstairs overlooking a delightfully green and flowery courtyard. The two women presiding over Bamberger Weissbierhaus were forces of nature, and cooked some of Bamberg's bar-none finest pub food.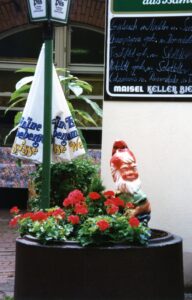 The Maisel brewery's demise 15 years ago proved traumatic; apparently there were family disagreements, and its closure rocked the local brewing ecosystem.
Happily Maisel Bräu's superlative outdoor seating area was preserved amid ongoing redevelopment of the brewery property, and was taken over by the ever-industrious family that owns Fässla (which these days is a sponsor of Brose Bamberg).
Meanwhile the Bamberger Weissbierhaus apparently carried on until 2021, when the pub's lease was not renewed and the business finally came to a halt.
A restaurant called Karl Anton is operating there now, and according to this article the number of guest rooms is being expanded and a "craft" coffee roastery might be added in the courtyard: "Do what we like": Bamberg's traditional restaurant opens on Thursday under a new name.
The reason I know all this is because Gerhard Schoolman posted about it on Facebook last winter, and gladly answered my questions during what proved to be our final exchange of social media messages.
Obviously, change is the only constant. We adapt, or else.
However there are times in all of our lives when we awaken one morning and find ourselves disconcerted to discover just how different things have come to be while we were absorbed with the minutiae of daily life.
Speaking for myself alone, and without any interest in making a numbered list, an escalating number of the incredible people I've met these past forty years in beer have stepped aside, changed careers or retired. Sadly a few too many of them are no longer with us on this planet, like Gerhard.
Breweries, pubs and like-minded establishments that helped inform my worldview about beer have their own life spans, and many have disappeared or morphed into another commercial form. There remains nothing quite as melancholy as the architectural remnants of an old brewery, even when they've been energetically repurposed into housing, arts incubators or events centers. All I can see, feel and taste is the beer that was there before. That's about as spiritual as I'm capable of being.
In the case of Bamberg, it's actually encouraging that the majority of people and places that blew my mind back in 1991 is still living, working, intact and productive. May they continue to inspire beer lovers, both here and there—and if anyone has a recipe for Schweinkoteletten mit Meerrettich (pork chops with horseradish), a staple at Bamberger Weissbierhaus, please send it my way.
Now THAT was some damn fine eating.
—
In closing, it's time again for our annual St. Patrick's Day primer, intended among other purposes as a series of useful reminders:
It's Paddy, and never Patty
Even beer as seltzer-level dreadful as Michelob Ultra shouldn't be colored green
The Irish pastime of hurling is not what most people in America think it means
And a few others for good measure. The 2022 version suffices for repeating in 2023, thus sparing valuable minutes for me to drink a few pints of Guinness, because whenever Amateur Night draws near, one simply must keep his priorities straight.
Hip Hops: Erin Go Blagh 2022, the timeless St. Paddy's etiquette primer
---
Roger Baylor is an entrepreneur, educator, and innovator with 41 years of beer business experience in metropolitan Louisville as a bartender, package store clerk, brewery owner, restaurateur, writer, traveler, polemicist, homebrewing club founder, tour operator and all-purpose contrarian.
As a co-owner (1990 – 2018) of New Albanian Brewing Company Pizzeria & Public House in New Albany, Indiana – founded in 1987, 1992, 2002 and 2009 – Baylor played a seminal role in metro Louisville's contemporary beer renaissance. He currently is beer director at Pints&union in New Albany.
Baylor's "Hip Hops" columns on beer-related subjects have been a fixture in Food & Dining Magazine since 2005, where he currently serves as digital editor and print contributor. He is a former columnist at both the New Albany Tribune and LEO Weekly, and founder of the NA Confidential blog (2004 – 2020).