Glancing down at my phone, I saw the daily in-box teaser from Louisville Business First, and just for a split second, I thought wow, it's yet another new brewery: "New juice, smoothie bar opening soon in the Highlands."
Then I realized it was an actual, non-botoxed-IPA, juice and smoothie bar.
Rainbow Blossom to open second 'Blossom Bar' in the Highlands
The second location of Rainbow Blossom's new smoothie and juice bar concept is set to open next week after months of delays.
That's a relief. All the best to Rainbow Blossom, and someone hand me a damn Rauchbier.
Meanwhile, Louisville Ale Trail reports that the time has come for the soft opening at Noble Funk Brewing Company (922 S. Second St. in Louisville) – you know, where Kroger used to be.
Louisville's newest brewery, Noble Funk Brewing Company, will have a soft opening this Friday and Saturday between 4-10. Exciting!
Over yonder, on the right bank of the Ohio, it seems that North Carolina's Hi-Wire Brewing has dropped its Indiana wholesale distributor (Craftroads Beverage), but it might be seeking another distribution partner. If you've been purchasing Hi-Wire beers in Hoosierland, there may be an outage, whether short or long. Obviously Hi-Wire's new taproom at 642 Baxter Avenue in Louisville remains open, and the brewery's beer is still available in Kentucky via Beer House Distributing.
The biggest story in Indiana brewing circles is the change of ownership at Bloomington Brewing Company, which is the third-oldest brewery in the state in terms of continuous operation (behind only Broad Ripple Brewpub and Lafayette Brewing Company. As an aside, BBC's Ruby Bloom Amber has been brewed continuously since the brewery's inception, and takes a back seat to no other brand when it comes to pairing with pizza.
Bloomington Brewing Company changes ownership after 27 years, by Joe Hren (Indiana Public Media)
Bloomington Brewing Company is changing hands for the first time since it opened 27 years ago. Founders Jeff Mease and Lennie Busch announced Wednesday Amanda and Jarrod Franklin of Bloomington purchased BBC along with partners of Indianapolis brewery Four Day Ray.
Mease says the sale doesn't affect their other businesses such as Lennie's or HIVE.
"Lennie and I were never brewers; we came to this thing through more like a love of localism. So, it was time."
Finally, as previously noted, a reminder that Donum Dei Brewery will be having a chili cook-off on Sunday, February 6 to benefit APRON Inc.
Donum Dei Brewery's 4th annual chili cook-off on Feb. 6 benefits APRON Inc.
Next Wednesday: "Make Mine Mild (Ale)."
---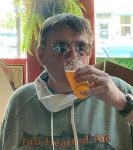 in 2022, Roger Baylor is celebrating his 40th year in beer as a beer seller, entrepreneur, educator, restaurateur, and commentator. As the co-founder of New Albany's Sportstime Pizza/Rich O's Public House (which later became New Albanian Brewing Company) in the 1990s and early 2000s, Baylor played a seminal role in Louisville's craft beer renaissance. Currently he is the beer director at Pints&union in New Albany and Common Haus Hall in Jeffersonville (coming Spring 2022). Baylor's "Hip Hops" columns on beer-related subjects have been a fixture in Food & Dining Magazine since 2005, and he became F&D's digital editor in 2019.
advertising content
advertising content