Kindly allow me to begin by noting that mulled wine and shots of schnapps aren't the only libations available at the typical German Christmas market. After all, it is still Germany, and usually someone nearby is vending excellent beer.
This photo was taken in 2018 at the lovely Christmas market inside Munich's Englischer Garten, clustered around the famous Chinese Tower.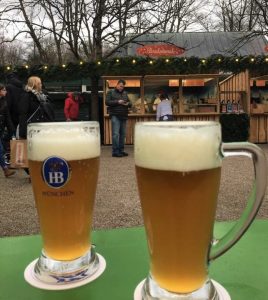 Two years ago in December, we flew into Munich for a merry pre-holiday week of beer hall crawling; just the usual excess of tankards filled to the pour line with lager and platters stacked high with pork. It never gets old, but this time there was an ulterior motive: Germany's amazing Christmas markets, where even a certifiable Grinch like me can find something of interest.
Writing at Bloomberg, Naomi Kresge and Arne Delfs offer an excellent single paragraph summary of the typical German Christmas market scene.
"You can't walk through a German city in December without tripping over a market, or several, with clusters of prefab wooden huts selling candied almonds, hot spiced wine — with a shot of rum, why not? — and bratwurst alongside everything from beeswax candles to hand-cut wooden ornaments and alpaca wool scarves. The markets draw some 160 million visitors each year and generate more than $3.5 billion in revenue, according to trade association DSB."
These markets take place al fresco, in the open outdoor air, and tend to be abundantly patronized in all sorts of weather. Unfortunately it's the crowd's density, not the brisk winter temperatures, that currently see Germany's Christmas markets called before the COVID-curbing committee.
"Germans gave up Oktoberfest to help stop Covid," Kresge and Delfs observe. "They've obediently lined up for throat swabs in airports, canceled weddings and rebooked Mediterranean getaways to the chilly Baltic Sea. But this week they showed there's one thing that's still sacred: Christmas markets."
The largest Christmas market in Germany is situated adjacent to the cathedral in Cologne; it drew 4,000,000 visitors in 2019, but has been nixed this year. Regional leaders elsewhere argue that pandemic safety protocols can be deployed to preserve the institution, and the details of these procedures are starting to emerge.
Meanwhile here in Louisville, it is going to be an unusual week.
The rescheduled Kentucky Derby takes place on Saturday, albeit without fans in the stands. There'll undoubtedly be Derby parties, but the honest truth is that a proper observance of any Derby festivity includes far more bourbon than beer, and rightly so. Consequently, it's a rather slow news week for beer in local terms.
Not that beer events aren't occurring.
I saw a social media post yesterday for a craft brewery party this Saturday. What I didn't see amid the expected exhortations to bring your friends was any explanation of the brewery's COVID-19 safety measures for the occasion, and in all honesty, this is disturbing.
My independent business bona fides go way back, and I consider small breweries to be my preferred segment of the economy, if for no other reason than my years as the part-owner of one.
And that's why my sermon begins like this: I think indies must be as good or better than the big boys when it comes to complying with pandemic containment measures.
They have to be as good as Churchill Downs, which spent a great deal of effort devising plans to host a partial crowd before deciding to change course. They have to be as good as LouCity FC, or any mass-market grocery or department store.
That's my own point of view, and you can do with it as you please. I have no illusions about the number of readers this beer column garners on a weekly basis; I can view the numbers, and the "must-read" lamp typically goes unlit.
All the same, I'm tired of bad COVID-19 actors in Indie Beer Land. Let it be known that for as long as the pandemic remains a fact of life, I won't plump for a beer event if the organizers haven't given notice that they grasp the virus' ongoing presence, and intend to run their show accordingly.
This said, some light reading.
Ever since the pioneering British beer journalist Michael Jackson introduced readers to the very concept of beer style, the conflicting human impulses of orthodoxy and innovation have turned the landscape to quicksand. Speaking personally, I've been confused as to what exactly constituted an "Italian-style pilsner." Now I know.
Long ago Wolfgang Amadeus Mozart name-dropped an extinct Austrian beer style known as Horner Bier, made from 100% oats and, somewhat crazily, soured with cream of tartar. But recently, a brewery in Denver has brewed a batch of Horner Bier.
"Louisville is a beautiful place," Against the Grain co-owner Sam Cruz told WAVE-3 last week. "It's full of amazing people, and its soul is still good and there, but it's hurting. And we need to start healing as soon as possible, so we can get back." Cruz penned a letter to Mayor Greg Fischer, which you can read here.
---
Roger Baylor is an entrepreneur, educator, and innovator with more than 35 years of hands-on experience and expertise as a beer seller, restaurateur, and commentator. As the co-founder of New Albany's Sportstime Pizza/Rich O's Public House (which later became New Albanian Brewing Company) in the 1990s and early 2000s, Baylor played a seminal role in Louisville's craft beer renaissance. Currently he is the beer director at Pints&union in New Albany. Baylor's "Hip Hops" columns on beer-related subjects have been a fixture in F&D since 2005, and he was named the magazine's digital editor in 2019.