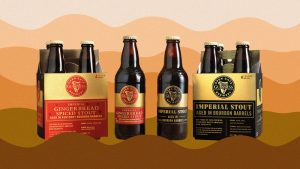 My support for innovation is consistent, even if the traditionalist in me shakes the occasional fist at modernity.
Guinness Open Gate Brewery in Maryland is bringing us two bourbon barrel aged stouts just in time for winter weather. On November 5th, International Stout Day, Guinness announced the arrival of Guinness Imperial Gingerbread Spiced Stout and Guinness Imperial Stout, both aged in Kentucky bourbon barrels.
Barrel aging? I'm down with it, and Imperial Stout is but a step beyond Foreign Export Stout in terms of strength and pedigree.
Guinness Imperial Gingerbread Spiced Stout clocks in at 11% ABV, and was brewed with allspice, ginger, cinnamon, and nutmeg, then aged in bourbon barrels. The brewery recommends you pair the stout with "roasted pork with fig, vanilla panna cotta, or crème brûlée."
As the Irish proverb holds, "When the drop is inside the sense is outside." I've no need for gingerbread spices of the sort best suited for obfuscating a new line of banal seltzers. Guinness is Irishness in liquid form, and soda bread is the only truly necessary accompaniment, stacked high with Kerrygold butter, and preferably followed with copious platters of colcannon, boxty and coddle.
Gingerbread Spiced Stout paired with crème brûlée? Madness, I'm telling you. Sheer madness.
Closer to home, an infusion of a more organic nature, as explained in an information sheet detailing a collaboration between Buzzard's Roost Sippin' Whiskeys and Against the Grain Brewery.
The Kentucky-based whiskey makers at Buzzard's Roost and beer brewers at Against the Grain are coming together for a special whiskey and beer collaboration: Roosted Chiquen Brewer's Toast Finish and Roosted Chiquen Sippin' Beer. Both products will be made available for purchase beginning November 5 at Against the Grain Public House (1576 Bardstown Rd, Louisville, KY 40205) and throughout select retail stores throughout Kentucky later in November.
Here's the rest of the story.
The products, packaged together, are a result of the brands creating a custom oak profile that is used in both the rye whiskey and the amber lager. Both showcase the same notes of vanilla and smoke from the oak aging process.
"We've experimented with smoke and oak flavors since we first started brewing," said Jerry Gnagy, co-founder and Head Brewer at Against the Grain Brewery. "We saw what Buzzard's Roost was doing with their specialized, custom barrels and thought it'd be fun to see what happens when we introduced our amber lager to the same wood."
Unique to the whiskey industry, Buzzard's Roost uses proprietary barrels – all charred or toasted to a specific temperature in order to create certain flavor profiles. Once the whiskey is selected, it is re-barreled using the special barrels and aged in Kentucky warehouses.
"Think of the staves we use in our barrels as a spice rack," said Jason Brauner, Buzzard's Roost Master Blender. "Picking and choosing flavor profiles, specific to the wood on a molecular level, we can make a pretty good guess at what flavors will be imparted on our whiskey. Turns out – it also works well with beer."
And, a bit about specs and tasting notes.
Roosted Chiquen Brewer's Toast Finish: "Warm confectionary and caramel flavors followed by vanilla and smoke. The toasted barrel we used provides a huge mouthfeel for this whiskey – perfect as a liquid dessert by itself or a rye-based cocktail. 52.5% alc/vol – 105 PROOF."
Roosted Chiquen Sippin' Beer: "When we crossed paths with the whiskey makers at Buzzard's Roost, we knew the only thing to do was to collaborate on something truly special. Together we created a custom oak profile for our toasted staves and their toasted barrel that would complement our respective liquids. The result is two innovative beverages with the same notes of vanilla and smoke from the oak aging process. 6.5% ABV."
As noted, the collaboration liquids can be purchased at Against the Grain's Public House, and you can pre-purchase for pick-up at the brewery's web site.
That's it for this week. Election season has exhausted us all, and I'm craving black pudding as a restorative, plated with a pint of the black gold for a chaser (standard draft  strength works; hold the cutesy-pie spices, pretty please).
Then again, I'm just the beer guy.
---
Roger Baylor is an entrepreneur, educator, and innovator with more than 35 years of hands-on experience and expertise as a beer seller, restaurateur, and commentator. As the co-founder of New Albany's Sportstime Pizza/Rich O's Public House (which later became New Albanian Brewing Company) in the 1990s and early 2000s, Baylor played a seminal role in Louisville's craft beer renaissance. Currently he is the beer director at Pints&union in New Albany. Baylor's "Hip Hops" columns on beer-related subjects have been a fixture in F&D since 2005, and he was named the magazine's digital editor in 2019.