For Food & Dining Magazine's winter print edition (coming in December) I'll be taking a look at the breweries that have defied the pandemic and opened in the Louisville area in 2020. Of these, all are currently brewing with the exception of West Sixth NuLu, which should be test driving its three-barrel system very soon.
Atrium Brewing
1154 Logan Street
www.atriumbrewing.com/
(502) 690-3069
Fistful of Ale
2708 Paoli Pike Suite G, New Albany IN
www.fistfuloftacos.com/fistful-of-ale
(812) 961-1384
Gallant Fox Brewing Company
2132 Frankfort Avenue
www.gallantfoxbrewing.com/
(502) 822-1988
Ten20 Craft Brewery (cover photo)
1020 Washington Street
www.Ten20brewery.com
(502) 290-7106
West Sixth NuLu
821 E. Market Street
www.westsixth.com/nulucurbside
(502) 234-4733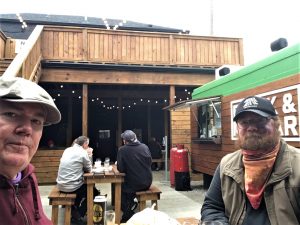 According to the Brewers Association BA), 942 breweries opening in the United States in 2019, boosting the total past 8,200. But 294 breweries also shuttered, quite possibly the greatest number of closings in a single year since the catastrophic onset of Prohibition.
The rapidly maturing American craft beer industry entered 2020 with numerous issues to be addressed, then came COVID-19 to pose unprecedented existential challenges for established breweries nationwide as well as several hundred in planning, including at least eight in metropolitan Louisville.
The fact that five of them are pressing forward is cause for celebration. Accordingly, for a second year the BA is staging a nationwide promotion called Small Brewery Sunday on Sunday, November 29. Beer lovers are encouraged to visit and support their local breweries, brewpubs and taprooms.
Cross your fingers, praise the hops and pass the growlers; given COVID's tsunami-like "second" wave, curbside carryout may return with a vengeance by the end of November, but if so, you'll find me queuing and drinking in the great outdoors.
Small Brewery Sunday to Give Breweries a Boost on Nov. 29
Small Brewery Sunday will return for a second year on Nov. 29. The national beer holiday, created by the Brewers Association (BA)—the not-for-profit trade association dedicated to small and independent American craft brewers—encourages beer lovers to celebrate on the Sunday after Thanksgiving and support local breweries, brewpubs, and taprooms throughout the holiday season and beyond.
This year's holiday is especially significant, given the insecure and uncertain futures of small businesses impacted by the pandemic and by further restrictions in operations.
The premise of the holiday is simple: beer lovers support small and independent craft breweries by visiting or supporting taprooms and brewpubs—businesses that are critical to local communities and economies nationwide.
To be perfectly truthful, the coming months are likely to be brutal for small, independently owned breweries, as well as for the majority of indies in all lines of work. Please support them in whatever way you can.
Of course, I'm just the beer guy, and in this instance, one who is almost entirely biased in favor of the grassroots, because they're our identity as a community in a way the chains and franchises can't ever be. If we all do a little to support the indies, we can achieve a lot.
---
Roger Baylor is an entrepreneur, educator, and innovator with more than 35 years of hands-on experience and expertise as a beer seller, restaurateur, and commentator. As the co-founder of New Albany's Sportstime Pizza/Rich O's Public House (which later became New Albanian Brewing Company) in the 1990s and early 2000s, Baylor played a seminal role in Louisville's craft beer renaissance. Currently he is the beer director at Pints&union in New Albany. Baylor's "Hip Hops" columns on beer-related subjects have been a fixture in F&D since 2005, and he was named the magazine's digital editor in 2019.