During the course of exchanging texts with an old friend from out of town, he asked me a question: What's the newest, greatest and most innovative beer to grace Louisville area store shelves and draft spouts?
Beats me. I've no idea.
In my rapidly advancing dotage, I'm enjoying life at a bedrock Beer 101 level, which is to say I'm actively avoiding immersion in this week's beer phenom of the moment.
Chasing grandiose white whales is far less interesting to me than nurturing my scruffy little herd of goats. The thrill of the chase doesn't exactly inspire tumescence nowadays, and my preference is to refrain from the heated rush, settle into a nice space at a clean, well-lighted place, and sip a bona fide classic.
Obviously your results may vary, and that's the entire point of having choices. I look for lower, sessionable alcohol contents, such as to facilitate two and maybe even three pints. It saddens me when I see a draft selection, whether at a brewery taproom or pub, that lacks a balanced array — not only of beer styles, but strengths.
Still, a degree of exuberance will always remain a component of my "better beer" soul. I'm happy we're winning the beer wars, and I happily support the culture, sneaking a habanero-infused sour pastry imperial Kölsch on scattered occasions just for the hell of it. I haven't forgotten how to judge beer by means of objective criteria, although in recent years it has been largely for my own edification. Beer history continues to fascinate me, particularly the more recent variety, which seems all too often to evaporate with the dissipating pixels of the most recent Instagram beer selfie.
However, my obtuse contention remains: If beer is "special" every day, all of the time, then it really isn't "special" at all, anytime. That bountiful Thanksgiving meal you'll be enjoying later this week comes together once per year, and its rarity contributes immensely to the experience being memorable.
Contrarianism has served me well. It means swimming against the prevailing tide, joyfully. At times it can be a tough way to live, but someone's got to do it.
And now, we have news items.
Mile Wide Beer Co.'s taproom in Owensboro has closed (condolences), Goodwood Brewing is expanding to Columbus OH (congratulations), and Louisville Ale Trail is rebranding a previous podcast into the Kentucky Commons Radio Hour (very good, fellows).
Special announcement: "Building Breweries," the podcast started in 2016, has been acquired by Louisville Ale Trail and will rebrand itself as the "Kentucky Commons Radio Hour." We'll have new content up (regularly) soon, but in the meantime you can enjoy the two panel discussions from Louisville Beer Week 2021: "Louisville Beer History" and "Women in Beer." Want to support the project? You can with a small monthly donation to help sustain future episodes: https://anchor.fm/louisville-ale-trail/support
Finally, as a timely reminder, Small Brewery Sunday on November 28 is the national beer holiday created three years ago by the Brewers Association (BA).
In an information release encouraging Congress to replenish the Restaurant Revitalization Fund (RRF) via two bipartisan bills (The Restaurant Revitalization Fund Replenishment Act of 2021 and The Continuing Emergency Support for Restaurants Act), the BA cited the experience of Gravely Brewing Company.
Gravely Brewing Co of Louisville, KY is one of the breweries that applied for and did not receive a Restaurant Revitalization Fund grant. "Replenishing the RRF is crucial for the long term viability of small and independent craft breweries," said Nathaniel Gravely, President at Gravely Brewing Co. "Local support of breweries by patrons on Small Brewery Sunday and every day is key, but so is support by legislators. Replenishing the RRF to process the two-thirds of applicants that were shut or stalled out is not just an equitable legislative action, but one that would stimulate local economies during the ongoing recovery from this pandemic."
According to the BA, "beer lovers are encouraged to share their Small Brewery Sunday experiences on social media with the hashtags #SmallBrewerySunday and #SeekTheSeal. They can also contact their elected officials and ask them to #ReplenishRRF at BrewersAssociation.org."
Today's throwback cover photo was taken in 1998 at the recently minted Pipkin Brewing Company. That's Mitch Turner, at the time owner Paul Hummer's sole employee, filling bottles the old-school "artisanal" way. After a three-year run, Pipkin yielded to Bluegrass Brewing Company, then Goodwood Brewing at the "Beer Corner" of Main and Clay in downtown Louisville.
---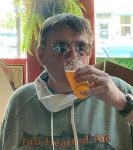 Roger Baylor is an entrepreneur, educator, and innovator with more than 35 years of hands-on experience and expertise as a beer seller, restaurateur, and commentator. As the co-founder of New Albany's Sportstime Pizza/Rich O's Public House (which later became New Albanian Brewing Company) in the 1990s and early 2000s, Baylor played a seminal role in Louisville's craft beer renaissance. Currently he is the beer director at Pints&union in New Albany. Baylor's "Hip Hops" columns on beer-related subjects have been a fixture in F&D since 2005, and he was named the magazine's digital editor in 2019.