TEN20 Craft Brewery chose November 27 (or Black Friday, if you insist) as the occasion to release its first bottled, limited edition ale: The Machine Russian Imperial Stout.
(Those of you familiar with the career of the rock band Pink Floyd will find it impossible to avoid the refrain of "Welcome to the Machine," from one of the best songs on the group's classic album Wish You Were Here).
Head of Brewing Larry Horwitz also did a live Facebook video in support of The Machine, which I highly recommend. The video begins a few seconds in, so be patient.
I sat down on Sunday evening to watch the video a second time and sample The Machine, which for carryout comes in a 22-ounce "bomber" bottle for $19.95 (and was provided to me by the brewery).
Before commenting on the beer, allow an observation or two about Horwitz, beginning with the video. I've met hundreds of brewers; while they all know how to brew beer, being able to teach beer isn't as common. It's obvious that Horwitz has perfected the skill, which matters more than ever in the Selfie Era of beer appreciation, where beer knowledge is a mile wide and an inch deep.
Honestly, we're fortunate to have Horwitz in Louisville. He makes a great craft beer scene even better.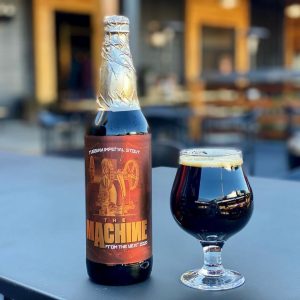 As Horwitz explains, Imperial Stout as a style dates to the 18th century, when British brewers found a market for high-gravity, black and rich ale at the Tsar's court in St. Petersburg. Imperial Stout was shipped via the Baltic Sea, and breweries in numerous port cities along the way embraced it.
TEN20's bottled version is the straight, unalloyed tipple, absent the many augmentations and variants favored by breweries in recent years (although there is a small amount available on draft at TEN20 of the very same beer rested over cacao nibs). Bourbon barrels, vanilla beans, licorice sticks and other extensions can be rewarding, but without a solid foundation, it's a wasted exercise. The pinnacle is when a brewer coaxes elements like these from water, malt, hops, yeast and expertise alone.
While I support the use of appropriate glassware, and would expect to see The Machine served by small pours for on-premise consumption, I'm not bound by convention while drinking at home in the library, only a short crawl from my bed.
Consequently I gave my lightly chilled bottle of The Machine a vigorous pour into an oversized Pilsner Urquell mug and enjoyed the aromatics (dark chocolate, treacle) full bore, furthermore imagining that a stevedore in 19th-century Danzig (Gdansk) wouldn't have requested a snifter. The lacing was good, and after 15 minutes in the mug, a narrow tan head remained.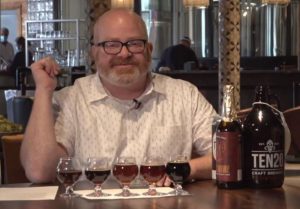 The Machine's color is very dark brown, not pitch black. The mouthfeel is full, while stopping short of the intensity of more extreme Imperial Stouts, when a thick, tar-like viscosity justifies the light beer drinker's mortal fear of being asked to consume motor oil.
The English ale yeast used to ferment The Machine almost certainly accounts for the frankly quaffable balance of a high-gravity ale's deceptive drinkability; the maltiness is suitably big, but the finish is dry, and one drink leads to another with no diminution of the complexity.
Granted, there is a slight alcohol heat, so setting bottles of The Machine aside for a few months to mellow  them makes sense. At the same time, drinking one right now made equally good sense to me, and I had to be restrained lest I bolted downstairs for a tin of kippers.
One of my pet beer theories, which may or may not be justified, is that when the lager revolution swept over Europe, reaching those port cities situated on the Baltic where strong ales like Imperial Stout retained popularity, brewers eventually shifted gears and began deploying bottom-fermenting tactics in pursuit of the same big, dark beer.
What became known to us as Baltic Porter, generally a lager, often hewed to the Imperial Stout progenitor, although in many cases the same Baltic Porter more closely resembled what we'd view as Doppelbock.
As such, I may be the only person tasting The Machine who finds that it reminds him of Baltic Porter as much as Imperial Stout. If I'm missing the mark completely, it is a joyful and satisfying sort of failure, as my taste buds are delighted either way.
Come to think of it, smoked oysters would be even better with The Machine.
---
Roger Baylor is an entrepreneur, educator, and innovator with more than 35 years of hands-on experience and expertise as a beer seller, restaurateur, and commentator. As the co-founder of New Albany's Sportstime Pizza/Rich O's Public House (which later became New Albanian Brewing Company) in the 1990s and early 2000s, Baylor played a seminal role in Louisville's craft beer renaissance. Currently he is the beer director at Pints&union in New Albany. Baylor's "Hip Hops" columns on beer-related subjects have been a fixture in F&D since 2005, and he was named the magazine's digital editor in 2019.