Say what you will about Frank Sinatra, but the guy could sing. Say what you will about Stone Brewing—go ahead and say it, but I may just offer a corrective. 
Last month, F&D's founder and publisher John Carlos White called to discuss the next print issue (Fall 2022; Sept-Oct-Nov). John asked me for a 1,500 word survey of Louisville area craft brewing, which grew to well north of 6,000 words by the time I finished.
I was surprised, too.
Now the process has started whereby John and editor-in-chief Marty Rosen determine which of these words matter, and some or all of them will comprise an expanded "state of Louisville craft beer" article in the coming issue.
As noted therein, today there are somewhere between 33 and 38 craft breweries open for business in greater Louisville, with at least two others on the way, depending on how one chooses to count taprooms without a brewing system (Upland, Hi-Wire), and companies with more than one brewhouse (Against the Grain, Great Flood).
It seems the time is right to take a wide-angle look at Louisville craft brewing in our print edition, with the unused sections I've written destined for repurposed duty here, in this weekly space.
My reason for bringing this up today isn't local beer in a broader sense, but a narrower notion of craft beer and brewing geography in Louisville.
In recent years those of us who've been prone to carrying "better beer now" banners have been compelled to examine a great many of our founding premises. It hasn't been fun, only necessary, and intellectual honesty is a noble goal requiring heavy lifting.
In all honesty, it shouldn't have come as a great surprise to anyone that sexism, racism, bullying and affiliated toxicity occurs in craft beer, not to mention controversies over pay scales, carbon footprints, and whether Kentucky Common was, or was not, intended to be soured. I say no. Either way, beer doesn't exist in a utopian bubble, even if we managed to pretend such for longer than we should have.
There's also a demographic aspect to craft beer's growth. Noting that I'm as capable of unalloyed and pretentious elitism as the next guy posting reviews at Rate Beer Advocate or numbtappd, actually my cherished dream has always remained egalitarian at its core.
In short, I'd like to see everyone from everywhere have the opportunity to forego the wet air of commoditized mass-market beer, and find better some beer to love. I know this is an unrealistic dream, and yet it's an ideal worthy of pursuit.
After all, who ever guessed there would be six breweries in my hometown of New Albany?
New Albany now has one brewery for every 6,122 residents. You'll no doubt be as shocked as I am to learn that when measuring breweries per capita, New Albany is ahead of Portland, Milwaukee and Pittsburgh, although not brewery-crazy Asheville.
Accordingly, here's a map of Louisville neighborhoods. The filled-in red circles indicate a neighborhood with at least one craft brewery in it, and I've drawn a couple of larger circles for emphasis.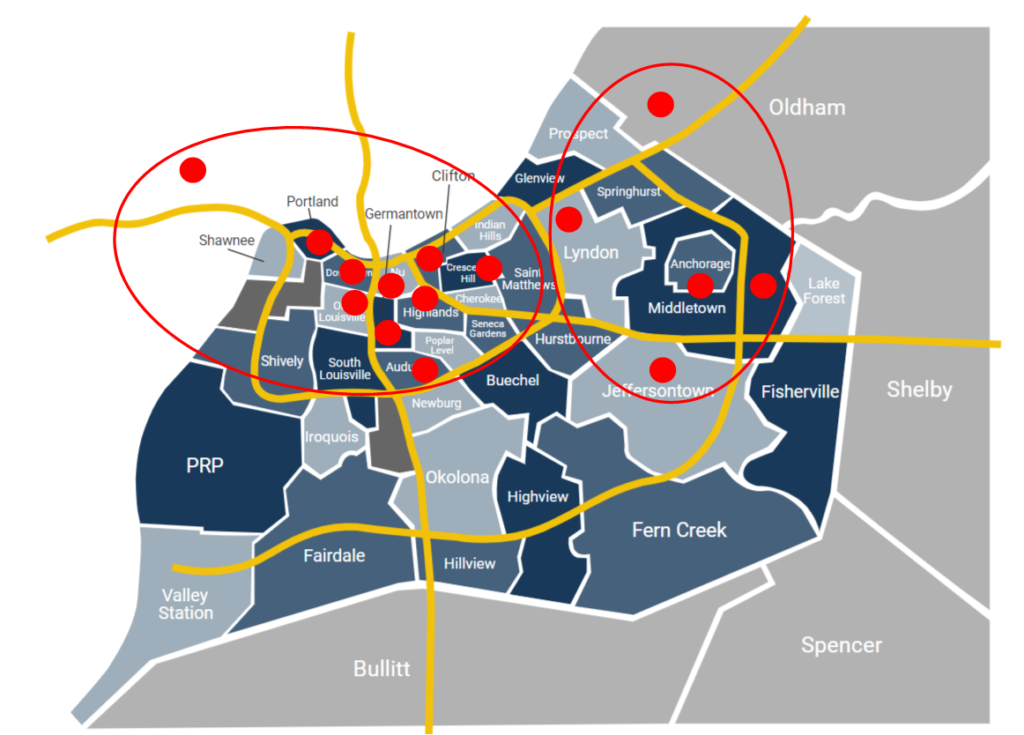 Obviously Louisville is increasingly well-breweried—except where it isn't. Louisville neighborhoods to the west and south of downtown—Shawnee, Chickasaw, Shively, Pleasure Ridge Park, Valley Station, Fairdale, Iroquois—have yet to experience the presence of a brewery or taproom. Clarksville has none, and Jeffersonville claims only Upland's taproom since Red Yeti stopped brewing.
Diversity and demographics remain craft beer predicaments, and certainly not only in Louisville. I hope this fan base imbalance begins shifting soon, because speaking as one who endured the Lite Old Mass Market Days in the 1980s and early 90s, there cannot ever be too many fresh, locally-brewed choices within a reasonable commute from one's domicile.
And, before I hear the same tired and largely apocryphal stories about the West End and South End being unsuitable for craft beer (wink wink, nudge nudge), allow me to yet again pronounce those two magical words: New Albany.
Don't kid a kidder, y'all. You've been telling stories for decades on end about my own city's myriad cultural deficiencies. You have, and I've heard you; what's more, I've usually agreed with you, because yes, we have our issues in New Albany, and yet here we are with six more breweries than the deprived 60% of territorial Louisville.
New Albany is like a reverse New York in the strangest ever parallel universe of Big Gulps, not Big Apples; still, if you can brew it there, you most assuredly can brew it anywhere.
Someone just has to dive into the scrum and try. I know, because I did here, in my own home town. You can, too.
—
A question leaped to mind as I read this article.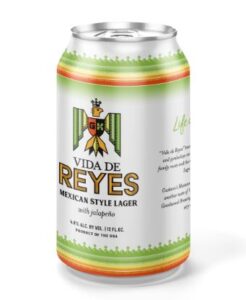 Louisville brewery, Mexican chain collaborating on new beer brand, by Michael L. Jones (Louisville Business First)
Gustavo Reyes, owner of Gustavo's Mexican Grill, and Goodwood Brewing Co. are teaming up on a Mexican beer brand that will be on local store shelves in the next few months.
Vida De Reyes is a Mexican lager with a hint of jalapeno that is produced by Goodwood. It is currently available in draft and cans at all five of Reyes' Gustavo's Mexican Grill restaurants in Louisville and Goodwood locations in Louisville, Lexington and Frankfort.
To wit: What makes a lager Mexican? Apart from Carta Blanca's country of origin, of course. Writing at The Full Pint, GT Wharton has a few thoughts on the topic.
WHAT IS A MEXICAN-STYLE LAGER?
Mexican macro lagers continue to surge in popularity with American beer drinkers. For the most part, these lagers are relatively clean, have practically zero bitterness, but also aren't cloyingly sweet. Part of their magic is the addition of flaked maize, which is just corn that has been rolled through hot rollers to remove the germ, oil, and most of its protein. It can be added directly to the mash of the beer for a few reasons. First, it typically dries the beer out slightly and adds a subtle crispiness since flaked maize ferments out completely – converting its starches to sugars and then to alcohol. Second, since flaked maize carries hardly any protein compared to malted barley, protein-induced haziness is reduced and thus clarity is boosted. Last, it's a cheap substitute for malted barley, though it can only take up around 40% of the grain bill.
That's the essence of it. Wharton breaks down five groupings that might make a lager Mexican.
Pale Lager with Flaked Maize: familiar imported brands like Corona, Modelo Especial and Tecate.
Amber Lager with Flaked Maize: but what's really "Mexican" about a stripped-down Vienna, even if it is Modelo Negra?
Pale Lager with Salt & Lime: originating with the purely American practice (not at all Mexican) of adding a lime wedge and salt to a Mexican import.
Mexican Craft Lagers: literally the ones made in Mexico by Mexican new-era craft brewers.
Non-Lagers: because "it's my (Wharton's) opinion that the most successful Mexican-inspired beers in the American marketplace are those that capture the refreshing nature of Mexican drinks on the whole and don't resort to a simplistic approach of equating adjunct lager with 'Mexican-style.'"
Vida De Reyes probably lands at category #1, with a wee bit of #3 thrown in, owing to the "hint of jalapeno." It's an exotic touch designed to appeal to American craft beer thought processes (and consumers), rather than proposing to imitate Mexican adjunct lagers, which tend to have their own loyal customers hesitant to embrace change.
I hope to try one of these soon. Meanwhile Ted Mitzlaff, owner and CEO of Goodwood Brewing, gave the writer Jones further background.
(Mitzlaff) said the Hispanic craft beer market is underserved in the U.S.: "They're certainly willing to pay for premium beer…Modelo, Corona and Tecate — when you see those imports they are not cheap. So, we thought that clearly there's a demand, a market there, for a craft beer that targets the Hispanic community…we've talked to Gustavo about expanding the line, doing to a negro or a non-jalapeno flavored variants as well."
Vida De Reyes is being canned and will be widely available at package outlets and groceries. Today's cover photograph of restaurateur Gustavo Reyes was taken by Dan Dry, and the five area locations of Gustavo's Mexican Grill are Prospect Village, Norton Commons, Crestwood, LaGrange and Hurstbourne.
---
Roger Baylor is an educator, entrepreneur and innovator with 40 years of hands-on experience and expertise as a beer seller, restaurateur and commentator. As the co-founder of New Albany's Sportstime Pizza/Rich O's Public House (which later became New Albanian Brewing Company) in the 1990s and early 2000s, Baylor played a seminal role in Louisville's craft beer renaissance. Currently he is the beer director at Pints&union in New Albany and Common Haus Hall in Jeffersonville. Baylor's "Hip Hops" columns on beer-related subjects have been a fixture in F&D since 2005, and he was named the magazine's digital editor in 2019.