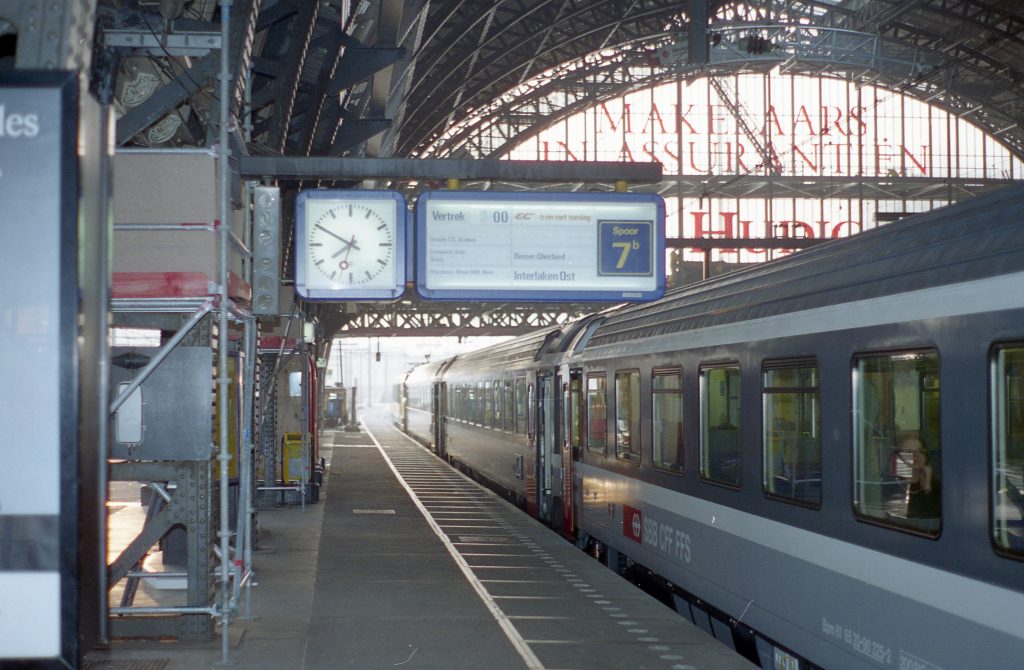 American craft brewers have proven adept at rescuing forgotten classic beer styles and reshaping them for a contemporary market. Recent examples that spring to mind include the three "gees": Gose, Grisette and Grodziskie, from Germany, Belgium and Poland, respectively. There are new/old revivals released every day, and believe it or not, some actually are not variations of India Pale Ale.
But skip back three decades to the first flowering of "microbrewing" in America, and perhaps the most profound reinvention of all came with Porter. This dark English ale, which is a sister style to Stout, was almost extinct in the British Isles prior to being embraced by the first generation of revivalists stateside.
One of them was David Pierce, founding brewer at Bluegrass Brewing Company in St, Matthews in 1993. In those days the refrain heard most often from apprehensive (read: terrified) first-time brewpub visitors was "I don't like dark beer," and I'd love to know exactly how many novices were converted to the One Real Truth via David's delicious Dark Star Porter.
Another BBC standby from the early days arguably remains as obscure now as it was then, even though the brewery's 3rd Street location still brews it (as well as Dark Star). That'd be Altbier. During David's tenure, BBC Alt was a 1996 GABF bronze medalist in the German Style Brown/Düsseldorf  Style Altbier.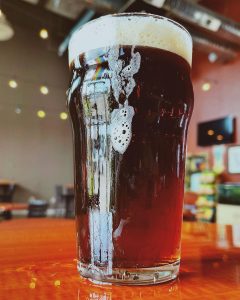 Akasha Brewing Company released an Altbier over the weekend, and while I haven't had the chance to taste it yet, I'll say this much: it certainly looks the part, early reviewers are happy, and I find myself strapped into the Better Beer Time Machine for a journey through the mist of sessions past to 1995.
That particular autumn I was joined by David and two of our friends, John Dennis and Ron Downer (the latter a professional brewer in Tennessee at the time) for a fact-finding excursion to Belgium, but before diving into Trappists and Lambics, we dipped across the border from Amsterdam to Düsseldorf, capital of the German state of North Rhine-Westphalia, for the express purpose of sampling Altbier in its natural habitat.
In truth, what the world blithely assumes about German beer primarily centers on two facets: Bavarian fest lore and modern pilsner-style know-how. Nowadays Kölsch (from Cologne) has become more common, but Berliner Weisse remains confounding to anyone who dons Lederhosen as a prerequisite to consuming tankards of Helles alongside voluminous roasted hog parts. In short, Altbier is rarely seen outside its home city.
What is Altbier? The Beer Judge Certification Program (BJCP) elaborates.
"Alt" refers to the "old" style of brewing (i.e., using top-fermenting yeast) that was common before bottom-fermenting lager brewing became popular. Predates the isolation of bottom fermenting yeast strains, though it approximates many characteristics of bottom-fermenting lager beers. Many of the classic examples can be found in brewpubs in the Altstadt ("old town") section of Düsseldorf.
A well-balanced, well-attenuated, bitter yet malty, clean, and smooth, amber- to copper-colored German beer. The bitterness is balanced by the malt richness, but the malt intensity and character can range from moderate to high (the bitterness increases with the malt richness).
I asked Akasha's owner/brewer Rick Stidham to share his notes.
The recipe we created for Altbier is fairly simple: 93% Pilsner malt, and 7% a blend of Carafa II, Caramunich II, and pale chocolate malt. The beer is hopped with one bittering charge of German Magnum hops to make 32 IBUs.
The most interesting thing about Dusseldorf Altbier is that it's not exactly an ale and not exactly a lager. It exists somewhere in-between, with the likes of steam beer (Anchor Steam), Kölsch, and Kentucky Common. There are at least a couple of ways to ferment Dusseldorf Altbier: with a temperature-tolerant lager yeast at near ale fermentation temperatures, or with a hardy ale yeast at near lager fermentation temperatures. We chose to ferment with a lager yeast (a strain originating at Weihenstephan) at a near ale fermentation temperature. Then we lagered it cold for a few weeks, resulting in (depending on how you look at it) an ale with lager-like characteristics or a lager with ale-like characteristics.
However you look at it, it's an exceptionally drinkable and tasty beer–malty but crisp, with a hop bittering presence but not overtly bitter.
In 1995 the Altbier fact-finding mission began at Altstadt brewhouse standbys Zum Schlüssel and Im Füchschen, and then we headed to our prime objective, Zum Uerige, running headlong into one of the happiest accidents ever, because we had absolutely no idea that it was the third Tuesday in October — or Sticke Alt release day, a twice yearly treat at Uerige.
Sticke Bier is a name broadly given to a special version of top-fermented Dusseldorf-style altbier, generally described as being higher in alcohol and more assertive in character than the traditional version. The term derives from "stickum," old Dusseldorf dialect for "gossiping."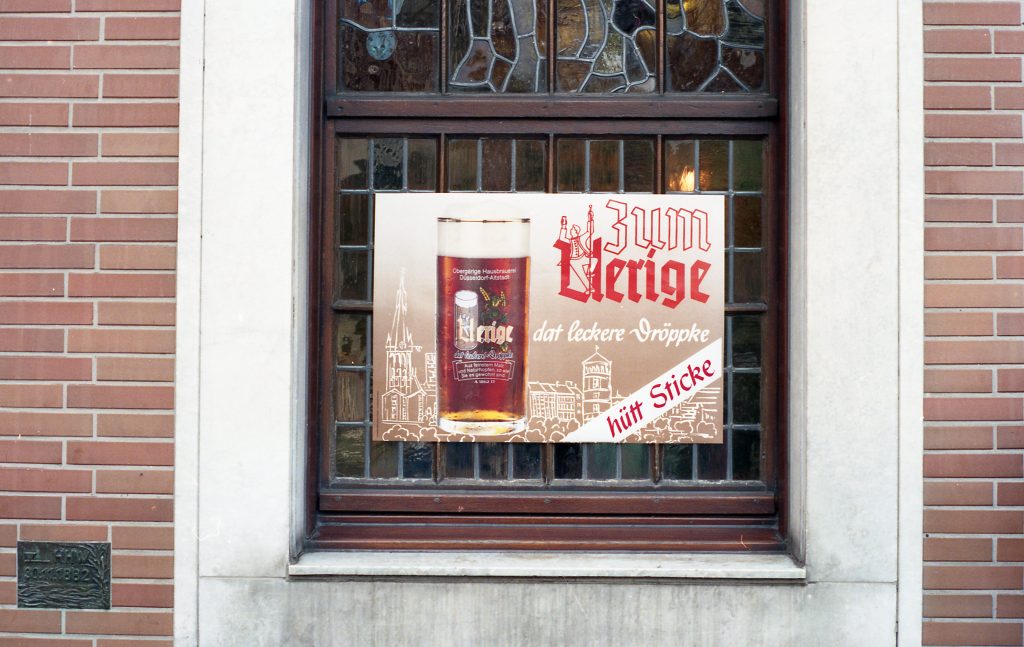 In a discussion thread over the weekend, David lovingly recalled the day. "It was serendipitous," he wrote, "and worth the trip even without the Sticke. (At Uerige) be sure and get an order of Mainzer Handkäse, malodorous cheese hand-kneaded with breadcrumbs and roast pork pan drippings. So good, and it oozes from your pores the next day."
The Altbier now available at Akasha is a standard everyday recipe, although Rick already hints at a batch of Sticke Alt at some point down the road.
Traditionalism is in the eye of the beer-holder, and for me Altbier is a tasty, largely underexplored territory even in Germany, much less America. It's a beer style worthy of revisiting, and of course I'll be tasting Akasha's new version in due course (and also dropping by BBC for an update).
Are other Louisville breweries producing Altbier at this time? Let me know, and the purely research-driven sampling can commence.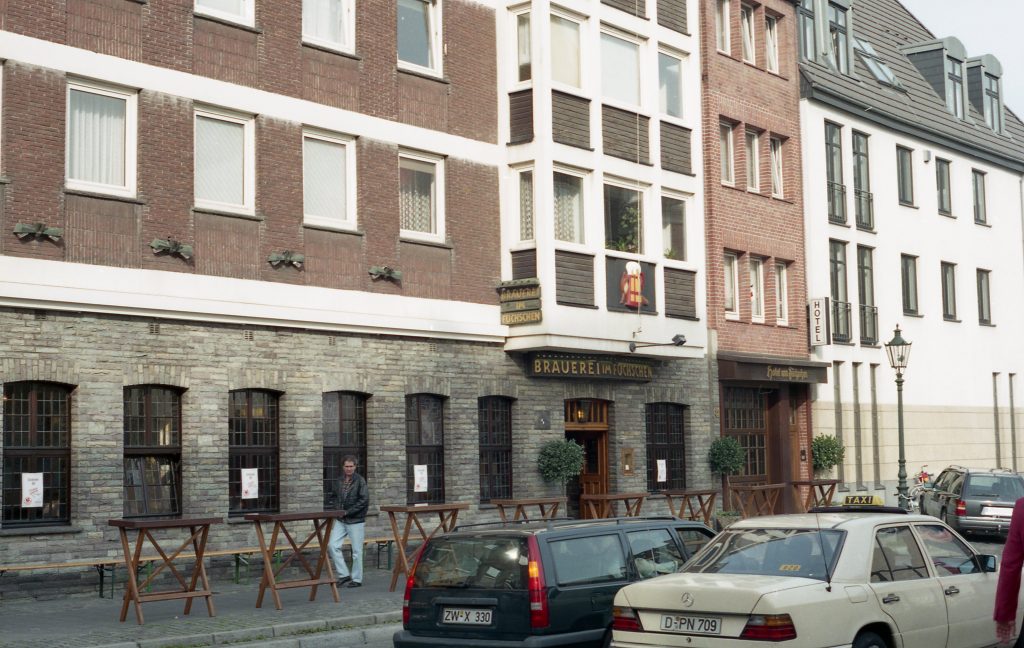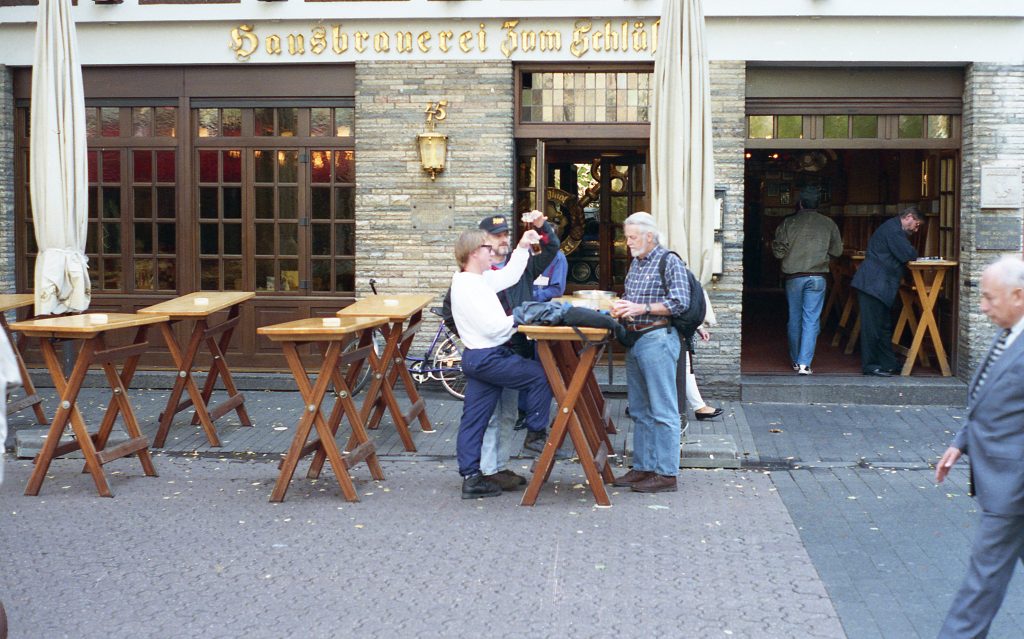 Photo credits: R. Baylor, except the Akasha Altbier (from the brewery's Facebook account).
---
Roger Baylor is an entrepreneur, educator, and innovator with more than 35 years of hands-on experience and expertise as a beer seller, restaurateur, and commentator. As the co-founder of New Albany's Sportstime Pizza/Rich O's Public House (which later became New Albanian Brewing Company) in the 1990s and early 2000s, Baylor played a seminal role in Louisville's craft beer renaissance. Currently he is the beer director at Pints&union in New Albany. Baylor's "Hip Hops" columns on beer-related subjects have been a fixture in F&D since 2005, and he was named the magazine's digital editor in 2019.
advertising content
advertising content