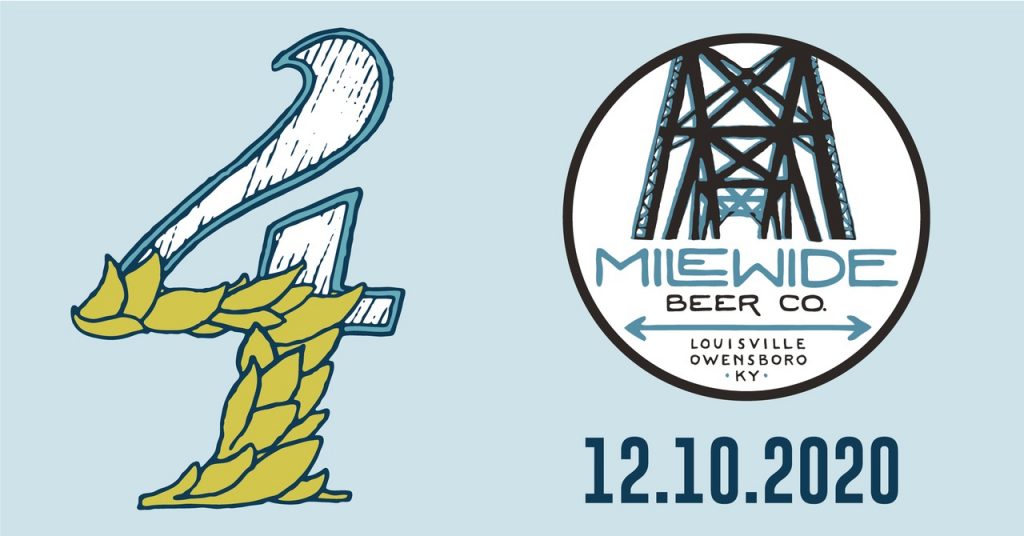 Mile Wide Beer Co. celebrates its 4th anniversary this Thursday (10 December), and while Kentucky's current COVID restrictions preclude the sort of gala gathering the brewery deserves, there'll be two beer releases to mark the occasion, both available at MWBC's taprooms in Louisville and Owensboro.
MWBC 4th Anniversary Beer #1: Blackberry Cobbler-inspired American Sour Ale, brewed with blackberry puree, lactose, vanilla, and cinnamon (7% abv)
MWBC 4th Anniversary Beer #2: Northeast-style India Pale Ale, brewed exclusively with Citra Lupomax. Lupomax cryo hops eliminate the plant matter from the hop, giving a truer, fruitier hop character than normal pelletized hops. This is MWBC's first time brewing an IPA with exclusively cryo hops.
"Even a global pandemic can't stop us from feeling an immense amount of gratitude for all of the love and support that we've been shown over the last four years," wrote MWBC co-founder Scott Shreffler in a news release.
"Mile Wide started as a project born of a dream and fueled by our passion for craft beer. But we couldn't have done any of it without our supporters. We promise that for our 5th Anniversary, we will make up for this year by throwing an absolute rager!"
I profiled Mile Wide in the Summer 2018 edition of F&D.
Hip Hops: Mile Wide Beer Co. and the localizing of New England-style IPA
---
Roger Baylor is an entrepreneur, educator, and innovator with more than 35 years of hands-on experience and expertise as a beer seller, restaurateur, and commentator. As the co-founder of New Albany's Sportstime Pizza/Rich O's Public House (which later became New Albanian Brewing Company) in the 1990s and early 2000s, Baylor played a seminal role in Louisville's craft beer renaissance. Currently he is the beer director at Pints&union in New Albany. Baylor's "Hip Hops" columns on beer-related subjects have been a fixture in F&D since 2005, and he was named the magazine's digital editor in 2019.