BOURBON NEWS & NOTES – 13 November, 2020, by Susan Reigler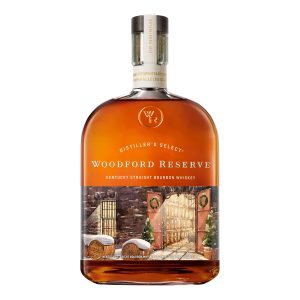 Holiday Bottles for Bourbon Lovers
If you happen to be one of those organized gift givers who has already made your list of present recipients and some bourbon enthusiasts are on it – which given that we are in Kentucky is highly likely – Woodford Reserve and Maker's Mark have some seasonal offerings of interest. One is releasing a bottle of its flagship brand with special label design and the other allows you to customize a gift label, as well as offering a special limited expression.
The Woodford Reserve bottle features a painting by British architect Nick Hirst entitled "Winter Slumber." Hirst specializes in analyzing the unique features of historic buildings through his drawings and his work has been exhibited at the Royal Academy and the Royal Institute of Painters in Watercolour in London. The label painting depicts a stone warehouse at the Woodford Reserve Distillery in Versailles after a snowfall. The one-liter holiday bottles retail for $49.99.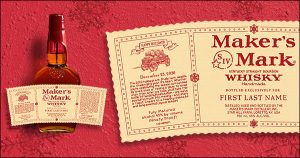 Maker's Mark will let you customize a special red-and-buff gift label with the name of the recipient prominently featured on the front and you can specify a date. Labels are free and can be ordered online at https://makersmarkpersonalize.com. Of course, you'll need to buy a bottle of Maker's on which you can attach the label, which is designed to fit the 750 mL size.
The distillery is also releasing a special limited edition of Maker's Mark 101 (Yes, a 101 proof Maker's). In an email to the Maker's Mark Ambassadors, chief distillery officer Rob Samuels explained that his grandparents Bill and Marge Samuels, the founders of the distillery, "Served it to guests in their home and even bottled a bit of it to send along with their greeting cards." It is available at retailers for about $42 for the next few weeks.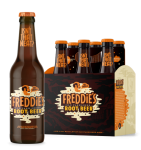 New Sodas from Buffalo Trace Join Freddie's Root Beer
If you have ever taken a tour of the Buffalo Trace Distillery in Frankfort, you may have been lucky enough to have Kentucky Bourbon Hall of Fame inductee Freddie Johnson as your guide. Johnson not only gives an outstanding tour, but the company's root beer, which is featured in a tasting, was renamed Freddie's Root Beer last year in his honor. During that tasting, it is available for any underage or tee totaling guests and is mixed with Buffalo Trace Bourbon Cream for what Johnson and the other guides accurately describe as "the best root beer float you've ever tasted."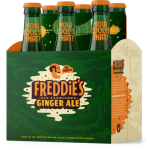 Now Buffalo Trace has released two more sodas in the Freddie's Old-Fashioned Soda line – Freddie's Ginger Ale and Freddie's Ginger Beer. While they are certainly enjoyable straight, they also make great mixers for a Buffalo Trace and ginger or a Buffalo Trace Kentucky Mule. (Note: ginger beer is a good deal spicier than ginger ale.)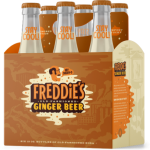 The Kentucky Mule is a riff on a Moscow Mule, made with vodka and ginger beer and is traditionally served in a copper mug. The recipe from The Bourbon Bartender by Jane Danger and Alla Lapushchik calls for 2 ounces of bourbon, ¾ ounce of ginger beer, ¾ ounce of lime juice, and club soda. Combine all ingredients except the club soda in the mule mug then stir and fill with ice. Top with the club soda and garnish with candied ginger or a wedge of lime.
Go to https://www.buffalotracedistillery.com/freddies.html for more information about the sodas.
This week's photo credits: Woodford Reserve, Maker's Mark, and Buffalo Trace.
******************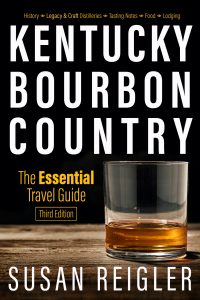 F&D Bourbon Columnist Susan Reigler is the author of several whiskey books, the most recent being Kentucky Bourbon Country: The Essential Travel Guide, 3rd edition.
Autographed copies are available from Carmichael's Bookstore. It can also be purchased on Amazon, or directly from the publisher at https://www.kentuckypress.com/9780813180311/kentucky-bourbon-country/
advertising content
advertising content