Meal delivery services are where the convenience of dining at home meets restaurant quality. The utility of meal delivery touched numerous bases even before the pandemic, including the obvious benefits for the homebound and seniors, as well as those among us who wish not to cook, but to enjoy the nutritional (and flavor) creations of someone who does.
As one prominent example in Louisville, Home Cuisine is celebrating 16 years in business. Since 2004, Sandy Pike, her daughter Mae, and the chefs at Home Cuisine have been prepping, cooking, and delivering meals. They recently enlisted Chef Ellen Gill McCarty (formerly of Science Hill Inn) to help develop a line of special senior meals.
Home Cuisine reports a record-breaking Thanksgiving Feast season in 2020, and as a result is offering made-from-scratch "Holiday Meals" for Christmas delivery.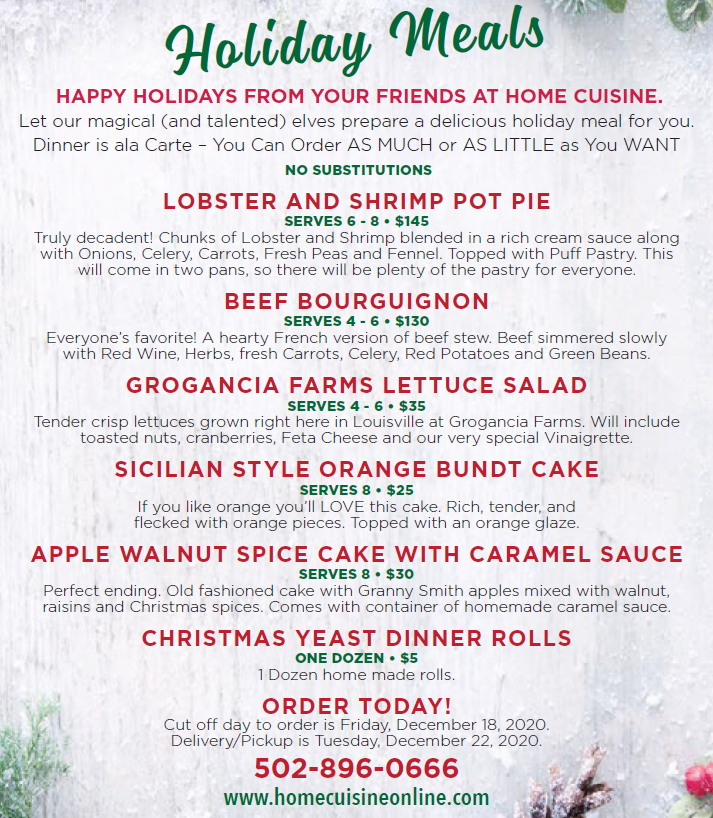 These dinner options are a la carte: "You Can Order AS MUCH or AS LITTLE as You WANT."
LOBSTER AND SHRIMP POT PIE $145.00 Serves 6-8
BEEF BOURGUIGNON $130.00 Serves 4-6
GROGANCIA FARMS LETTUCE SALAD $35.00 Serves 4-6
APPLE WALNUT SPICE CAKE w. CARAMEL SAUCE $30.00 Serves 8
SILCILIAN STYLE ORANGE BUNDT CAKE $25.00 Serves 8
Home Cuisine's phone is (502) 896-0666; the website is here. The e-mail address is info@homecuisineonline.com. order by phone or website, and the cut-off date is December 18.