Holidays can be stressful. End-of-year entertaining can present special challenges that don't plague your average host during less hectic seasons.
With the never-ending parade of office celebrations, neighborhood gatherings and family functions, holiday parties often seem more of a chore than a pleasure – to both host and invitee alike.
Tim and Lori Laird aren't your average hosts, however. Food & Dining's "Entertaining Couple" have thrown tens of thousands of festive events for friends, family and neighbors – and practice makes perfect. After years of party giving, they've turned entertaining into a science. In this issue, they share tips and low stress recipes for carefree holiday entertaining.
First: "Make it easy on yourself when you organize a get-together!" says Tim. If the host is having a good time, the guests will enjoy themselves as well. "I think holiday entertaining is especially demanding because of the time constraints involved. People have so many other commitments, so it's all about the planning." Lori clarifies: "Make lists ahead of time, and serve items that can be prepared a day or two in advance and then heated at the last minute."
Second: Think outside the box. "Who says you have to throw a holiday party in December?" Tim asks. "Thanksgiving, Christmas, Kwanzaa, Hanukkah – they're all associated with winter, which lasts well past February, so why not give yourself a little extra time and wait till after the arrival of the New Year?" As an example, he suggests driving away the winter blahs by hosting a frozen wonderland-themed celebration in January.
"Themes are great," says Lori, "and it's a wonderful way to add color to a party."
This season, Tim has come up with a tangy holiday "crantini" that adds a dazzling splash of crimson to the icy winter landscape. "With beautiful, fresh cranberries that are easy to find at this time of year, I wanted a drink that incorporated their brilliant color and flavor." Skewered on aromatic sprigs of rosemary, they make the perfect garnish for this versatile holiday cocktail. Paired with a plate of the Lairds' cold-weather favorites, it's sure to make a splash at your own stress-free festive affair.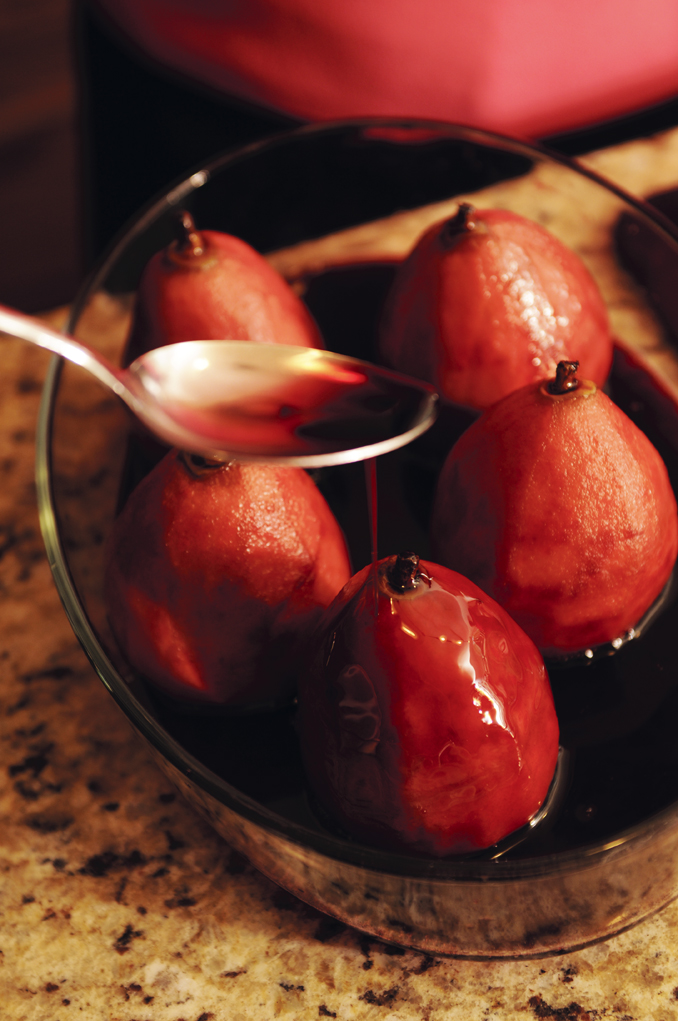 Poached Pears in Red Wine
(Serves 8)
8 medium-size pears
1 cup sugar
4 whole cloves
1 teaspoon vanilla extract
2 cup dry red wine
Peel pears carefully, retaining the stems. Cut off small slice from the bottom of each pear so it will stand upright.
In a large saucepan put the sugar, cloves and vanilla extract into the red wine and bring to a boil.
Lay the pears on their sides in this wine blend and simmer gently, covered, for 25-30 minutes, turning them over carefully after 15 minutes. Check for doneness by inserting a small sharp knife into the bottom of each pear. The knife should slide in easily.
Remove pears from the liquid and place them upright in a large casserole dish.
Increase heat and boil the liquid until it reduces to a syrup. It will start to foam when ready.
Pour syrup over pears and baste with syrup until they are glazed with a rich glossy red color.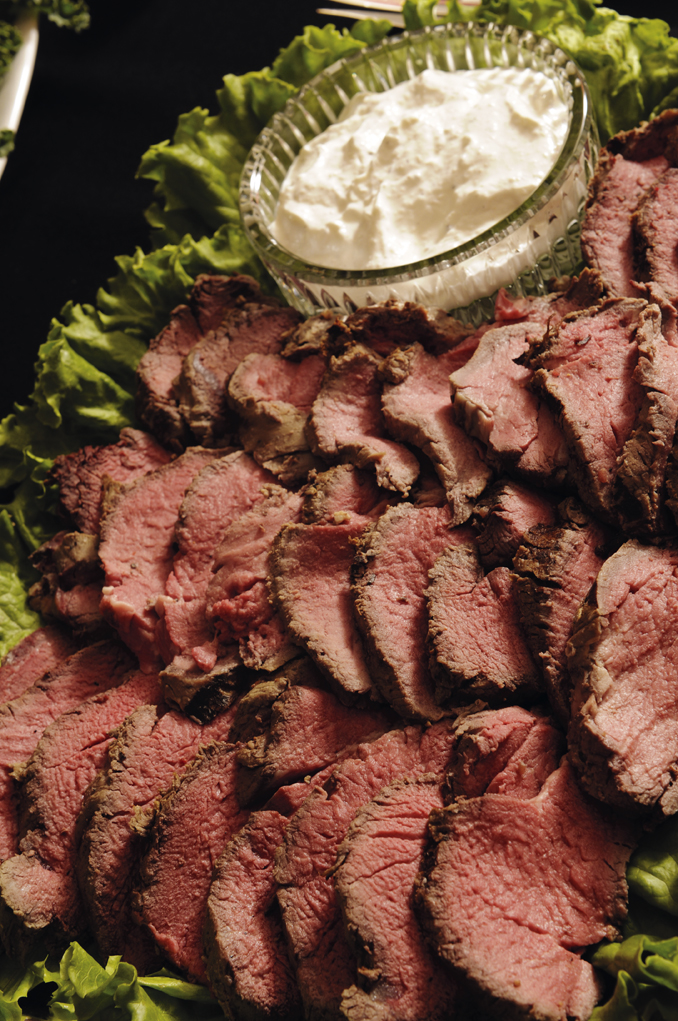 Tenderloin of Beef with Bourbon Au Jus
(Serves 12-15)
5 pound beef tenderloin (approximately 1/3 pound per person)
1 1/2 cups prepared Italian salad dressing
5 shakes soy sauce
In a large sealable plastic bag, combine Italian dressing and soy sauce.
Add beef tenderloin and marinate overnight in the refrigerator, turning once or twice.
Remove the tenderloin from the refrigerator and place it in a roasting pan. Allow tenderloin to warm up to room temperature before roasting (about an hour).
Preheat oven to 500 degrees.
Place tenderloin on roasting rack and immediately reduce the heat to 400 degrees. Bake 30 minutes or until desired temperature is reached. Do not cover or baste. A fillet is cooked rare when the internal temperature reaches 130 degrees.
For the Au Jus
1 can (10.5 ounces) beef broth
4 garlic cloves
1/4 cup unsalted butter
1/4 cup Bourbon
Slowly simmer the beef broth with the peeled garlic cloves for approximately 15 minutes.
Just before serving, stir in the butter and Bourbon.
Pour Au Jus over the tenderloin when it comes out of the oven.
Let rest before slicing.
Horseradish Cream
1 cup sour cream
2 tablespoons horseradish
Black pepper
Salt
In a small bowl, combine sour cream and horseradish.
Add salt and pepper to taste.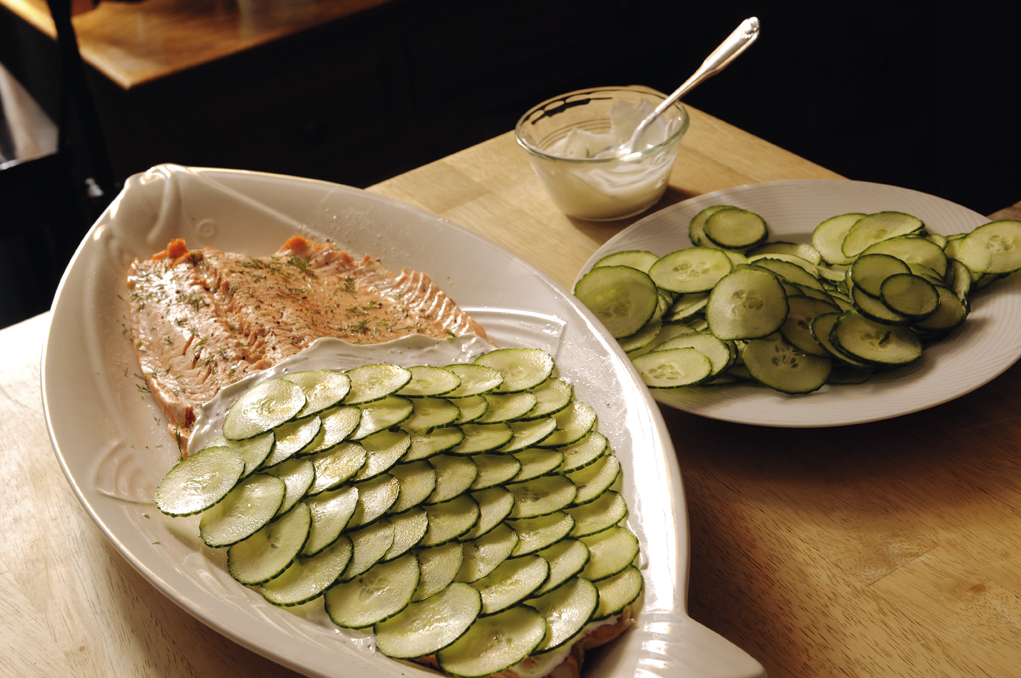 Poached Salmon with Cucumber Scales
(Serves 15)
3-4 pound fresh salmon filet, top side, skin removed
Water
1 lemon, juiced
Black pepper
4 whole cloves
1/4 onion, sliced 
5 sprigs Italian flat-leaf parsley
8 dill sprigs (reserve 3 for garnish)
1/2 cup dry white wine
Spray oil
1 1/2 cups sour cream
1 English seedless cucumber, sliced very thin
Combine the water, lemon juice, pepper, cloves, onion, dill, parsley and wine in the bottom of the fish poacher. Liquid should just reach the bottom of the poaching rack.
Place poacher on your stovetop (covering 2 burners) and bring to a boil.
Coat the wire rack with spray oil and place the salmon on the rack.
Lower rack into the fish poacher and cover. Poach for approximately 10 minutes per inch of thickness of salmon. An instant-read thermometer should read 140 degrees in the thickest part.
[box type="bio"] Note: A fish poacher is ideal for this recipe, but a large deep roasting pan covered with heavy-duty foil can be used instead.[/box]
Assembly
When the salmon has cooled. sprinkle it with black pepper to taste.
Snip fresh dill over the salmon, making sure to lightly cover the whole fish.
Spread sour cream over the fish, just enough to cover.
Starting at the tail end, layer cucumber slices, slightly overlapping so they resemble fish scales.
Repeat until the entire fish is coated.
Jack Sweet Potatoes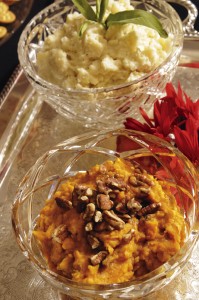 (Serves 8-10)
3 large (29-ounce) cans sweet potatoes
1 cup brown sugar
1/3 cup Jack Daniel's Whiskey
1/2 cup unsalted butter
1/2 teaspoon vanilla extract
2 cups chopped pecans
Over medium heat in a large saucepan, heat sweet potatoes through.
Drain off the liquid and mash.
Mix in brown sugar, whiskey, butter and vanilla.
Spoon this mixture into a 2-quart shallow baking dish.
Sprinkle with pecans and bake uncovered at 350 degrees or until pecans are golden (about 30 minutes).
Mashed Potatoes with Goat Cheese and Sage
(Serves 4-6)
1 pound Yukon Gold potatoes
1 pound Idaho potatoes
5 ounces mild goat cheese, softened
1/4 cup milk
3 tablespoons butter
3 teaspoons fresh sage, chopped
Salt
Black pepper
Fresh sage sprigs for garnish
Peel potatoes and cut into 1-inch cubes and boil in a large saucepan of boiling salted water until tender, about 12 minutes.
Drain and return potatoes to pan.
Add goat cheese, milk and butter and mash mixture until smooth.
Mix in chopped sage and season with salt and pepper to taste.
Garnish serving bowl with fresh sage sprigs.
Holiday Crab and Crackers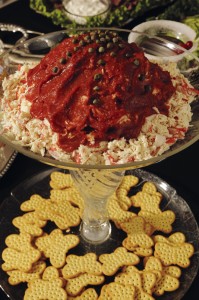 (Serves 12-15)
2 1/2 pounds crab meat (cleaned) or imitation crab meat
8 ounces cream cheese
4 drops Worcestershire sauce
Lawry's seasoning
Black pepper
Seafood cocktail sauce 
Capers
Butter crackers
Whip the cream cheese until it is light and fluffy.
Add Worcestershire, a few shakes of Lawry's and ground pepper to taste.
In a large bowl break the crab apart, leaving some large chunks.
Gently stir in spoonfuls of the cream cheese mixture until there is just enough to hold the crab together.
Assembly
Form the crab mixture into a dome on a serving platter.
Drizzle seafood cocktail sauce over the top and sprinkle with capers.
Serve with butter crackers.
[box] HELPFUL TIP: Party Favors — It is always nice to give your guests a little something to remember the evening. Place a basket near the door with party favors and give them to guests on their way out. Here are a few suggestions: Put a couple of handfuls of raw chestnuts in a small brown lunch bag along with directions on how to roast them. Bake or purchase holiday cookies, wrap them in clear cellophane, tie with a festive bow. Individually-packaged holiday ornaments make for a thoughtful and lasting remembrance. [/box]
Shopping List
Asparagus spears (2 pounds)
English seedless cucumber (1)
Orange (1)
Lemon (1)
Pears (4, very firm)
Yukon Gold potatoes (1 pound)
Idaho potatoes (1 pound)
Cranberries (1 bag, fresh)
Italian parsley (1 bunch)
Rosemary (2 bunches)
Dill (1 bunch)
Sage (1 bunch)
Crab meat (1 pounds)
Salmon (3-4 pound filet, top
half, skin removed)
Beef tenderloin (approximately
1/3 pound per person)
Cream cheese (8 ounces)
Unsalted butter
Goat cheese (5 ounces)
Sour cream
Lawry's Seasoning
Italian salad dressing
Seafood cocktail sauce
Capers
Beef broth (1 10.5-oz. can)
Sweet potatoes (3 29-oz. cans)
Butter crackers (Pepperidge
Farm's Golden Butter Crackers)
Rolls (12)
Chopped pecans (2 cups)
Whole cloves
Bourbon
Cabernet Sauvignon
Chardonnay
Finlandia cranberry vodka
Jack Daniel's Tennessee Whiskey
Cranberry juice
Sweet and sour mix
Also pick up if not already in your pantry
Salt
Black pepper
Sugar
Worcestershire sauce
Mayonnaise
Soy sauce
Sesame oil
Spray oil
Brown sugar
Milk
Vanilla extract
Garlic (1 bulb)
Onion (1) (white or yellow)
Timeline
1 Week ahead
Shop for non-perishable groceries
Order beef tenderloin
Order salmon
Shop for party favors
1 Day ahead
Shop for last minute groceries
Pick up beef tenderloin
Pick up salmon
Prepare party favors
Make the 'Holiday Crab and Crackers'
Prepare 'Asian Dipping Sauce'
Prepare both potato dishes
Marinate beef tenderloin
Poach the salmon
Mix pitchers of the 'Holiday Crantini'
Set up the bar
Set up your music playlist
Morning of the party
Steam the asparagus
Make the 'Bourbon Au Jus'
Bake and slice the beef tenderloin
2 hours ahead
Decorate salmon and refrigerate
Make the 'Poached Pears in Red Wine', basting until served
1 hour ahead
Plate the crab and crackers
Arrange asparagus on platter
Plate the beef tenderloin (serve at room temperature)
Heat both potatoe dishes, keep warm
Plate the poached pears
Put rolls in basket with napkin
Just before the party
Set out all food items
Check bar and fill ice buckets
Turn on your playlist
[box] Party Playlist Ideas:[/box]
"Christmas with Harry Connick Jr." — Harry Connick, Jr.
"The Andy Williams Christmas Album" — Andy Williams
"Barenaked Holidays" — The Barenaked Ladies
"It's Christmas Time" — Bing Crosby, Frank Sinatra & Louis Armstrong
"A Charlie Brown Christmas" — The Vince Guaraldi Trio
"Ella Wishes You A Swingin' Christmas" — Ella Fitzgerald
"The Nutcracker" — Tchaikovsky
See this story in the original PRINT VERSION —  Fall 2008