Homemade Ice Cream and Pie Kitchen turned 40 on Tuesday. The shop's website explains the way it all went down four decades ago.
In 1982, Gina and Mike Cox opened the Homemade Ice Cream and Pie Kitchen as a lunch counter in Louisville, KY, in what was formerly an old automotive dealership.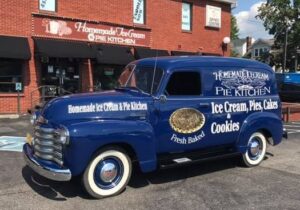 Every day they would serve lunch and meals from the lunch counter with baking as a small part of the business. But soon the sweet baking smells overwhelmed the lunch counter and they became well known for fresh baked pies.
The pies became so popular that the lunch counter was changed over to make way for a pie case, which was soon followed by an ice cream case. Soon thereafter they purchased an ice cream machine in order to follow in the tradition of making everything from scratch. Quickly that grew to include fresh baked cakes, cookies, and many other old-fashioned desserts, like meringue pies, strawberry rhubarb, peach and pumpkin pies. They served old fashioned malts, sundaes and many more truly great traditional desserts.
Writing at Louisville Business First, Michael L. Jones picks up the story. Homemade Ice Cream and Pie Kitchen has changed hands twice, and added components, but it remains firmly rooted in Louisville.
Adam and Mary Lee Burckle purchased the Homemade Ice Cream and Pie Kitchen in 2005, and in 2020 it was sold to Charlie Hensley, Mike Mountjoy, Barrett Nichols and Vince Tyra.
The new owners established the parent company, Southern Brands, which now includes Homemade Ice Cream & Bakery Café — a fast-casual bakery café in the Indianapolis area that opened in 2021 — and Adam Matthews Baking Company in Louisville.