"The natural dynamic is to drink less, but drink better. There are no longer masses of workers exiting steel factories in Pennsylvania and coal mines in northern England, ready to wash away the day's work with cases of Pabst Blue Ribbon and the like. Most workers sit at computer screens. They still get thirsty, but not for Pabst Blue Ribbon. They want something better-tasting."
― Michael "Beer Hunter" Jackson, 2000
At Louisville Business First, Jason Thomas reports that the Summer Beer Fest at Frazier, staged by the Frazier Kentucky History Museum, will return on Saturday, August 6.
Festival-goers can partake in specialty beers, of course (last year's event had more than 200 brands), food trucks, live music and Kentucky craft vendors, with all the proceeds going to the museum. Last year's event raised more than $81,000, which is a big deal when it comes to the facility's fundraising efforts, and is crucial to programming.
One beer that might be available for sampling by the discerning at the Frazier fest is Swashbockler, described as a collaboration between Shippingport Brewing Company and the venerable fast-fish chain Long John Silver's, which was funded in Lexington, Kentucky in 1969 and named for a prominent pirate in the novel Treasure Island by Robert Louis Stevenson.
It serves as the perfect companion to wash down your crispy, crunchy, and fresh seafood dish without overpowering the meal. A sip of Swashbockler and a bite of sizzling shrimp will leave your tastebuds wanting more.
Did I mention that the introduction of Swashbockler came last Friday, which coincidentally or not is known around the world as April Fool's Day?
And why, one might ask, would the April Fool's Day unveiling of a Long John Silver's-inspired beer make any self-respecting journalist's antennae quiver?
Why, then, was a can shown in the press release, but no mention made of cans in the text, only draft? If there are to be cans, doesn't this imply a brewing location other than Shippingport? If so, where was the beer brewed and canned? Is the beer production local or national?
Do colorful freebooter hats come with the six-packs? And so on.
Obviously I'm a pants-down beer columnist, not a business publication-like journalist, so these questions needn't be considered here.
Swashbockler is good, clean fun, and far be it from my role as supporter of Louisville area brewing in a general sense, and huge fan of Shippingport more narrowly, to rain on cleverly staged beer release parades. It's all great publicity for local craft beer, and seeing as Swashbockler is a Pale/Helles Bock (Maibock), a style I quite adore, I'd like to try it and will endeavor to do so very soon.
But if you're wondering why April Fool's-laden skepticism prompted my initial reaction, I've identified the precise reason (in bold text).
Swashbockler, the national seafood company's first beverage alcohol refreshment, is a malty bock beer brewed with their signature malt vinegar to celebrate the end of Lenten season.
Umm, no. On my non-chain-harvested fish, of course. In Captain Blood's grog, not so much. But when the Silver's Clam Sour series comes along, I'm in.
Ranging afield, we find a neglected beer style worthy of consideration: An Introduction to Grisette, by Ruvani de Silva (Campaign for Real Ale). The last time I had Grisette was at Foulmouthed Brewing in South Portland, Maine, and it was delicious.
Grisette, which means 'little grey' in French, hails from the French-Belgian border, close to Belgium's Hainaut Province. Traditionally, Grisette was a Farmhouse Ale with properties similar to a Petit Saison – low alcohol (3-5%ABV), high attenuation (dryness), lower in fruity esters and moderate in spicy phenols, with a crisp, refreshing bite.
Leaving Hainaut province by bicycle, the bad news is that it's a 76-hour trip to Gotland, Sweden, including a few ferry rides.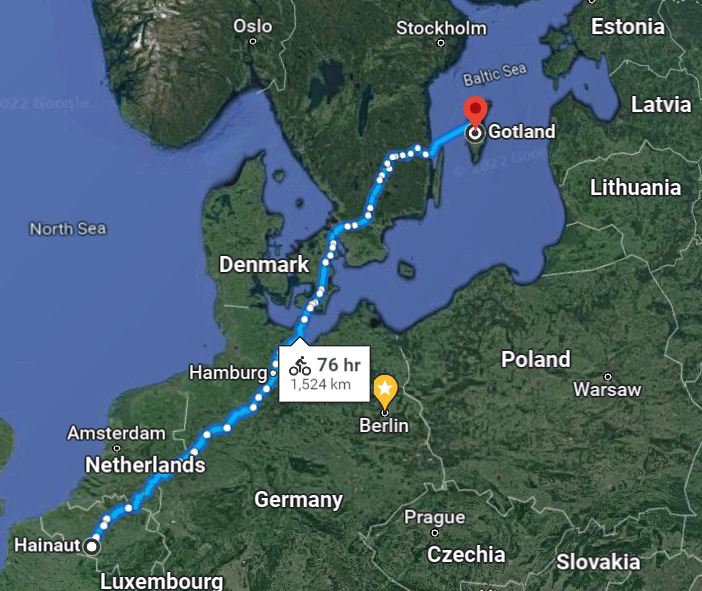 The good news? It's mostly flat pedaling once you're out of the Ardennes, and they probably serve beer on the boats, although maybe not this particular type.
Gotlandsdricka, a beer style pioneered by Vikings, hails from the Swedish island of Gotland. The name itself means either "Gotland drink" or "Drink of the Land of the Goths" depending on who you ask; and it, like many other unique regional styles, such as sahti and gruit, utilizes a brewing process developed by the native inhabitants of the island.
Fortunately, Wild Hops Brewery is like a sag before the bike ride even starts. We needn't visit Europe, just Logan Street Market.
Thanks for the tip, Louisville Ale Trail.
Celebrity Brewing, Part One: Son of The Who frontman Roger Daltrey on his successful brewery and taproom, by Nick Mosley (Yahoo).
Established in 2020, our business is called Lakedown Brewing Co and is a family-run, independent microbrewery and taproom in rural East Sussex, creating modern and traditional beers in can, bottle, keg and cask. We are on a mission to make local, artisan beer more accessible.
There's a song about a variant of rural cultivation on the The Who's 1974 album Odds and Sods, but the topic isn't hops.
Celebrity Brewing, Part Two: Former baseball player opens bison-themed brewpub in the Texas countryside and communes with very large mammals.
Ex-Giants reliever Jeremy Affeldt on his new brewery and the 'buffalo mentality' that got him through a personal storm, by Daniel Brown (The Athletic)
Affeldt recently opened the Free Roam Brewery,, a nod to the "buffalo mentality" he prides himself on, the approach of facing storms instead of running from them. Lest the metaphor gets missed, there are buffalo all over the brewery. There is a real one, thanks to a taxidermist, as well as paintings of them, drawings of them, beers named after them and, on the biceps of his old throwing arm, a tattoo of the actual one Affeldt stood in front of as tears welled in his eyes (more on that later).
Speaking of merry metaphors, allow me to close with a decade-old April Fool's classic, reminding us that swim bladders needn't be restricted to the brewhouse. They're great pan-fried, and served with malt vinegar.
"We're adding Rocky Mountain oysters whole into the kettle to give the full flavor and nuances into the beer."

It's been 10 years since @Wynkoop's April Fool's joke about making a beer with bull testicles. It became a reality.

The "announcement": https://t.co/Avi5zxcbLN pic.twitter.com/Tm0aEqbmJa

— Bryan Roth (@BryanDRoth) April 1, 2022
---
Roger Baylor is an educator, entrepreneur and innovator with 40 years of hands-on experience and expertise as a beer seller, restaurateur and commentator. As the co-founder of New Albany's Sportstime Pizza/Rich O's Public House (which later became New Albanian Brewing Company) in the 1990s and early 2000s, Baylor played a seminal role in Louisville's craft beer renaissance. Currently he is the beer director at Pints&union in New Albany and Common Haus Hall in Jeffersonville. Baylor's "Hip Hops" columns on beer-related subjects have been a fixture in F&D since 2005, and he was named the magazine's digital editor in 2019.
advertising content
advertising content