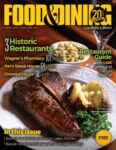 The Spring 2023 issue of Food & Dining Magazine is now available in all the familiar places: Louisville area eateries and food shops, newsstands and online.
Mama Shadia, a restaurant specializing in Middle Eastern cuisine, is up and running in Russell. Louisville Business First's Michael L. Jones has the story.
Mama Shadia is located at 2300 W. Market St., near Black Market KY and Catholic Charities. Co-owner Tim Barber said Mama Shadia offers unique flavors when compared to other Middle Eastern restaurants in the city because of his partner Adel Alasam is from Bahrain, an island-nation situated between Qatar and Saudi Arabia.
Mama Shadia, which will celebrate its official grand opening on March 31, is currently open for business Sunday through Friday from 10:30 a.m. through 7:00 p.m. and is closed on Saturday.
Mama Shadia is the best place to get your fix of authentic Arabic Middle Eastern cuisine. Our food is made with fresh, high-quality ingredients and spices that will transport you to the streets of Cairo or Dubai. Our chicken masala, beef curry, and tika are some of our most popular dishes, but we also have a variety of burgers, wings, and kababs for you to choose from. Come see us today and taste the difference!
As an addendum, 2300 W. Market might ring a bell. It's the former location of Galan's Meat Market & Grille, which served Cuban and Latin American cuisine and closed in 2022. Five city blocks away, Galan's Meat Market & Deli remains open at at 2801 W. Market.