[adrotate group="3"]
The Village Market is a food hall slated to open in the spring of 2020 at 712 Brent Street in Paristown Pointe, with the current tenant of the space, The Cafe, shifting to its new location nearby next March.
But how will a "food hall" differ from the "public market" layout deployed at Logan Street Market? Conceptually both offer food that's ready to eat, as well as access to a bar.
Louisville Business First's reporter Haley Cawthon broke The Village Market story, and she sorted through the semantics at Twitter.
For the purposes of this article (and I agree that there could be a larger debate here): Food halls are restaurant-exclusive dining. Public markets have shopping/retail vendors selling take-home food and grocery items, in addition to other boutique offerings … another hot take: A food hall is different from a food court because it offers food from local (and most likely upscale) restaurant establishments, rather than fast casual chains like Chick-fil-a.
Her publication responded with a Twitter poll.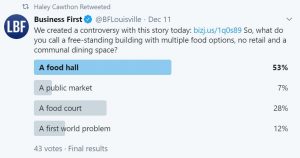 Wes Johnson is one of three partners (with Johnson's fellow Buckhead Mountain Grill co-founder Mike Kapfhammer and Stoneware & Co. owner and CEO Steve Smith) in Paristown Food & Beverage, parent of The Village Market, and he shared his company's vision with Cawthon.
A food hall … is really a collaborative food and beverage destination that offers a variety of primarily local eateries. The goal is to target local operators with experience and a following who want to be a part of the excitement of Paristown and want to take advantage of all that's going on here.
The group also owns The Cafe and at first considered a single restaurant project before concluding that Paristown Pointe would benefit from out-of-the-box thinking, whatever one's choice of wording as descriptors.
"We really believe that you can get — and should expect — highly-crafted, quality-driven food and beverage that doesn't have to cost you an arm and a leg and that is served in an environment that is casual and comfortable," Johnson told Cawthon.
Cover photo credit: WAVE-3 News