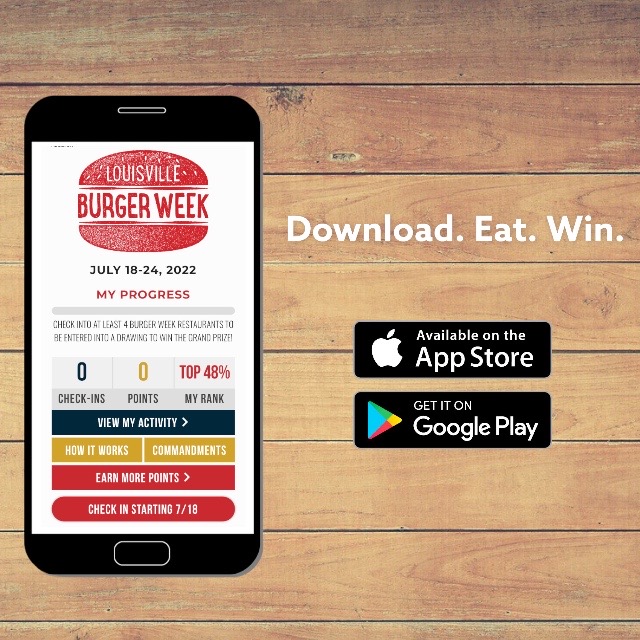 Early notice department: Louisville Burger Week returns for its sixth engagement from July 18th through the 24th (that's Monday through Sunday), promising discounted burgers at Louisville and Southern Indiana restaurants throughout the week. It's an all ages event, but some locations are 21+ only.
Guests will have the chance to enjoy discounted $6-$7 gourmet burgers (pricing will be listed on the app) as well as Against the Grain and Coopers Craft drink features for seven days. From fan favorite staples, to off-menu specialties, it's a chance for customers to enjoy the food and culture of the city, all while supporting our local restaurants and trying new places.
Louisville Burger Week is presented by the Kentucky Beef Council, and spanking new for 2022 is an official app:
The Louisville Burger Week App: Navigate your way through the city and reward your APPetite with our official Louisville Burger Week APP— available now in both Google Play and Apple Store. Check in at 4 or more locations and be entered to win $250 in gift cards as well as an ultimate grill out, courtesy of the Kentucky Beef Council. Consumers will also be able to earn points towards a second grand prize of $250 in gift cards throughout the week by checking into participating restaurants, enjoying Against the Grain and Coopers Craft drink features and more!
The list of official participants for 2022 is expected to grow, and is also subject to change.
80/20 @ Kaelin's, Public House by Against The Grain, Agave and Rye, BA Colonial, Bambi Bar, Barrel 33, Bristol Bar & Grille, Bubbas 33, Burger Boy, Burger Girl, Buffalo Wild Wings (select locations), Cask Southern Kitchen, Common Haus Hall. Checks Cafe, Corner Flavors of KY, Drakes, Dundee Tavern, Fistful of Ale, Game Burgers, The Granville Pub, Harry's, Happy Belly Bistro, Khalil's, King Fish on the Rocks Patio Bar, LouVino, Mark's Feed Store, Molly Malone's, Neighborhood Services, Neighborhood Sports Bar & Grill, Oshea's, O-Line Sports Grill, Pints and Union, R Place Pub, Recbar, Recbar 812, Rooties, Shennanigans, Six Forks, Sports & Social, Streatery, The Manhattan Project, The Raven, Walkers Exchange, Weekend Burgers, Macaron Bar
To get the Louisville Burger Week app:
For more information about Louisville Burger Week and to view participating restaurant menus, download the app, or visit www.louisvilleburgerweek.com