I received this notice from IU Southeast's new Lifelong Learning program, which seems to be picking up where the university's defunct Continuing Education department left off when it was decommissioned a decade or so ago.
For five Saturdays beginning March 12, a course called "BOURBON — An Introduction for the Inquisitive Drinker" will take place at IU Southeast (4201 Grant Line Road in New Albany IN). The course outline follows, but first, even though course instructor Susan Reigler needs no introduction, here's one anyway.
—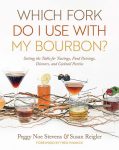 F&D's Bourbon Columnist Susan Reigler is the author of several whiskey books, including Which Fork Do I Use with My Bourbon? –  Setting the Table for Tastings, Food Pairings, Dinners, and Cocktail Parties and Kentucky Bourbon Country: The Essential Travel Guide. Autographed copies are available from Carmichael's Bookstore. They can also be purchased on Amazon, or directly from the publisher: 
Reigler is a former restaurant critic and beverage columnist for the Louisville Courier-Journal and a contributing writer to Bourbon+, American Whiskey Magazine and LEO Weekly, and is bourbon columnist for Covey Rise magazines. She is past president of the Bourbon Women Association and has hosted tastings and been featured in whiskey festivals throughout the United States. She's also a Certified Executive Bourbon Steward and a member of the Order of the Writ.
—
Now here's the preview.
BOURBON — An Introduction for the Inquisitive Drinker
Bourbon, America's native whiskey, has played a role in the life and economy of the nation for more than 200 years. Whiskey taxes funded a new nation. Settlers in the Ohio Valley were given land incentives to make it. Federal laws were enacted to ensure its quality. Today bourbon is responsible for some $10 billion of its native state Kentucky's economy. In this course, participants will learn about bourbon's history, what makes it a special whiskey style, how it is made, and its continuing place in American culture. Both weekly tastings and a session at a local distillery will be included.
COURSE INFORMATION
Dates: Five Saturdays: March 12, 19, 26, and April 2 & 9, 2022
(April 9 will be a tour of a local distillery, TBD)
Time: 11 a.m. – 12:15 p.m.
(Time for the distillery tour on April 9 TBA)
Location: Stiefler Recital Hall in the Ogle Center 🗺️
Tuition: $320 per person. Includes materials and field trip fee
Ages: 21 and over. Proof of age required.
Instructor: Susan Reigler