Scattered around the fields of Josh Moore's farm in Taylorsville are several pieces of antique farm equipment.
To some they might look like rusting hulks, but Moore appreciates the way time and weather have turned the prosaic, workaday tools of the horse-drawn agricultural era into works of abstract art. He currently has a hay rake, a sickle cutter and a manure spreader, which he has to move around the farm when they get in the way when it is time to cut his pastures.
That might seem like just one more job in his busy schedule, but Moore, executive chef and managing partner in Volare Restorante, finds pleasure in having the old machines around. They are reminders of the way farmers had to work even harder than they now do to provide food for the country.
Along with Ed Lee of 610 Magnolia and Milkwood, and Damaris Phillips, who won a competition to have her own Food Network show, Moore is among the upcoming generation of Louisville chefs who are getting national attention and garnering for Louisville a reputation as a city with a solid food culture, and building a reputation both in and well beyond the Metro's borders.
At 34, Moore is frequently seen on local news and television programs, actively supports with his cooking a wide range of philanthropies, has cooked at the James Beard House on two occasions (this year as presenting chef), and is regional representative for several trade organizations, such as being the Ambassador Chef for Certified Angus Beef.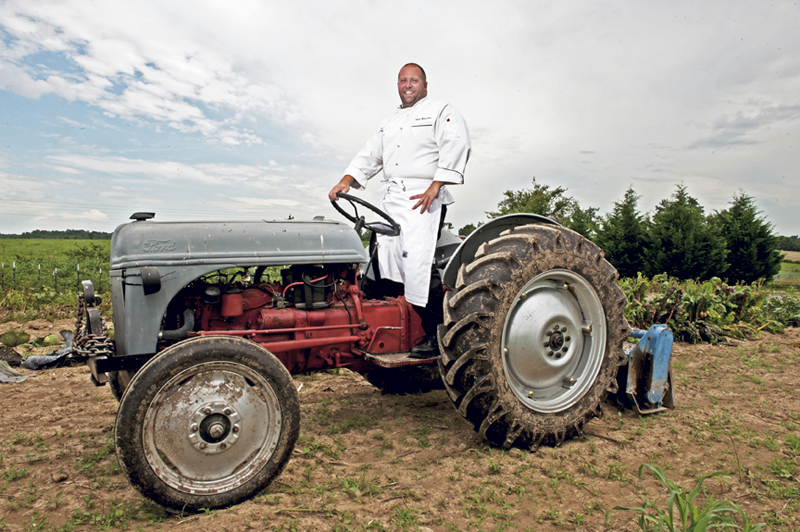 That gig garnered him a week-long trip to Amarillo, Texas, to meet with family farms there who raise Certified Angus cattle, and to follow the beef production from pasture to feedlot to processing house, where he learned a great deal about the beef-grading process. It was a dissatisfaction with the consistency of prime beef grading that led him to investigate Certified Angus beef, which he has found more consistent with his own standards.
Packed into the stout, muscular frame of a power lifter (he lifts weights or does aerobic workouts five times a week), he exudes an almost boundless optimism and energy in directing an excellent restaurant, running a farm that gives new meaning to the term "locavore", co-parenting an energetic four-and-a-half-year old son, Gibson, renovating a 110-year old farmhouse, collecting antiques and being an amateur paleontologist.
The energy which drives this range of interests comes from a focus and determination he learned early on from a mother who successfully struggled against alcoholism and a paraplegic uncle who didn't let adversity defeat him.
"I used to be Uncle Steve's helper and we spent a lot of time together when I was young," Moore said. "We'd rent movies and eat pizza together and despite his problems he always kept working. He was truly inspiring. And my Mom's struggles also gave me a strong desire to succeed."
While Moore loved hanging out and learning in the kitchens of both his grandmothers, fate helped him discover his life's passion early on, at the age of 14.
Nobody Asked
Moore's moment of discovery came at Vincenzo's, one of Louisville's top echelon restaurants, where his stepfather was a server and his mother worked in catering. There he gradually talked his way into working under Augustino Gabriele as an assistant pastry chef before he could even drive.
"Nobody asked me how old I was. I guess I came across as an old soul beyond my years," Moore said. "I used to go in and chop 55 pounds of chocolate, mix butter, heft sacks of flour. I loved it and immediately knew I had a passion for it. Because I was only 15, I also ended up riding TARC a lot," from his home on W. Hill St to Seneca High School and downtown to work at Vincenzo's.
While Moore played sports at Seneca H.S., he admits he wasn't very studious, and his fascination with working at Vincenzo's soon led to his thinking of a career in the food business. He moved on to a Little Caesar's pizza store, and worked up to assistant manager while still in high school. He then worked at Wildwood Country Club before he found the opportunity that would both hone his skills and mature his vision, getting a job at Porcini's where he worked under Chef John Plymale.
"It was terrific. I started at 17 as the garde manger, or kitchen pantry clerk, but it was a salaried job, and I finally could get a car. It was a big step up for me," Moore said. "And Chef Plymale is terrific. He is a patient, easy-going man who is big into teaching and training his staff."
During seven years with Plymale, Moore worked his way up to sous chef and pastry chef, not a frequent combination, learning important management skills along the way.
"He modeled how to interact with people, how to reprimand and fire and hire. I learned one needs to be patient and consistent and, once they are trained, how to leave good staff alone so that they can be creative," Moore said. "I also learned that food is a tough business to be in. When you consider how many restaurants open, you realize the success rate is very small."
Moore used his strong work ethic to feed his creative impulses and continued expanding his skills to include ice carving and sugar artistry (for which he has a notable reputation). When he took a position in 2005 at Volare Restorante, it took only one year for him to become executive chef and one more before the owners offered him the chance to become managing partner. The relationship gave him the footing to start building his dreams on a larger scale.
The Farm
"I moved out here in 2005," Moore said of his 10-acre farm near Taylorsville with old barns and a green steel-roofed house that obviously has received a lot of attention. "This is where I can get away from it all, have fun with my son, and keep perspective on all my interests."
Most of the home has been renovated, populated with artwork, antiques, and both Gibson's and Moore's toys (including a pool room/man cave of righteous dimensions). But the clear center of the household is a commercial-grade kitchen with a welcoming arc of countertop and stools fronting it near the entryway. It bespeaks Moore's pleasure in cooking and entertaining people, and having them close enough to see their satisfaction.
While Moore spends 60 hours a week at Volare, he estimates he puts in another 20 to 35 hours working on the farm garden which supplies about fifty percent of the seasonal produce used in the restaurant. This year, in three cycles, about 2000 plants went into the ground and were grown to harvest.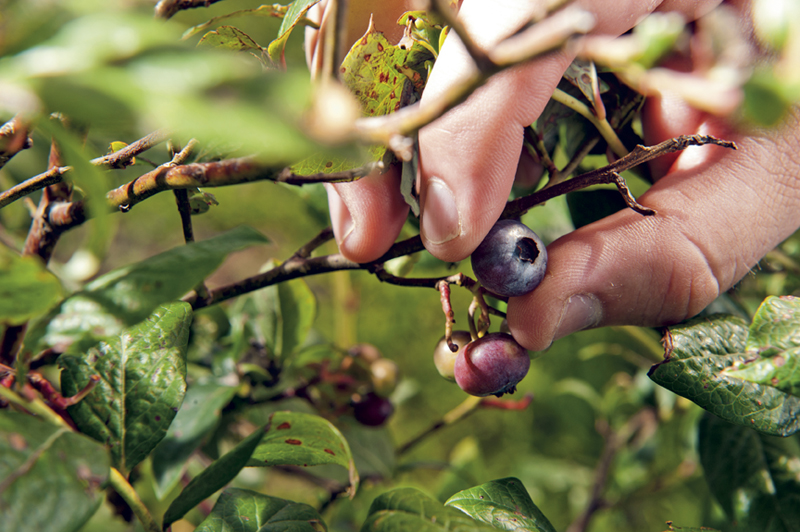 "It started 2006 when I put a dozen tomato plants out. When I took the harvest into the restaurant our guests were surprised and enthusiastic about their flavor. The next year, I put in three dozen plants and added broccoli and cabbage and it was the same, an overwhelmingly enthusiastic response," Moore said. "This year we put in 144 tomato plants, about 30 heirloom varieties, and were harvesting 50 pounds a day at their peak. We also grew broccoli and cabbage, Swiss chard, beans, onions, potatoes, melons and different squash—all-in-all bout 50 different vegetables."
There is also another acre of fruit trees, blueberry bushes and both black and raspberries which make their way into many of Volare's desserts. This year More started an apiary to be sure his farm had enough bees to pollinate and ensure productivity. Next year Moore, with the assistance of the University of Kentucky School of Agriculture, will begin another section of mulch-bed rows covered in black plastic and with drip irrigation.
"I want to ensure supply and maybe extend our growing season a bit," Moore said. "From the spring to fall, I want to have some representation of the farm being served at the restaurant. Farm-to-table has become commonplace, but for me it's my farm to my table. Going from seed to fork is awesome."
A Special Luck
It's obvious that Moore works a schedule many would find daunting but he finds a certain happiness, even glee, when the fire is at its hottest. His multi-tasking and hard work also create special opportunities that repeatedly seem to materialize for him–even when he is on vacation.
One such break came last spring on a trip to Carmel, California before the intensity surrounding the Kentucky Derby kicked in.
"I hardly know the West Coast at all, so I decided to take a drive up to the Napa Valley and explore," Moore said. "On a whim, I stopped at Artesa Vineyards and Winery and I was very impressed with their portfolio. After getting acquainted and talking with them about my invitation to present at the James Beard House in July, they offered to partner and supply 100% of the wine for the dinner in New York. It was generous of them, a very select wine, and a great step up from what is usually made available to chefs there."
Along with such successes (the James Beard re-creation dinner at Volare sold out 110 seats), Moore also generously shares of his time and talents with local civic and non-profit groups. He's been giving cooking classes as part of the Spencer County Extension programs since he settled there in 2005. This year he presented a dinner to raise travel funds the local 4H judging team.
"While some people joke that I'm becoming Spencer County's most famous celebrity, it's a fun way to get out and meet my neighbors and let them know I'm committed here," he said.
Moore's commitments also help numerous, high profile charities like the March of Dimes (where he has been organizing chef for their Signature Chef event since 2008), The Multiple Sclerosis Society, Hosparus, and Gilda's Club, as well as lesser-known organizations like APRON, which raises money to help with restaurant workers' healthcare costs. These activities brought him recognition this year in Louisville's NFocus Magazine as one of the "New Faces of Philanthropy". He was also chosen in 2012 as a rising star in Business First's annual "40 Under 40" list.
While Moore sees a long future at Volare, he also looks forward to opening other restaurants in Louisville, that would express his love of food and the pleasure of serving guests.
"I'm lucky because when I wake up in the morning I never feel like I 'have to go to work'," Moore said with a broad grin. "Because it's not work; I'm doing what I love."