Marty Rosen celebrates two decades of Mai's Thai.
For many of us of a certain age, Thai food was a gateway cuisine. We'd grown up with the familiar Americanized versions of Italian, Mexican, and Chinese food. But here in the heartland even as late as the 1980s ingredients like fish sauce, lemongrass, and rice noodles were just whispered rumors spread by people returning from far-flung places like California. I still remember many of my Thai firsts: a serving of pad thai at a vegetarian spot in Urbana, Illinois in grad school; a green curry in Berkeley; an amazing pad kee mow that my wife ordered in Chicago, wide noodles garnished with fragrant, fresh basil leaves.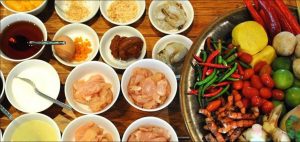 And I remember when Thai first showed up in my Old Louisville neighborhood. It was around 2001. By then you didn't have to drive to Lexington for Thai food — we had Thai Café in Holiday Manor and Bangkok Buffet in Stony Brook. I had stopped for a light at the corner of First and Oak next to a venerable old convenient market, a place that sold potato wedges, fried chicken, and Big Red. Hanging in the window was a sign that said "Thai Food."
I went home, collected my wife, and a half hour later was dining on the real thing. We dined there about ten times over the next couple of months, and in a LEO Weekly review, I raved about the Geeang Garee with potatoes, onions, and chicken in a slurry of yellow curry, and the bright flavors and creamy mouthfeel of the Tom Kha Gai. And now I look at the review and see that a full dinner cost about five bucks.
That was the first iteration of what has now become sort of legendary fixture on the Metro scene, Mai's Thai.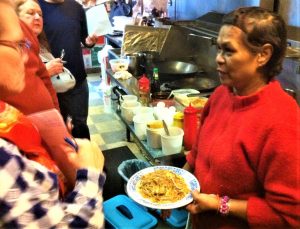 Alas (for me) but happily (for Hoosiers), a few months later, Mai relocated to Jeffersonville, Indiana, where she has operated for 20 years and has become a respected chef and a beloved member of the community.
I've written about Mai's many times over the years — as have, I think, all of the food writers in the Louisville area. When Mai opened in Jeffersonville, our F&D colleague Susan Reigler reviewed the restaurant for The Courier-Journal. She said of an order of Pad Khing that its hint of ginger was "as delicate as a butterfly's wing. It fluttered through the light-bodied sauce draping the sliced chicken, scallions, and wood ear mushrooms … "
I think it's safe to say that everyone who has reviewed Mai's has been inspired by both the food and Mai herself.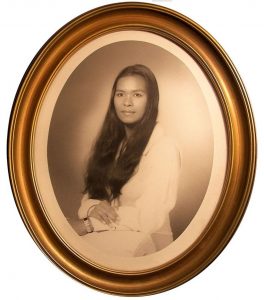 Mai is a chef whose personality and heart as big and boisterous as the flavors she builds in her kitchen. And now she is planning a big celebration of the restaurant's 20th anniversary. It will take place on Saturday, August 7 from noon to 3:00 p.m. in the parking lot of the restaurant, where guests will gather under a tent furnished with tables, chairs (though not an infinite number of either), a "jumpy house" for the youngsters, a DJ, and, of course, food and beverages!
If you need more information, call or drop by Mai's. The address is 1411 E. 10th Street, Jeffersonville. The number is 812-282-0198. Since the restaurant's post-pandemic reopening in March, Mai's is offering carryout only (Monday through Saturday, 11:00 a.m. to 8:00 p.m.) The website has information about Mai and the restaurant: maisthai.com, and of course there is a Facebook page.
—————————-
Our editor-in-chief Marty Rosen has been covering food, dining, performing arts, and culture in Louisville for more than a quarter-century. He has been a contributor to Food & Dining since the first issue. He served as dining critic for LEO Weekly (2003—2006) and The Courier-Journal (2006-2014). In addition, he has written for Louisville Magazine, the Kentucky Department of Tourism, The Voice-Tribune, and other publications.