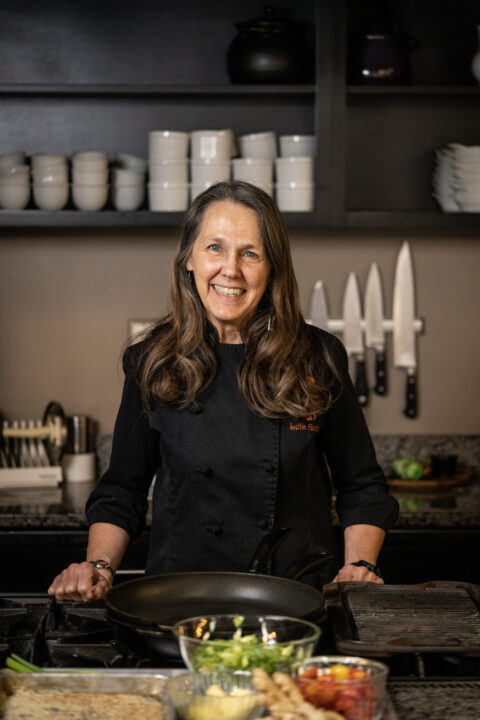 F&D is delighted to welcome Lelia Gentle as our home cooking columnist. Her experience, expertise, and friendly voice bring a delightful addition to our roster. Lelia has been a prominent and influential part of Louisville's food scene for more than four decades since she and her husband Stan opened St. Matthews Seafood Co. in 1979. As a fishmonger, food educator (current instructor at Cooking at the Cottage), restaurateur (Stan's Fish Sandwich), farmer (DreamCatcher Farm) and farm market fixture (a long-time vendor and breakfast chef at the Original Bardstown Road Farmer's Market), Lelia has deep personal connections across the spectrum of Louisville's food scene — the folks who produce, who cook, and who consume. And we're sure you will find inspiration in these Letters From Lelia's Kitchen.
---
Letters from Lelia's Kitchen
Fish for Lent…and Every Day
(This story originally appeared in the Spring 2023 print issue.)
Back in the early eighties, my husband Stan and I came to Louisville bringing our fresh fish and knowledge of the seafood industry to the area. The venturesome food community here happily greeted our small fishmarket and eagerly consumed our goods. But we were not prepared for what would happen during our first Lent here. Each Friday, we were literally besieged with demand for fish that far exceeded our usual supply. Although extremely knowledgeable about fish, we knew nothing about Lent! We were transplanted from the southern bible belt and were oblivious to the fact that Louisville was over fifty-two percent Catholic at the time, with a great percentage of them eating fish every Friday.
We quickly learned that in traditional Christian practices, the three pillars of Lent included prayer, fasting and almsgiving. The 4th century Council of Nicaea formalized the tradition of Lent. In Western churches Lent begins on Ash Wednesday, six and a half weeks before Easter, and provides a forty-day period for fasting and abstinence, an imitation of the practice of Christ before the crucifixion.
Not sure exactly what the fasting part meant, we learned that a meal of fish displaces the more decadent meat options. The widespread mandate was to refrain from eating warm-blooded animals, which left fish up for grabs for the dinner plate because it was cold-blooded.
We should note that the rules for Lent and Good Friday were developed centuries ago, when meat was the choice food of celebrations — the fatted calf, the perfect lamb, etc. When these practices began, fish was considered common and lowly and could not be construed a "celebratory" dish by any stretch of the imagination, and so it was perfectly acceptable to eat fish on a day of penance.
Fast forward to today and it seems the tables have somewhat turned. Current economics have almost made a juxtaposition of that history. Now it seems the price of seafood has deemed it almost a luxury, whereas pork, beef and chicken are more common fare.
But for now, the tradition continues. Religious or not, many people continue to eat fish every Friday. We do know that the health benefits of eating fish and seafood make it a significant dietary choice for any day of the week. If you are not accustomed to cooking fish, there are two things you need to know. First, buy it fresh. This might seem like a simple instruction, but the legal definition of "fresh" only means "having never been frozen," and has nothing to do with how long it has been sitting in a fish case. So learn how to buy, look for moist transparent flesh, and avoid anything that looks dried out with yellowed or browned surfaces. The second admonition is please don't overcook the fish. Many bad fish experiences are not really bad fish, but fish that has been overcooked. Fish will easily dry out and become tough, so watch it carefully.
---
Pepper Crusted Tuna with Wasabi-Lime Soy Vinaigrette over Baby Greens
(Serves 4)
Seared tuna is everyone's favorite.  Using these flavorful ingredients, you can't go wrong.  Just be cautious on your cooking times.  This recipe may be used as a salad for lunch or dinner, or increase the portions a bit and let it become your entrée.
For the Fish:
4 yellowfin tuna steaks, sashimi grade, about 6 ounces each
4 tablespoons soy sauce
3 tablespoons olive oil
4 tablespoons Coarsely ground black pepper
For the Vinaigrette:
3 tablespoons soy sauce
½ teaspoons wasabi paste or horseradish, more to taste
1 tablespoon freshly squeezed lime juice
1 tablespoon seasoned rice wine vinegar
¼ cup vegetable oil
For the Salad:
Baby greens, enough to make four salads
Alfalfa sprouts, for garnish
Combine the soy sauce and olive oil.  Marinate the tuna steaks in the soy mixture for 10-15 minutes.
Combine the vinaigrette ingredients in a small bowl and whisk until well combined.  Taste for seasoning and set the dressing aside until ready to serve.
Pour pepper onto a plate.  Lift a tuna steak from the marinade and lay on the plate of pepper.  Press lightly so that the pepper will stick to the tuna.
Preheat a skillet to high heat.  Place the tuna in the hot skillet, and cook very quickly over high heat, so the outside cooks to a nice crust and the inside remain rare — a reddish pink, for about 1 to 2 minutes per side, depending upon the thickness of the tuna.  If you like your tuna more done, cook for about 3 minutes per side.  Even if you want the tuna completely done, it should still have a think pink center when removed from the heat, and the residual heat will continue to cook it, and tuna dries out very quickly, so err on the side of underdone rather than overdone.
Transfer the tuna to a cutting board and allow to rest for about 5 minutes.  Slice crosswise into thin slices.  Arrange the slices in a fan over the greens and drizzle the remaining vinaigrette around.  Garnish with alfalfa sprouts and sprinkle more black pepper around the border of the plate confetti style to finish.  Serve immediately.
---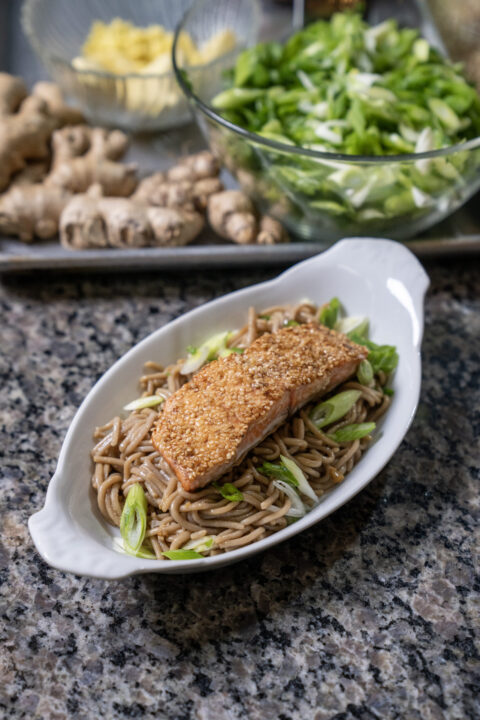 Sesame Salmon with Soba Noodles
(Serves 4)
Soba noodles are buckwheat noodles and lend a wonderfully unique taste to this dish.  They can be tricky because if overcooked at all, they become sticky and pasty.  Follow the package cooking directions carefully, and you will find that adding the marinade will help to separate the noodles.  Pure buckwheat noodles should be gluten-free, but note when buying if the buckwheat is mixed with other flours. This salmon also works beautifully served over a bed of mixed greens.   
6 ounces soba noodles
2 Tablespoons olive oil
Marinade for Salmon:
¼ cup soy sauce
1 Tablespoon fresh lemon juice
1 Tablespoons minced fresh ginger
4 skinless salmon fillets, 6 ounces each
¼ cup sesame seeds
1 teaspoon vegetable oil
2 teaspoons sesame oil
1 tablespoon minced fresh ginger
3 scallions, sliced on the diagonal
Bring a large pot of salted water to a boil. Add the soba noodles and cook until al dente, about 5-7 minutes, or according to package directions. Drain the noodles, rinse with cold water and transfer them to a medium bowl.  Toss with olive oil to prevent the noodles from sticking together before you are ready to serve them.
In a small bowl, combine the soy sauce, lemon juice and 1 tablespoon of the ginger. Lightly brush the salmon fillets on both sides with a little of the soy-ginger marinade.  Pour sesame seeds onto a plate and then dredge the salmon filets in the sesame seeds.
Heat the vegetable oil in a large nonstick skillet. Add the salmon to the pan, placing the sesame-coated side down first in the oil, and cook over moderately high heat until the sesame seeds are golden, about 2-3 minutes.  Turn the fish and continue cooking just cooked through.  Cooking time should be about 10-12 minutes total for a one-inch-thick piece of salmon.  Larger filets will need additional cooking time.
Add the sesame oil, scallions, 1 tablespoon of ginger to the remaining soy-ginger mixture.  Mix well.  Pour this mixture over the soba noodles and toss well to combine. Transfer the soba noodles to serving bowls, top with the salmon fillets and serve.
---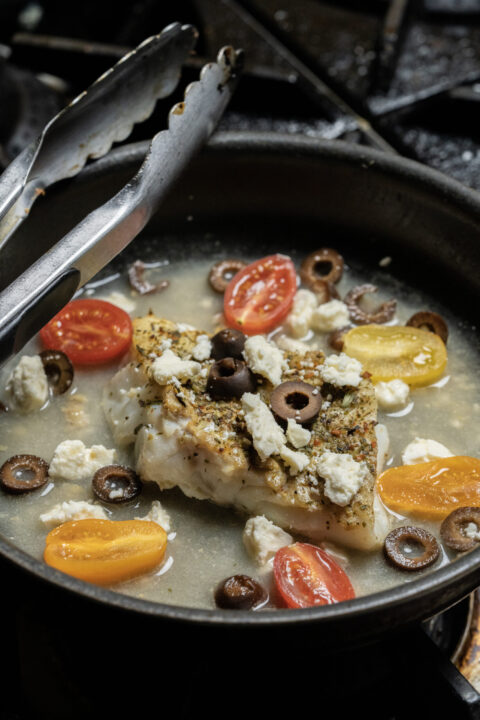 Greek Style Cod
(Serves 4)
This recipe is also excellent utilizing other whitefish such as Halibut, Tilapia, Grouper or Snapper. Other optional condiments might include roasted red peppers, caramelized onions, artichoke hearts or chopped fresh tomatoes. Please make it your own!
4 tablespoons olive oil
Greek seasoning, to taste
1 tablespoon fresh chopped garlic
1½ pound cod, cut in 4 portions
½ cup dry white wine
¼ pound feta cheese, crumbled
Sliced black olives
Brush cod with olive oil and garlic and season
generously with Greek seasoning.
Preheat a non-stick skillet on top of stove, and
sear fish on high heat for about 1 minute, or until
nicely browned. Turn fillets and add wine, feta
cheese and olives.
Cover the skillet, reduce heat to medium, and
simmer for approximately 8-10 minutes, or until
done. Time will depend on the thickness of the
fish. The fish will be flaky and should be opaque
throughout, but not dry. Cooking time will be
determined by the thickness of the filet.
Serve immediately. F&D