Back in the 1980s, when Lotsa Pasta was in its infancy, co-owner John Hale would travel to Chicago, New Orleans, New York, to scope out the aisles of stores like Balducci's.
He'd investigate the shelves, check out the sandwiches being handed across the deli counter, and do what the best entrepreneurs and artists do: He'd steal ideas. That strategy was how Lotsa Pasta came to be the first in Louisville to carry exotic items like pesto, pine nuts, kalamata olives. That was how it came to offer a muffaletta sandwich, based on the fabled version at Central Grocery in New Orleans.
Ah, the good old days. Or bad old days, depending on your perspective. (As a food enthusiast, maybe you're glad you can find kalamata olives all over town.) That was before Whole Foods came to Louisville, before Boar's Head and Murray's Cheese came to Kroger. "It used to be 80 percent of what we carried, you couldn't find anywhere else in town," Hale says. "Now it's 20 percent."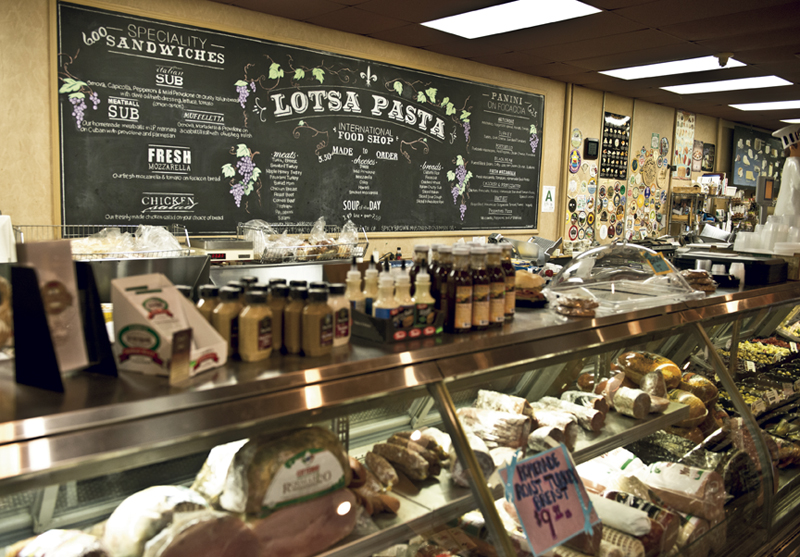 That kind of progress could kill a specialty store. But John and co-owner Vicki Hale figured out how to adapt. (That's true of their personal story as well. The two married shortly after opening the store in 1982; they've been divorced nine years now, but their business partnership is going strong.) About a decade ago, when it became clear they were losing their corner on the market for exotic imports, Lotsa Pasta began branding its own line of goods: Chicken alfredo. Tiramisu. Soups. Italian ices. Calzones. Gourmet pizzas. Spreads and dips. The new line of homemades made the store, once again, the place you have to go to get the exact item you want.
The housemade items — high-quality convenience foods — represent a "huge amount" of the business, says Vicki Hale. "You work your butt off all day, you don't have time to go home and prepare a dinner, but you want your family to have something good. We fill that need."
But it's the deli you see first when you enter the store. First there's a knowledgeably curated cheese selection. Then there's 24 feet of deli case, housing everything from pasta salads (made in-house, of course) to an array of olives from an importer in Brooklyn, to marinated mushrooms from Sidari's Italian Foods in Cleveland. The salami and prosciutto come from Volpi Italian Meats. For sandwiches, they proudly offer Boar's Head—"but people don't come in here to buy Boar's Head," Hale says. "They come in here for the specialty salamis and prosciutto."
At one side of the store is the café, a mildly puzzling little area. It looks like a place to order food (and they do sell coffee and pastry in the mornings), but in reality, the café serves mainly as a seating area where customers can enjoy the sandwiches they ordered at the deli counter. "People will meet there for lunch, or kids come in to do their homework, or a language class [meets there]," Vicki Hale says. "It's pretty cool."
Housemade prepared foods, a seating area a la big-city delis, and unprecedented competition. It's a different world for Lotsa Pasta, but customers keep coming in. "We've got the best customers," Vicki Hale says. "[They're] still very committed to shopping local," whether they're looking for items made right in the store or imported from an ocean away.