Louisville African Restaurants to Experience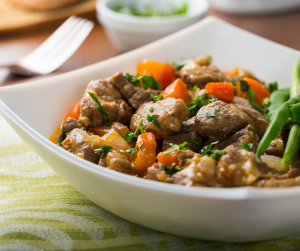 It must be said: Louisville does not have as vibrant and extensive a range of ethnic restaurants as do larger cities on the coasts. But immigrants from all over the world have found their way to Louisville, and have settled here (thanks largely to the efforts of several immigrant and refugee assistance groups, mainly affiliated with the city's churches, mosques and synagogues), including peoples of the African diaspora.
And, like all immigrant communities, people from a multitude of African nations here have brought with them their indigenous foodways, enriching the experience of diners throughout the city, offering locals and visitors a taste a varied choice of Louisville African restaurants.
Africa is a huge place, stretching through 50 degrees of latitude, from 20 degrees north of the equator to over 30 degrees south. The immensity of Africa, with multitudinous environmental and historical differences, means "African cuisine" cannot be easily compartmentalized, which is revealed by the diversity of Louisville African restaurants.
The Queen of Sheba has popularized the rich, not-too-spicy cuisine of Ethiopia, eaten with the tasty, spongy flatbread injera, and helped spawn several other Ethiopian restaurants, such as Abyssinia and Addis Grill, which also offers familiar "Mediterranean dishes, such as hummus and kabobs.
More African Dining in Louisville
Other Louisville African restaurants offer a range of geographical specialties. Funmi's African Restaurant offers dishes native to north and central Africa, including goat stews. Imanka Restaurant, run by a Somali family, also offers goat dishes, as well as chicken suqaar, a spiced stew. Food traditions of Senegal and Sierra Leone can be found at Maa Sha Allah, and Ziba's Bistro in the Logan Street Market serves street food dishes native to Central Africa's Burkina Faso.
African cuisine does not exist is a separate sphere, for the exigencies of history has spread African food influences far and wide, and allowed other food traditions, such as Indian curries, to be exported into, and adapted to, African food traditions. The trans-Atlantic slave trade expanded African cultural influence into South America, the Caribbean and the Southern United States. This cultural intermingling can be found in Louisville African restaurants such as Africa House Lounge & Café, which offers West African/Ghanian cuisine and foods from Jamaica, and Baraka Restaurant, which serves Indian curries as well as dishes from East Africa.
African cuisine offers food enthusiasts an opportunity to experience the wide range of flavors that come from the continent right in Louisville, Kentucky. Louisville African restaurants are usually inexpensive for price-conscious diners, offer an exuberant and friendly atmosphere, and introduce local diners to an eclectic and sometimes exotic food culture.