Louisville Bars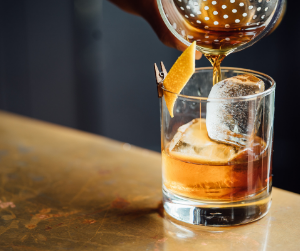 For thousands of years mankind produced alcoholic beverages at home, whether mead, wine, beer or any number of fermented beverages. When hunting and gathering yielded to farming and settlements, commerce in the modern sense began. Bars, our home away from home, came into being. Soon after came the first bar tabs, bar spills and bar fights.
Louisville bars as we know them today are the inheritors of noble traditions of hospitality born when the first bartender built a counter to divide the dispensers from their customers. In crowded urban areas, bars functioned as living rooms, conference centers and union halls.
Bars are third spaces and public places to relax, meet people, dine, watch sporting events, enjoy live music and experience other entertainment options. Visiting Louisville bars for bourbon education has become a genre unto itself, as witnessed by the popularity of the Urban Bourbon Trail.
Louisville bars come in all shapes, sizes and areas of specialization. Bar hoppers are certain to find that each establishment in Louisville offers something unique. When it comes to bars, Louisville has its own distinct charm. 
Bar concepts are broken down into several different categories, because while bars cater to a wide range of clientele, and serve all comers (21 years of age, of course), they become unique by emphasizing certain traits. Louisville bars consist of:
dive bars
cocktail bars
bourbon bars
hotel bars and lounges

sports bars

Irish pubs
Popular Louisville Bars
The most popular bars in Louisville bars for entertainment not only provide alcoholic beverages and access to watch live bands, but a selection of food. Although libations are the obvious focus of bars, offering food service (hot wings, fries, sandwiches) to accompany beverages keeps customers happy and their stomachs full. Some bars keep it simple. Others are renowned for the quality of their fare.
In local bars of all sort, people spend time playing pool, watching bands or viewing team sports, boxing, or UFC events in local bars. Furthermore, local bars are a great place to discover emerging bands and find new music. As a result, bars are also extremely popular among college students. 
One of the top-rated bars in Louisville is Nowhere Bar Louisville. Nowhere Bar Louisville is primarily a dance club, an "an upbeat nightclub specializing in electronic dance music." Visitors can enjoy a combination of drinks and entertainment at this Bardstown Road establishment. Nowhere Bar Louisville offers big screen televisions, pool tables and a patio for outdoor socializing.
People looking for an upscale bar experience might consider META. META provides beer, cocktails and house beverages in an "upscale and speakeasy setting with vintage decor."
Bars in Louisville provide unique beverage and entertainment experiences. As Col. Sherman T. Potter once suggested on TV's MASH, "pull up a pew and have a few."