Find the Best Louisville Burgers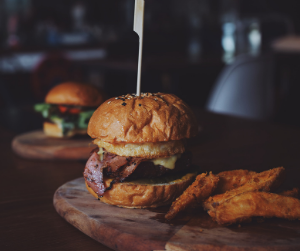 Find the Best Louisville Burgers
Burgers are such a staple of American cuisine that even upscale restaurants find they have to include a burger choice on their menus, for many diners revert to that comforting choice when confronted with other, often unfamiliar menu options. For better or worse, burgers or an important staple of the increasingly creative and imaginative local dining scene.
Few instantly recognizable foods have as many different permutations and price points as burgers. Fast food drive-through joints sell simulacra of burgers at less than two dollars. Many bars offer a very good traditional burger with fries for $5 to $8. And "gourmet" burger emporia add fashionable decor, a sophisticated ambiance and often a classy draft beer selection and cocktail menu that make $10-$15 burgers seem worth the money. Louisville burgers embody the spirit of the city but finding the best Louisville burgers depends on what food enthusiasts are looking for in their own dining experience. Regardless, Louisville is a city that has plenty to offer by way of traditional American cuisine – and burgers surely fall into that category.
Top-Rated Louisville Burgers Delivered
When reviewing Louisville's culinary history, inevitably one runs into the story that the cheeseburger was first devised by the original Kaelin's, a family restaurant that had a long run, followed by an interregnum of other owners who tried other concepts. But the original site of Kaelin's has been revived at 80-20@Kaelin's, where the Classic Cheeseburger is only one of seven burger variations, including a Patty Melt, a vegetarian Black Bean Burger, and, to counter that, a Ribeye Burger, made with a house-ground blend of ribeye, tri-tip, and sirloin, topped with, among other delicacies, bacon jam, a sunny-side-up egg, and bacon on a pretzel bun.
80/20@Kaelin's lists other menu items too (fried green tomatoes, fried chicken, salads, meatloaf), but ordering those misses out on the mystique.
Six Forks Burger Co. offers a build-your-own-burger with 100% Certified Black Angus Beef at a friendly price, as does another Louisville classic, Dizzy Whiz Drive-in in Old Louisville.
On the more upscale side, Grind Burger Kitchen, now situated in NuLu, got its start as a food truck. Another more upscale burger joint is Whiskey Dry, downtown in 4th Street Live!, nationally-known chef Ed Lee's venture into premium burgers and Bourbon, a classic Louisville combination.
Find your choice for best burgers in Louisville from F&D's complete listings.