Enjoy Louisville Cafes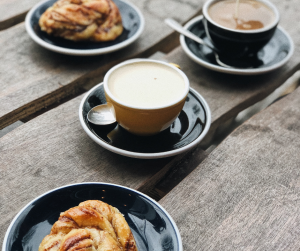 People who enjoy a good cup of Java will frequent cafes and coffee shops. Cafes, however, take the experience of drinking coffee a bit further by providing food as well. Louisville cafes are restaurants that cater to coffee enthusiasts who enjoy a selection of beverages along with food pairings like pastries and sandwiches. Moreover, it is possible to enjoy Louisville cafes that seem pulled right out of a Parisian thoroughfare, yet situated in the Southern United States. In actuality, every cafe in Louisville offers a unique experience. Dining experiences vary from coffee flavor to decor.
Louisville cafes generally consist of simple but tasty menu items that originate from a combination of international and American dishes. Common items that one can get from a cafe in Louisville might include eggs, panini, quiche, soup, pastries, espresso and juices. Cafes also serve a selection of sparkling waters, chilled desserts and gourmet pizzas depending on their menu. 
Food enthusiasts hoping to enjoy Louisville cafes will be enticed by the look and feel of the establishment. Cafes typically consist of visually-pleasing decor and relaxing ambiance. A cafe in Louisville is likely to have a different atmosphere in comparison to a coffee shop. Although coffee shops do specialize in various versions of the beverage, they are usually lighter on the food in favor of quick snacks. Even though both types of establishments sell coffee, cafes are considered restaurants by most accounts. 
Louisville Cafes to Experience
There are several popular Louisville cafes which are currently ranked high on food review sites including Yelp, Tripadvisor and Google. Listed among the top 10 cafes in Louisville is The Café, an award-winning restaurant in Louisville. The restaurant offers a scenic experience for guests as it is a popular spot for people who enjoy dining outdoors. With a garden, patio, waterfall and fishpond, the restaurant provides comfort food, home-cooked dishes and southern fare. 
The Café provides a full menu of items to include breakfast, specialty items. Additionally, customers can choose from classic selections, salads, soups, sides, and baked goods. Health-conscious customers may choose Belgian Waffles with a gluten-free upgrade for modest charge. Specialty menu items include Meatless Strata alla Cucina, gourmet pizza "The Pimita" and Louisville's own' The Hot Brown". Classic items include the Kentuckian, The Queen Anne with Benedictine cucumber spread and the Art Deco BLT. 
Kids love cafes and The Café offers a kid-friendly menu with choices including PB&J, Grilled Cheese and the Jimmy Plate, a health combination of fresh apples, grapes, and veggie sticks. 
An obvious reason to dine in a cafe is to enjoy the selection of coffee available. The Café offers espresso, café latte and cappuccino as well as specialty teas, fountain beverages and cocktails. Patrons can order from a menu of selections which are perfect for breakfast, like Mimosas, and Bloody Marys. The Café even offers a Hot Brown Bloody Mary with flavors of the local region. 
Cafes in Louisville provide an opportunity to experience the energy of the city as well as a taste of the old South. Whether the visit is for breakfast or lunch, enjoying a relaxing meal in a quaint cafe is perfect for any occasion.