Louisville Casual Dining Experiences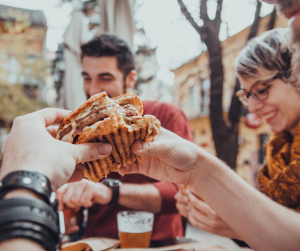 The appeal of Louisville casual dining is that it is comfortable and moderately priced. Unlike fine dining, casual dining offers atmospheres that are considered laid-back. Louisville casual dining experiences will vary depending on what restaurant is patronized but they will most certainly be easier on the budget. In fact, enjoying food in a casual atmosphere does not mean that customers have to sacrifice quality. There are plenty of establishments that provide quality selections including healthier options at an affordable price point. 
Although the idea of casual dining may point food enthusiasts to national chains, local establishments have offered many options for Louisville casual dining. The casual dining experience includes sit-down meals but it may also incorporate quick service or fast casual restaurants. Because the restaurants are cost-friendly and also convenient, they are an ideal choice for people looking to save a few dollars on dining out. Furthermore, Louisville casual dining experiences are not just limited to the regular food stops. The city is home to several unique restaurant establishments that happen to have their own distinct personality.
Comfortable dining is as much about ambiance as it is about affordable prices. Ambiance refers to the feeling that surrounds an establishment. Louisville casual dining is not formal but rather, relaxing. The dress codes for casual restaurants are typically less strict allowing for comfortable attire. Fine dining establishments on the other hand, may strictly enforce dress codes. 
Casual Dining Menu Options
Casual dining restaurants may have smaller menus or extensive product listings for customers. Typically most establishments offer a substantial amount of items to choose from including appetizers, specials, entrées, sides, desserts and beverages. The simplicity or the complexity of a menu really depends on the establishment. Hammerheads for example, has a simple menu that includes American fare including sandwiches, ribs, starters, burgers and tacos. In addition to popular American sides like mac & cheese and pork belly baked beans, the restaurant also offers some vegetarian choices for burgers. Hammerheads also embodies the flavors of the south with menu items like shrimp and grits and chicken & waffle. 
Another highly-ranked casual dining restaurant is The Eagle. Diners looking to enjoy American cuisine in a comfortable setting will certainly find that The Eagle delivers with positive reviews. Although the menu is uncomplicated, patrons will enjoy having the option to select from fried chicken parts or whole, a family meal selection, sandwiches, soups, salads and sides. Options include collards, succotash and homemade biscuits. Furthermore, customers might enjoy Blackened Shrimp Po' Boy and Fried Chicken BLTs. Unsurprisingly, The Eagle has several locations across the region and in the Northeast and Midwest. 
Discover laid-back dining establishments with moderate prices with casual dining restaurants in Louisville.