Louisville Casual Dining Experiences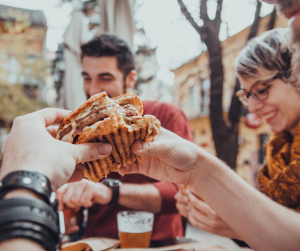 Sometimes the occasion calls for dining at a fancy, top-tiered, white tablecloth restaurant, complete with liveried waitstaff and $25 entrées. But more often, diners just want a fun, filling meal out with friends, without dress codes or other rigamarole. Then Louisville casual dining restaurants fit the bill (which will be much more reasonable). The appeal of Louisville casual dining, aside from being moderately priced, is the comfortable, laid-back atmosphere and, increasingly, interesting and innovative menus from Louisville's cadre of chefs, both old-timers and young aspirants who push the envelop and offer intriguing, tasty and sometimes surprising dishes.
Casual dining has been the angle that most national chain restaurants have carved out, but local establishments too offer many options for Louisville casual dining, which include table service at sit-down meals, or ordering at the counter and having servers bring food to your table. The city is home to many casual dining restaurants with their own distinct personalities, from loaded house-made biscuits at Biscuit Belly and Boujie Biscuit to the Paristowne Point up-and-coming hipster ambiance of Brooke & Billy's Bites, Bourbons & Brews to the exotic meat burgers of Game (how about a wild boar chorizo slider?) to the inspired vegetarian cuisine of Naive in Butchertown or the old-school diner comforts of the Bardstown Road institution Twig & Leaf.
Casual Dining Menu Options
Do not confuse Louisville's casual dining restaurants with fast food outlets. Most casual dining restaurants offer full menus (appetizers, specials, entrées, desserts) and often full bars. The simplicity or the complexity of a menu really depends on the establishment. Hammerheads, a popular Germantown casual restaurant, offers American fare such as sandwiches, ribs, burgers (including vegetarian options) and tacos, as well as flavors of the South with menu choices like shrimp and grits and chicken & waffle. 
The Bardstown Road restaurant row has a variety of casual dining restaurants, but Superchefs stands out for its wacky (but sincere!) comic book superhero and villains decor and its oversized breakfast and lunch dishes – extreme veggie omelet, banana pudding granola encrusted French toast, and lunch dishes named for superheroes, such as the Aquaman quesadilla, piled with smoked salmon, hot crab spread, cheese, spinach and shrimp.
Here is our list of all the Louisville casual dining restaurants.