Discover Louisville Chicken Restaurants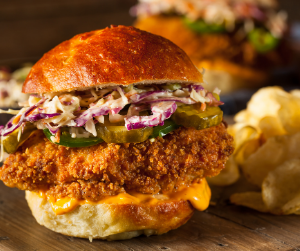 For better or worse, the state of Kentucky is known all over the world – as the ultimate source of that phenomenon started by the jovial old guy in his trademark white suit and goatee. The marketing tag line for this version of fried chicken – something having to do with licking one's fingers after eating it, which is fine vernacular English – got translated in Chinese into a phrase that literally means "eat your fingers off." Still, the Colonel and his product are popular throughout China.
In Louisville chicken restaurants cater to a wide variety of tastes and preparations. Fried chicken is a big deal in Louisville. But so is a soul food dish that has moved into wider popularity, chicken and waffles. And the taste for fiery hot chicken has migrated northward from Nashville to Louisville, where several local chefs have made spicing fried chicken their specialty. Those carnivores who relish the prospect of picking up a chicken wing with their fingers and gnawing away can find many Louisville chicken restaurants that will quell that atavistic urge, both national chains and locally-owned places.
Best Chicken Places in Louisville
The place the cognoscenti go to for authentic southern fried chicken, cooked in lard in a cast-iron skillet, coated with flour seasoned with salt and pepper, is Shirley Mae's, a Smoketown icon. Other southern/soul food restaurants that keep up that Louisville chicken restaurant tradition are Big Momma's Soul Kitchen (which also serves baked chicken dinners) and Dasha Barbour's Southern Bistro. Residents across southern Indiana have packed the parking lot of The Chicken House in Sellersburg for many a year, and endure long waits, for the fabled chicken cooked there.
Hot chicken fans can test their Scoville unit tolerance at Louisville chicken restaurants like Joella's Hot Chicken, Royals Hot Chicken and Railbirds Hot Chicken. Those who like to chomp away at chicken wings can find a locally popular version at The Backdoor Bar, and several Indi's around town.
And, of course, there are many chains that supply wings to snackers and party-givers: BWW, Cluckers, Hooters, Roosters and The Wing Zone.
Finding a Great Chicken 
Discovering a great chicken restaurant in Louisville, Kentucky is not difficult; just look through F&D's complete listings and make your choice.