Discover Louisville Fine Dining Restaurants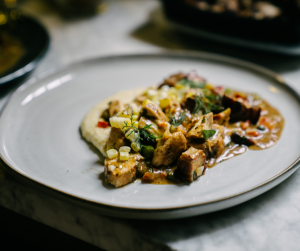 When you need to celebrate a special occasion, when you want to impress out-of-down friends with a top Louisville dining experience, when you want to splurge and treat yourself and a significant other to a really fancy dinner, Louisville's fine dining restaurants are there for you. Fine dining restaurants strive to make the dining experience an experience, with a well-trained welcoming staff whose goal is to make eating in their restaurant a pleasure, with often elaborate multi-course menus, and with the food prepared to exacting standards of both taste and presentation.
When thinking of eating at fine dining restaurants in Louisville, don't be intimidated by the reputation of such dining spots as snooty and intimidating. The owners, chefs and staff at such restaurants want their patrons to enjoy their entire experience, and train their staffs to make diners comfortable, at ease with ordering food and wine, and able to enjoy the ambiance that fine dining restaurants strive to maintain.
Expect the wait staff to be well-trained and knowledgeable about the food, the ingredients and the manner of preparation, and able to answer any questions the diner might pose. Sommeliers are, of course, knowledgeable about the intricacies of the wine selections available, but they are also sensitive to the needs and expectations of diners at fine dining restaurants, helping them choose wines that will complement the meal and be within the diners' budget.
The styles and ambiance of Louisville's fine dining restaurants vary considerably, from the tony wood-paneled English country house style of the Brown Hotel's English Grill to the breezy classiness of of the flower-filled Buck's, a two-decade veteran amid the Victorian architecture of Old Louisville. Downtown, the Gabriele brothers continue to imbue Vincenzo's with an old-school European elegance overlaid with an American warmth and friendliness. Along Bardstown Road's restaurant row, you can find Seviche, crisp and modern in design, offering a wide selection of Latin-inspired dishes, including many variations of the eponymous raw fish concoction, seviche.
Eating at Louisville's fine dining restaurants is an occasion, so take the occasion to get spiffed up. Few such places have an enforced dress code, but you will know immediately that shorts, flip flops and baseball caps will make you stand out, and not in a good way. Be comfortable, but dress sharp.
Fine dining restaurants in Louisville can be expensive, but worth the outlay, in terms of excellent food, suave service and the chance to linger over dessert and coffee in an elegant setting.  Here are the restaurants considered fine dining spots in Louisville.