Luxury Louisville French Restaurants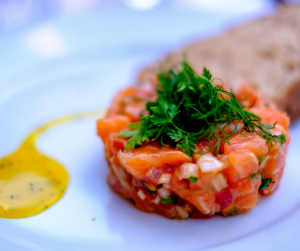 Unsurprisingly, French cuisine can be enjoyed in Louisville, Kentucky. The city is home to a handful of restaurants that specialize in offering French food for patrons. Louisville French restaurants are among the most highly-rated fine dining establishments in the region. In addition, access to authentic French dishes is within reach with popular restaurants in the area. Like local cuisine, French cuisine is the result of various influences from Europe. 
Having become popularized in the 20th Century, French cuisine is a must have culinary experience not just reserved for the upper echelon. Today, everyday people can enjoy luxury Louisville French restaurants just a short distance from their own home. 
Dishes at French Restaurants

There are several components of the French cuisine that can be noted at Louisville French restaurants. Furthermore, Hors d'oeuvres, Plat principal, Patisserie and Dessert are the main elements of French cuisine. Although French cuisine is rather distinct depending upon the region of influence, patrons at luxury Louisville French restaurants will have an opportunity to enjoy dishes such as bisque, pastries like macarons and desserts including ceme brulée. 
One of the most well-known Louisville French restaurants is Brasserie Provence, an upscale dining establishment built to embody the look and feel of the French Provence. The restaurant offers a lunch and dinner menu as well as an extensive wine list. Patrons may choose from a selection of hors d'oeuvres, salads, entrées and traditional desserts. Brasserie Provence also offers a selection of Vegan options for customers. Patrons may also enjoy weekday wine specials including wine tasting flights. 
Fine Dining Restaurants
Rivaling Brasserie Provence for rankings in the light of French restaurants in Louisville is La Chasse, a fine dining establishment. La Chasse specializes in wood-fired European Cuisine, artisan cocktails and craft beer. Dining options include appetizers, soup du jour, salad, and entrees. Patrons will enjoy a taste of Southern France through dishes such as Burgundy Escargot, Crab-Encrusted Halibut and Trout a la Meuniere. From baguettes to Gruyere and pomme frites, guests can partake in some of the savory ingredients found in traditional French cuisine.
An Upscale Bistro
Bistro Le Relais in Louisville, KY offers an upscale dining experience for guests within the walls of an art-deco venue. The restaurant serves French cuisine in a relaxed atmosphere. With stunning views and outdoor dining available, clients can experience exquisite main course options like Carré d'Agneau and Mac & Cheese or Filet Mignon. Bistro Le Relais also offers an enticing selection of desserts to include Tiramisu, mousse, and Profiteroles. Additionally, the restaurant provides a selection of specialty drinks to include choices including Touch & Go, Key Lime Martini, Parisian Orchid and French 75.
Food enthusiasts who relish in the tastes of European cuisine, will find that the city has plenty to offer. 
Indulge in the flavors of the countryside at French restaurants in Louisville.