The Louisville Gastro Pub Experience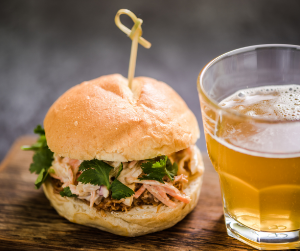 "Gastro pub" might be the worst new wording to describe a dining/drinking experience, but the Louisville gastropub experience itself is quite pleasant and can even offer a soupçon of excitement – in discovering a new style of beer, or in finding your new favorite shareable appetizer, sandwich or interesting variation on familiar entrées.
Most bars offer some sort of edibles for quick refueling while imbibing, but gastropubs take the bar dining experience – both the drinking and the eating – to another level. The drinks in Louisville gastropubs go beyond shots and long necks, and the food goes far beyond the burgers, sandwiches and bar snacks usually found in bars.
The Louisville gastro pub experience usually offers a variety of craft beers and cocktails, along with casual menus of interesting soups, salads, sandwiches or hearty entrées. Gastropubs also usually strive for a hipper, more contemporary ambience than do neighborhood bars.
Gastropub Options in Louisville
  The Manhattan Project is typical of the aesthetic, culinary and alcoholic ambitions of the Louisville gastropub scene. After an expansion that brought the main room out to the lively Clifton neighborhood street scape, TMP turned its original back-from-the-street space into a lively sports watching and party venue, and expanded its menu. There you can find short rib sliders, chicken and waffles, four variations on French fries and a separate mac 'n' cheese menu with a choice of over a dozen add-ons, from bacon to crab to pork cheek.
Downtown near the Yum! Center is Down One Bourbon Bar & Restaurant, a certified member of the Louisville Urban Bourbon Trail, which requires that participating bars and restaurants maintain an inventory of at least 100 different Bourbons. The menu includes small plates such as double-cooked (smoked and fried) wings, smoked brisket chili, quesadillas and tacos, 3 Little Pigs sandwich (pulled pork, shaved ham and smoked bacon) and a tuna poke bowl, among other items.
Across the river in New Albany, the Exchange Pub & Kitchen is in a sumptuously renovated historic building, where you can enjoy an inventive cocktail list and a menu that includes burgers and salads, of course, but also gnocchi, ramen and farro risotto. Out in the suburbs, World of Beer offers  not only beer but wine and spirits, and shareable appetizers, flatbreads, burgers, soups, and sandwiches. 
Discover more Louisville gastro pubs with F&D's complete llistings