Experience Louisville Latin American Restaurants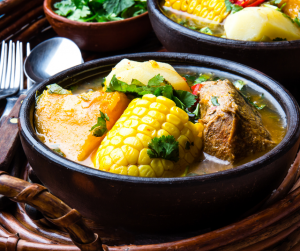 Latin American cuisine originated as the result of many cultural influences. At the core, Latin American food is deeply rooted in African, European and Native American traditions. Moreover, the diversity in Latin American cuisine is as distinct as the cultures that make up the regions. Louisville Latin American restaurants introduce locals to the many colors, textures and aromas of Latin food. To experience Louisville Latin American restaurants is to take a journey all the way through antiquity to the present day.
The foods of Latin America come from 20 different countries and 14 territories including the Caribbean. Because every country in Latin America is unique, the traditional dishes are not exactly the same. Experiencing Latin food involves exploring each country's unique contributions. Every ethnic group contributed ingredients to the broader category known as Latin American cuisine. Louisville Latin American restaurants offer an ideal opportunity to taste some of the dishes found in countries like Mexico, El Salvador, Puerto Rico and Cuba. 
Every region in Latin America has its own unique ingredients to lend. Furthermore, Latin food may be sweet, savory or have a bit of spice. Food enthusiasts will learn that items such as yuca, tortillas, and plantains are used in various regions to create delicious plates. Seafood, poultry and beef are also used as well as tropical fruit like mango and papaya, rice, beans and herbs such as cilantro. Latin American food also includes fresh sauces, salsa and cooking bases. 
Latin American Restaurants 
Touting the message "Inspired by Heritage, Influenced by Locality", Seviche Restaurant delivers culinary experiences to Louisville. As one of the top-ranked Louisville Latin American restaurants in the area, Seviche is a fusion of Latin and Southern culture. Seviche serves fresh seafood and locally sourced ingredients. Guests will have the opportunity to experience Southern comfort alongside the bold textures of Latin cuisine. The award-winning restaurant offers customers an extensive menu that includes appetizers, salads, entrees, deserts, beer, cocktails, red and white wines.
Examples of culinary fusions at Seviche include the restaurant's Kentucky Bison Empanadas, KY Paw Flan and bourbon. 
Another restaurant that ranks high among Louisvillians, is Sabor Latino, a restaurant that includes dishes from several different countries in Latin America to include Puerto Rico, Peru, Brazil and Mexico. Sabor Latino also provides specials on dishes from Latinos based in the United States. The restaurant's menu features Mexican dishes, Burritos, Quesadillas and Empanadas. People who enjoy the taste of the Caribbean will enjoy Cuban Sandwiches and Pollo Caribño.
Although the foods of Latin America are diverse, Louisville restaurants are bringing many of the influences to the city. Each restaurant offers its own atmosphere, price point and menu selections. From fine dining to casual eateries, anyone looking to try out some new Latin-inspired dishes is sure to find a gem in Louisville.