Discover Louisville Mexican Restaurants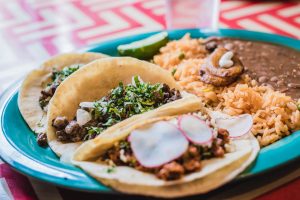 Mexican fare ranks high among people living in cities throughout the United States. What's more, Louisville, Kentucky, a city with its own unique characteristics, is no exception. In fact, the number of selections available for Louisville Mexican restaurants is abundant. Consequently, visitors arriving to the famous city may be surprised to discover that there are close to 200 different Mexican restaurants in Louisville.
Experiencing Mexican dining establishments in Louisville means patrons can expect to relish various flavors imported from various regions of Mexico. While there are many traditional dishes found in popular Louisville Mexican restaurants, every establishment delivers its own distinct flavor and ambiance. Furthermore, aside from the well-known staples, foodies are likely to uncover new culinary delights on a journey through Louisville's restaurants and eateries.
Popular Louisville Mexican Restaurants 
Mexican cuisine is widely-known for its fresh ingredients, rich flavor and cost-friendly price points. Moreover, traditional dishes offer healthy food groups, beautiful colors, and various textures. Authentic Mexican food is deeply rooted in the cultural aspects of Mexico. The cuisine is ultimately a fusion of ingredients from both indigenous and Spanish cultures. 
In the U.S., however, some restaurateurs have created dishes that are frequently sought-after by Americans stateside including fajitas, enchiladas and chimichangas to name a few. Therefore, restaurant explorers will find a distinction between authentic Mexican, Southwest, Tex-Mex, Mexican-American and Mexican-Latin establishments. Bearing in mind every restaurant caters to a unique clientele, finding a favorite place to dine in Louisville is easy with so many options available.
When it comes to Mexican cuisine, there is something for every palate. Additionally, popular Louisville Mexican restaurants offer various establishments that may consist of spacious dining or cocinas, smaller restaurants known as taquerías and food trucks. One of the most highly-rated among Louisville Mexican restaurants is Taco Luchador, taquería with 4 different locations. Taco Luchador mainly offers a selection of tacos for clients. The main dishes include various types of meat and fresh ingredients like cilantro, guacamole, queso fresco and pico de gallo. Patrons can also choose from a robust menu of tortas, which are Mexican sandwiches.
Mexican Cuisine Anytime
Mexican food is not only great for date night or an evening out with friends. Breakfast options abound with restaurants like Con Huevos! (with Eggs), a breakfast and brunch eatery that serves breakfast, Brunch and Lunch. With three locations in Louisville, Con Huevos serves tacos and cocktails on Friday and Saturday nights. Con Huevos! offers menu items such as Tres Leches Pancakes, Dulce de Leche French Toast and Chilaquiles con Huevos.
Popular Mexican style cuisine can be found at La Carreta, a restaurant that has an extensive menu including nachos, burritos, fajitas, and quesadillas and enchiladas. Customers can also choose from vegetarian options, a la carte menu items and combination plates. 
In Louisville, KY, Mexican food is as favored as it is around the rest of the country. Regardless of where one chooses to dine, area establishments will offer flavorful cuisine with many of the foundational staples found in Mexican dishes. Whether the desire is for breakfast, lunch, or dinner, Mexican fare in Louisville will aim to please. 
Get a taste of the city, explore Mexican restaurants in Louisville