(Edibles & Potables, our usual Sunday column, is taking a break this week.)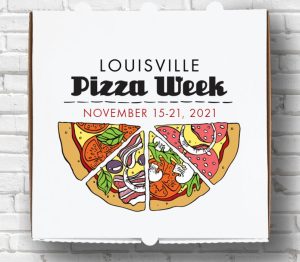 Louisville Pizza Week is seven days of paying homage to all things 'za, no matter how you slice it. Each participating restaurant will bake up their own spin on the wheel – from signature pies to secret menu specialties and more.
Louisville Pizza Week will return for a fourth edition, kicking off tomorrow (Monday 15 November) and running through Sunday the 21st.
Participating Louisville Pizza Week locations (below) are offering $9 specialty pies (10″ minimum). Official Louisville Pizza Week passports are available at participating eateries as of 15 November. Record four stamps, submit the passport as directed, and become eligible to win $250 in pizza gift cards.
2021 Louisville Pizza Week participants (more may be announced):
8th Street Pizza
Angios
BoomBozz Pizza & Watch Bar (Highlands)
BoomBozz Pizza & Watch Bar (Jeffersonville)
BoomBozz Pizza & Watch Bar (Westport)
BoomBozz Pizza & Watch Bar (J Town)
Danny Mac's Pizza
Coals Artisan Pizza (Middletown)
Coals Artisan Pizza (St. Matthew's)
Parlour Pizza (Jeffersonville)
Parlour Pizza (on Frankfort)
Sarino
Square Cut Pizza
Union 15
The Limbo
Riot Cafe
Tim Tam Tavern
Wick's Pizza (Hikes Point)
Wick's Pizza (Highlands)
Louisville Pizza Week is on Instagram and Facebook. Our cover photo today comes courtesy of Union 15 pizza.