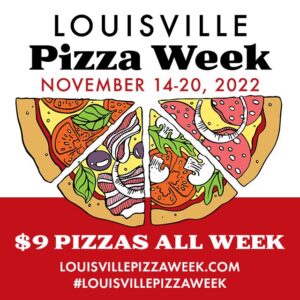 Wasn't it only yesterday?
Or was that Taco Week, or Hot Brown Week?
So many food-themed weeks, so little time. Joey Chestnut should travel the nation, helping us learn the necessary competitive eating  techniques.
Or, conversely, just make it a point to hit a couple pizza spots, enjoy some pie, accompany them with refreshing soft or hard libations, and move on to the next dish.
Live to eat, not so much eat to live.
Here's the information release with all the Louisville Pizza Week facts.
—
Louisville Pizza Week will offer $9 pizzas across the city from November 14-20
LOUISVILLE, KY (November 2, 2022) – Louisville Pizza Week is returning for its fifth year! For seven days (Nov. 14-20) pizza lovers will have the opportunity to visit participating Louisville Pizza Week locations to enjoy $9 pizzas (minimum 10"). Each participating restaurant will bake up their own spin on the wheel-from signature pies to secret menu specialties and more. Louisville Pizza Week is the perfect opportunity for locals to embrace the food and culture of Louisville while getting out to eat, drink, and try new places. It's seven days of paying homage to all things 'za, no matter how you slice it.
The Louisville Pizza Week App: Navigate your way through the city and reward your APPetite with our official Louisville Pizza Week APP— available in both Google Play and Apple Store- https://qrco.de/bdS3LG
Two ways to win:
Check in at 4 or more locations during the week and be automatically entered to win a Grand Prize of $300 in gift cards
Earn points for eating pizzas and checking in! The person with the most points at the end of Pizza Week is named the Biggest Pizza Lover in Louisville, and wins a Grand Prize of $300 in gift cards
Locations offering $9 pizza all week include:
8th Street Pizza, Angio's, BoomBozz Elizabethtown, BoomBozz Highlands, BoomBozz J-Town, BoomBozz Westport Village, Coals Artisan Pizza Middletown, Coals Artisan Pizza St. Matthews, Corner Pizza & Pub, Danny Mac's Pizza Mellwood, Derby City Pizza Co. Clifton, Derby City Pizza Co. Fairdale, Derby City Pizza Co. Louisville Campus, Derby City Pizza Co. Mt. Washington, Derby City Pizza Co. Plainview, Derby City Pizza Co. PRP, Derby City Pizza Co. Valley Station, Goodfellas Pizzeria, MozzaPi Anchorage, MozzaPi La Grange, MozzaPi La Grange @ Ten20 Butchertown, Noble Funk Brewing Co., Parlour Downtown Louisville, Parlour Frankfort Ave., Parlour Jeffersonville, Parlour New Albany, Sarino, Tim Tam Tavern, Wick's Pizza Parlor Highlands, Wick's Pizza Parlor Hikes Point, more to be announced!
Event Info:
Nov. 14-20, 2022, $9 minimum 10" pizzas
Age: This is an all-ages event. Some locations may be 21+
Pizza Week App: Check in to 4+ locations and be entered to win $300 in Pizza Gift Cards, top point recipient receives $300 in Pizza Gift Cards. Download the app here- https://qrco.de/bdS3LG
Social media handles: Follow @louisvillepizzaweek on Instagram & Twitter
$9 pizza descriptions and info at www.louisvillepizzaweek.com