Unique Louisville Seafood Restaurants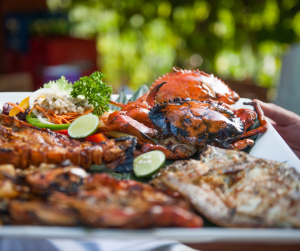 Seafood dishes are popular in virtually every part of the United States and Louisville, Kentucky is no exception. Louisville seafood restaurants are abundant across the city with options for everyone's personal preference. Dining options include upscale restaurants and national chains as well as locally-owned establishments. Regardless of whether the desire is to save on cost or splurge on a four course meal, unique Louisville seafood restaurants will deliver. 
There is no doubt that seafood tops the list of favorite cuisines in the US. In fact, Louisville is the perfect place to pair seafood dishes with local beverages such as Bourbon. Seafood cuisine may include dishes with shellfish, fried and grilled varieties of fish, vegetables, soups or bisques and surf and turf combinations. 
One of the most highly-ranked Louisville seafood restaurants is Brendon's Catch 23. Brendon's Catch 23 restaurant is an upscale dining experience that is described as the "premier destination for the best the ocean has to offer". The restaurant receives daily deliveries of wild caught fish including king crab, Chilean sea bass, fresh oysters, Ahi tuna, and more. In addition to seafood, the dining experience offers the opportunity for customers to enjoy prime cuts of beef with a range of sides. Furthermore, Brendon caters to clients who are vegetarian and vegan. The atmosphere at the dining establishment has been described as comfortable yet elegant. Food enthusiasts looking to try "world-class" seafood might consider Brendon's Catch 23 as an ideal option.
Dining Options at Seafood Restaurants
Unique seafood restaurants offer a variety of dining experiences. While some restaurants offer indoor dining exclusively, there are places that provide outdoor seating. Additionally, in some cases customers can show up to a restaurant and wait for a seat. At other establishments patrons may be required to make reservations. Guests at unique Louisville seafood restaurants may prefer casual dining as opposed to fine dining.
Fine dining restaurants require reservations and provide more formal arrangements. The cost for dining at fine Louisville seafood restaurants will be more expensive than visiting a casual spot but the service is all about the experience. 
At River House, patrons enjoy dining on the riverfront where the restaurant provides fresh seafood, regional cuisine and southern fare. River House offers a Sunday Brunch menu, Lunch, Dinner, Dessert and wine and cocktails menu. Additionally, customers can order a Colossal Lump Crab Tower, Raw Bar with Jumbo Shrimp, Oysters on The Half Shell and King Crab Legs. Customers can choose between a variety of soups, salads and entrées. 
Seafood dining in Louisville has plenty to offer. Louisville also offers moderately-priced restaurants. The seafood restaurants in Louisville offer locally-sourced ingredients and pairings inspired by Kentucky lifestyle.