Unique Louisville Seafood Restaurants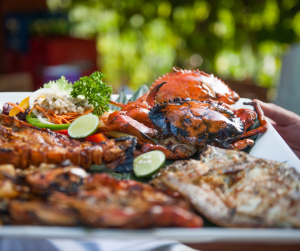 Seafood? In Louisville? While not quite in the middle of the country, Louisville is rather far from the coasts. Does "seafood" in Louisville suggest little more than catfish?  Anyone who asks such a snotty question is unaware that Louisville is a major transit hub for UPS, which flies in freshly caught ocean fish of all sorts, giving chefs in Louisville seafood restaurants access to an excellent assortment of fish and shellfish.
Louisville seafood restaurants offer a range of price points for their wares. There are quite a few mid-point restaurants, such as The Fish House, The Fishery and Hill Street Fish Fry that have been pleasing diners for many years with their expertly breaded and fried fish offerings. Kingfish, a local business with outlets on both sides of the river, and Mike Linnig's, with its raucous indoor dining room and its extensive outdoor seating, at tables and in small screen cabins, have both been around for generations. A newer entry into the Louisville seafood restaurant market is Hooked on Frankfort, which offers fish sandwiches, po' boys, fish tacos and baskets. Like several of the restaurants named above Hooked on Frankfort always has frog's legs on the menu as well.
The Louisville seafood restaurant scene has also attracted a few national seafood chain restaurants, which are usually a bit more upscale. Bonefish Grill, Mitchell's Fish Market and Joe's Crab Shack all have locations in the metro area.
Several local restaurants not primarily focused on seafood nonetheless benefit from the access to fresh fish that UPS offers. Josh Moore, chef at Volare Italian restaurant in Clifton delights in posing for Facebook photos of him hefting a 50-pound tilefish, or whole bluefin tuna, or a wreckfish that is almost as long as he is tall. John Varanese's River House offers an excellent raw bar, as well as well-crafted fish entrees.
Seafood dining in Louisville has plenty to offer. Here is F&D's list of Louisville seafood restaurants.