Louisville Steakhouse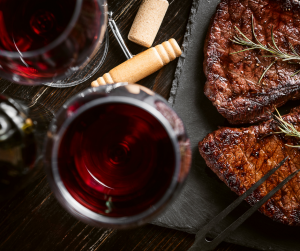 Dining at a steakhouse is quite a treat for many people. While the decor and ambience of Louisville steakhouses can vary, from the unabashed opulence of Jeff Ruby's or Le Moo to the studied Old School friendly elegance of Pat's, one of Louisville's oldest steakhouses, customers dine at steakhouses because they know what they are going to get: top quality meats (and usually seafood options too), professional service, simple but well-executed side dishes, with few surprises. In this way, Louisville steakhouses offer guests an authentic American experience.
Prime beef, seldom encountered in grocery store meat departments, is often the enticement at Louisville steakhouse restaurants, usually offered in various prime cuts – filet mignon, ribeye, T-bone or New York strip. However, most steakhouses in Louisville offer other menu choices—veal and pork cuts, chicken or lamb chops, as well as appetizers ranging from oyster and shrimp cocktails to stuffed mushrooms to baked goat cheese. And, of course, most steakhouses have a robust wine list.
For all of this, expect premium prices at Louisville steakhouses. Some national steakhouse chains keep their prices to the high-moderate level (between $20 and $30 for a strip or filet), though oftentimes those are not prime quality cuts. Some national premium steakhouses have outlets in Louisville – Del Frisco's, Ruth's Chris, Morton's – where menu prices are a sawbuck or so higher. But for the top end Louisville steakhouse diner, local restaurants such as Le Moo, where prices are as extravagant as the decor, or the historic Pat's (which has been in the same family for a half century) or Brooklyn and the Butcher, across the river in New Albany, are the places to go for a steakhouse splurge. One of the newest Louisville steakhouses is Steak & Bourbon, from Fernando Martinez's Olé Restaurant group. And for the real carnivore, be sure to check out Brazeiros Churrascaria, at Fourth Street Live! downtown. There, cuts of beef and other meats are fire-grilled on swords, which are then brought to the table, and portions sliced off that sizzling meat on the sword.
Here is the full list of Louisville steakhouses, local and national.