Louisville Tap House Options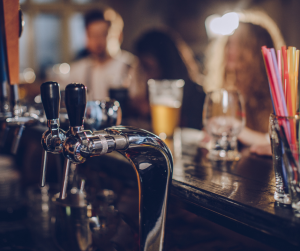 Brew enthusiasts will enjoy experiencing a Louisville tap house. Breweries are popping up all over as a way to connect customers with a fuller beer experience. In the past, bars and pubs were common places to gather for a drink. Today Louisville tap house options provide a unique venue where people can socialize and enjoy the nuances of a brewery. Now, patrons can enjoy beer directly from a brewery instead of being served through an outside supplier at a bar. 
The experience at a Louisville tap house will be squarely focused on the beer. Even though beer is the key menu item, taphouses do provide comfortable seating and areas to socialize both indoors and outside. Furthermore, Louisville tap house options are ideal for after work gatherings, group celebrations or intimate dates. Because of the taphouse model, restaurants are able to cater to a wide demographic of beer lovers. 
Although beer is the main focus at a Louisville tap house, customers do not have to go hungry. Moreover, guests can expect to have access to a selection of menu items that compliment beer choices. As a result, people can enjoy both brews and food while spending time with friends. There is a distinct social aspect to a taphouse. 
Louisville Tap House Entertainment
Tap Houses or tap rooms are an ideal setting for entertainment. Depending on their size, they offer the perfect venue to enjoy live music. Additionally, because most taphouses provide indoor and outdoor seating, they are excellent for hosting special events. In Louisville, tap houses are all unique. Customers have the opportunity to enjoy brews in various atmospheres. Each taphouse has something different to offer by way of brews, food and entertainment. Needless to say, tap houses are largely about atmosphere. Louisville taprooms provide many opportunities to dive deeper into the culture of the city through beer. 
Louisville tap house options include International Tap House, Louisville. Described as industrial-chic, International Tap House serves draft and bottled brews. The taproom provides a comfortable and casual environment for customers. Furthermore, patrons can enjoy not only beer but cocktails, liquor, wine and happy hour drinks. International Tap House is a cozy establishment that caters to a trendy crowd. 
Taphouses in Louisville
Another taproom located in Louisville is Boombozz Pizza & Taphouse. Located in Louisville Highlands, the brew pub and pizza place provides food and beverages in a comfortable atmosphere. Boombozz provides a robust menu with Italian and American fare to include salads, sandwiches, Calzones, Signature plates and dessert. Boombozz is a taproom that provides a flavorful balance between brews and eats with the wide selection available. The setting is ideal for groups, families and friends looking for an enjoyable experience. At Boombozz, there is something for everyone and the prices affordable. 
Louisville is a great place to get familiar with the flavors of Kentucky. Moreover, people looking to taste beer in a comfortable atmosphere will find a selection of happening establishments offering local brews and more. While bars are still popular, taprooms provide a unique social experience. Considering that food options are usually available at taphouses, customers are likely to spend more time enjoying a taste of the region.