Louisville Tap House Options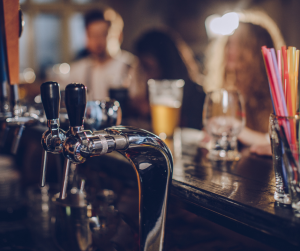 Louisville boasts more than 20 craft breweries, almost all of which serve their beers for on-premise consumption, as well offering them packaged for carryout.
Accordingly, one type of Louisville tap house, often also referred to as a "taproom," is a tasting area attached to a small brewery. However, these are not the only choice for a wider-ranging beer experience than is customarily available at most neighborhood bars.
Another option when seeking a Louisville tap house is the institution known as a "multi-tap," whether a smaller, more specialized beer bar (Holy Grale, Sergio's), or a larger restaurant with expanded draft beer options (Harbor & Hops). These establishments don't brew their own beer, but feature the finest beers from America and the world, often on a rotating basis.
Consequently, the typical Louisville tap house or taproom combines the fuller experience of uniquely collated craft and imported beers with the traditional bar and pub options: third-space meeting places and venues for socializing, after work gatherings, group celebrations or intimate dates. Especially with craft brewery taprooms, outdoor patio seating options tend to be plentiful (Apocalypse, West Sixth NuLu).
Although beer brewed to every imaginable style remains the primary focus at a Louisville tap house, customers do not have to go hungry. Some taprooms have their own kitchens, and others contract with food trucks to offer innovative meals. It has become an art form to match menu items with appropriate beers. Breaking bread with friends and enjoying complementary beers provides a distinct social aspect to taphouses and taprooms.
Louisville Tap House Entertainment
The entertainment experience at a Louisville tap house often mirrors the setting at bars and smaller-scale performance venues, and taphouses/taprooms can be an ideal setting for live music. Additionally, because most taphouses provide indoor and outdoor seating, they are excellent for hosting special events. Louisville's unique tap houses provide customers with the opportunity to enjoy the finest beers in a multiplicity of atmospheres. It's not a stretch to suggest that each taphouse has something different to offer by way of brews, food and entertainment; as such, they provide opportunities to dive deeper into the culture of the city's neighborhoods through beer appreciation. 
Louisville tap house options include International Tap House, Louisville, widely known as iTap. Described as "industrial-chic," International Tap House serves draft and bottled brews. The taproom provides a comfortable and casual environment for customers. Patrons can enjoy not only beer but cocktails, liquor, wine and happy hour drinks. International Tap House is a contemporary establishment that caters to NuLu's cutting edge reputation. 
Taphouses in Louisville
Another taproom located in Louisville is Boombozz Pizza & Watch Bar. Located in Louisville Highlands amid the Bardstown Road corridor, this brew pub and pizza place provides food and beverages in a comfortable atmosphere. Boombozz provides a robust menu with Italian and American fare to include salads, sandwiches, calzones, signature plates and dessert. Boombozz is a taproom that provides a flavorful balance between brews and eats with the wide selection available. The setting is ideal for groups, families and friends looking for an enjoyable experience. At Boombozz, there is something for everyone and the prices are affordable. 
Louisville is a great place to get familiar with the flavors of Kentucky. Moreover, people looking to taste beer in a comfortable atmosphere will find a selection of happening establishments offering local brews and more. While bars are still popular, taprooms provide a unique social experience. Considering that food options are usually available at taphouses, customers are likely to spend more time there enjoying a taste of the region.