Louisville Vietnamese Restaurants Worth Trying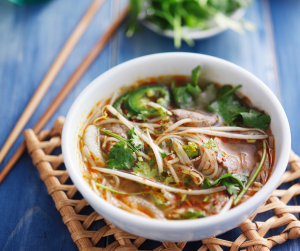 Asian cuisine, which found its way to the United States, consists of food from several regions of the continent. The food traditions found in Louisville Vietnamese restaurants have been adopted from various parts of Vietnam. French colonization also had influences on Vietnamese cuisine. In addition the best Louisville Vietnamese restaurants use traditional ingredients that are deeply rooted in the experience of the people. Although many Americans are familiar with pho, there is much more to the savory flavors of the cuisine. 
Louisville Vietnamese restaurants worth trying include the elements of Vietnamese cuisine which date back thousands of years. Fresh herbs, fish sauce and shrimp paste are a few of the items that give Vietnamese food its popular taste.
Americans enjoy Vietnamese as a healthier alternative to some traditional Western cuisine. The food of Vietnam is light on the dairy and uses little oil. Considering the many choices for food to consume in the city of Louisville, Vietnamese ranks high in terms of healthy options. 
Vietnamese Restaurants to Explore
Louisville Vietnamese restaurants include the traditional cooking techniques of the country to deliver tasty dishes to customers. There are staple items to look for at Louisville Vietnamese restaurants worth trying. Food staples include white rice, vegetables, seafood and sauces. Foodies interested in Vietnamese dining will discover many unique options in Louisville. Restaurants such as Eatz Vietnamese, Pho Ba Luu and Vietnam Kitchen are available. 
A top-rated restaurant in Louisville is Eatz Vietnamese. In addition, some of the favorite menu items include Pho Combination bowls, Spring Rolls, Fried Rice and Special Bun Thit Nuong. Eatz offers a simple menu at affordable rates to include appetizers, salads, Bahn Mi, Entrees, Beverages and Alcoholic drinks. The entrée selections include Rice noodles with vegetables, fried rice with chicken, beef or shrimp and bento boxes. 
Pho Ba Luu is another local restaurant that serves Vietnamese fare. The restaurant is a popular stop for lunch and dinner as well as solo dining. Ph Ba Luu's menu includes rolls, pho and Banh Mi as well.
Vietnamese Kitchens in Louisville
Vietnam Kitchen is another Louisville restaurant where diners can enjoy food made to order. The restaurant  also offers vegetarian dishes and organic ingredients. Vietnam Kitchen offers an affordable menu which includes items such as fried egg rolls, steamed dumplings, salad, egg noodles and stir-fry.
Healthy food is right in the neighborhood with Vietnamese restaurants in Louisville. Diners can enjoy warm meals with savory compliments anytime at a budget-friendly price. Enjoy casual dining in a laid-back atmosphere at local Vietnamese favorites.