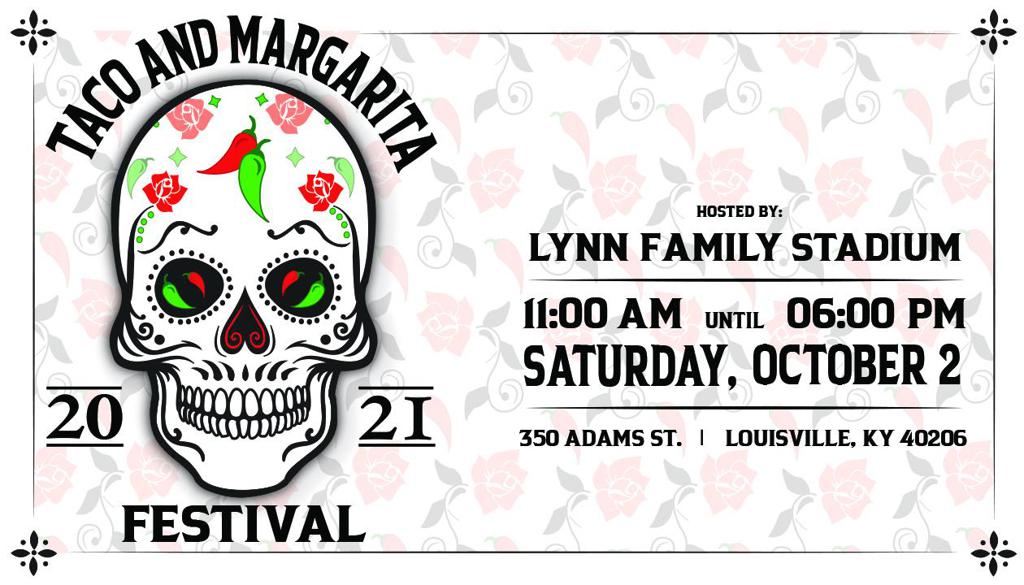 September 7, 2021 update: An article has appeared in LEO Weekly documenting several past issues with events (like Louisville Taco & Margarita Festival) presented by a company called AZ Food Festivals, at least some of which have occurred at venues (like Lynn Family Stadium) managed by another company called ASM Global. Since initial news releases about the taco festival seem not to have mentioned the involvement of these two companies, leading some to believe the event was being locally organized, Danielle Grady's piece is linked here for balance: Lynn Stadium Assures That Louisville Taco & Marg Fest Will Be 'Fun' Despite Complaints In Other Cities.
—
(Edibles & Potables is taking a personal day)
Beer festivals and live music have returned in 2021, so why not debut a different festive idea at one of the city's prime new outdoor venues?
It's called the Louisville Taco & Margarita Festival, and all the facts can be found at Louisville City FC's web site.
From 11 a.m.-6 p.m. Saturday, Oct. 2, the Louisville Taco & Margarita Festival is taking over Lynn Family Stadium!
Tickets start at just $10 (plus fees) to savor a variety of food and drinks, including a mimosa and full-service bar. Live music and local vendors will be on site to create a fun, first-of-its kind experience at the home of Louisville City FC and Racing Louisville FC.
Enhance your experience with an exclusive VIP experience. The Gold VIP package includes 1 T-shirt, 4 tacos, 4 margaritas and a special seated area in Lynn Family Stadium's exclusive Fifth Third Club. Or the Silver VIP package includes 1 t-shirt, 2 tacos, 2 margaritas and a special seated area in the Lynn Family Stadium beer garden.
Kids under 12 get in free.