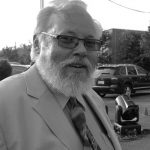 By Marty Rosen, editor-in-chief of Food & Dining Magazine
In the oddball 1986 film "Echo Park," the action revolves around the life of a pizza delivery guy who works for a joint called Vinnie's.
Vinnie's isn't trendy. It's just a joint. But Vinnie is one of those strangely inspired visionaries that give off a special glow when you come across them in dark places and tough times.
Timothy Carey plays Vinnie. Carey might be unfamiliar to you, but as an actor he was in the mold of Harry Dean Stanton – who also would have made a good Vinnie.
"Echo Park" wasn't a big hit. It's domestic gross was $700,000 (compared to "Ferris Buehler's Day Off,' which raked in $70 million and "Top Gun" which collected $176 million).
But Vinnie was a man with a vision. As a role model, I'd take him over Ferris or Maverick any day.
One night, when a delivery call came from particularly threatening neighborhood, his delivery guy, played by Tom Hulce (who had just come off "Amadeus"), asked Vinnie why it was important to deliver pizza into places no reasonable person would go.
Vinnie's response: "We can't desert these people, kid. We can't leave them stranded without a pizza in the twentieth century."
We're in a different century now. Every neighborhood is sketchy. Pathogens like Covid-19 don't redline neighborhoods based on their economic profile.
I've known, talked with, and worked with an untold number of people in the food, dining, and beverage world in the years since I first started slicing French Fries at a MacDonald's when I was a teenager.
I think there is a bit of Vinnie in everybody who works in the field. They get into it for all kinds of reasons, but they stay because they love it. And they don't want to leave us stranded.
Creative and resilient restaurateurs all over the region are already figuring out new ways to business.
They're not going to work "from" home. They're going to work in professional kitchens run under the highest of standards.
But they will be working "to" your home.
Food & Dining Magazine is the best-informed and best-connected hub of information about the restaurant scene in Louisville Metro (just check out our maps and directories).
Over the next weeks, we will be collecting and posting updates about delivery and pickup options across the entire area. And we will not leave you stranded.
—
Later today: The LEE Initiative and APRON Inc. are organizing to provide assistance to food service workers and their families. The digital editor thanks to Garrett Petters and Louisville Tourism for the cover photo combo.