Last week, we reported on Louisville native Gerron Hurt being on the current season 9 of MasterChef (where home cooks compete for $250,000 and other prizes), and we shared some advice for him from Brandi Mudd — who was a finalist on season 7. Like Hurt, Mudd is a Kentucky native and was also a teacher. She's not teaching anymore, though, because the competition changed her life – and like Hurt, she almost passed on the opportunity to compete.
"Before MasterChef, I had never dreamed of being on tv or had the confidence to do something like that," she explained." I was like a kid taking a pie to the county fair. So, when things escalated and they were talking about me being on camera, I told them I'd never been on camera before. They said 'You do know this is a television show, right?' It really hadn't sunk in until I had been accepted to be on camera."

"I almost didn't go to Los Angeles because I was scared," she
went on to confess. " I was a teacher for so long, and I would tell them every day to dream big, and follow those dreams and reach for the stars. So, when I was given this opportunity to not just tell them that but show them and be an example, I had to follow through with it."
She definitely did follow through – all the way to the finals where she was co-runner up to winner Shaun O'Neale.  She's not teaching anymore, though. She said that she tried to juggle teaching, parenting, cooking and appearances  (when she returned home) for a while, because everyone wanted to try her cooking. It all became a bit overwhelming, and she made the scary decision to open her own catering business: "Southern Flair with Chef Brandi."  She's grown to serve customers in about a 1.5 hour radius from her Breckenridge County home, and she's in the process of building her first commercial kitchen there.  (See a recipe she sent us below.)
While building her catering business, Chef Brandi recently took part in the USA Today's Storyteller's project and has continued making appearances with MasterChef.  She became the 2017 champion on the MasterChef Cruise last fall, and now, she'll be returning to her teaching roots by visiting Camp MasterChef this summer.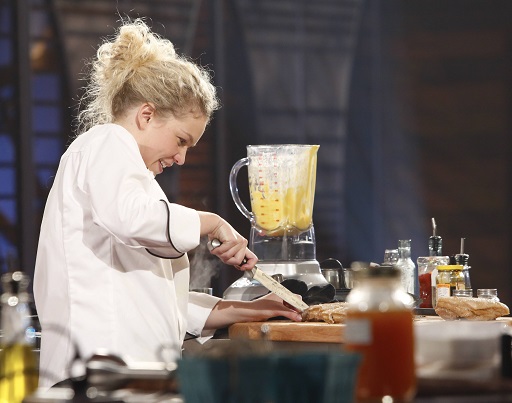 Camp MasterChef is a program that will make its debut in Kent, Connecticut and Rabun-Gap,Georgia, opening up a whole new world for kids with a passion for culinary arts. Kids ages 8 to 16-years-old will have the opportunity for great hands-on experience making things like sushi, tortellini and fresh pasta. They will also get to do outdoor activities like swimming and other camp activities, but the culinary activities will be led by MasterChef and MasterChef Junior winners and other favorite contestants, who will also hold Q & A sessions, cooking demos and hands-on experiences.  The campers will stay overnight for a one or two week experience and engage in interactive competitions.
"I am super pumped about this," Chef Brandi exclaimed. "This is the first chance I've really gotten to cook with kids. I've done career days with kids, but this is the first time I've been involved with them as a full chef. It's combining my interests. I love kids. I love teaching and I love cooking, so I'm really pumped about this."
She said she doesn't know what dish she will be making with the campers yet, but she did say if she has it her way, it will involve taking simple cheap southern ingredients and finding a way to elevate them, turning them into a 5-star quality dish.
"It's what I was known for on the show," she said. "Taking things people wouldn't think of as elegant and elevating them. For the finale round, I made a pork belly appetizer — something you can get down here, a whole pork belly, for $4.50. Doesn't look like a very elegant piece of meat, but you can make it elegant."
Photography courtesy of MasterChef, Camp MasterChef photos taken by Rebeca Garces at Camp MasterChef.
Cast Iron Steak
Chef Brandi said, "I'm definitely a meat and potatoes kind of girl, and red meat is my ultimate protein. Nothing creates a crispy crust and warm tender inside of a steak like a cast iron skillet can do. Ribeyes are an excellent choice because of their intricate marbling of fat, which adds tons of flavor to your meal!"
Cast Iron RIbeye (1 serving)
1 ribeye (12 oz)
2 Cloves fresh garlic
2 sprigs fresh thyme
Salt and pepper
2 tbsp olive oil
2 tbsp butter
Directions for preparation:
Season ribeye with salt and pepper

.

Bring to room temperature before cooking.

Heat cast iron on medium high.

When the skillet is thoroughly heated, add olive oil and garlic.

Sear steak for 2-3 minutes. Flip steak.

Add the butter and thyme. Baste steak while cooking for another 2 minutes.

Place entire steak in oven at 400 degrees for about 5 minutes.

Remove from oven, and place steak on separate plate to rest for 10 minutes.
Cook Time: 20 minutes
Cook Temp: 400
Wine Recommendation: